Muni Prepares to Deliver Essential Trips Only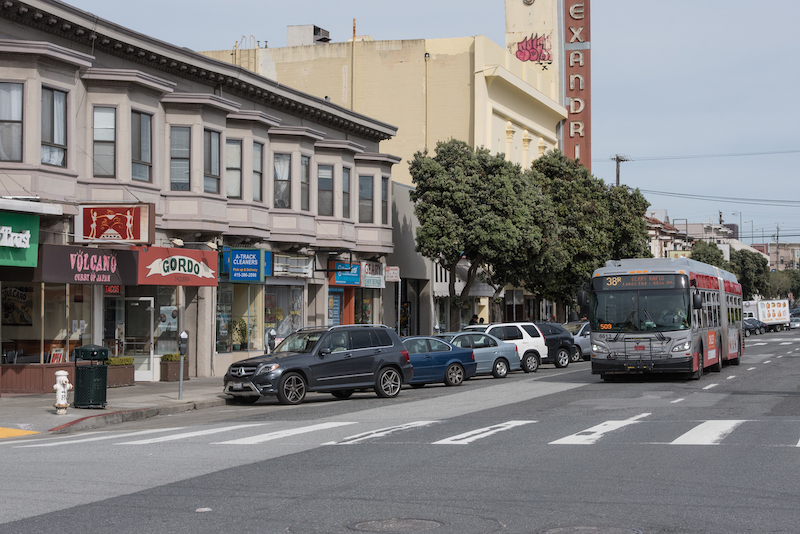 In the rapidly changing environment caused by COVID-19, the SFMTA is making additional updates to Muni service. While ridership has fallen significantly, our bus operators still serve approximately 100,000 passengers a day – getting nurses, cooks, custodians, and other essential workers to their jobs. The SFMTA has instituted some of the strongest health protections for our operators, mechanics, car cleaners and customers to minimize risk of transmission on our buses. These efforts have been paired with our continued effort to maintain regular service, so remaining essential workers have the space to maintain recommended distances on Muni.  
However, it has become increasingly difficult to continue delivering service on our current network due to operator availability and the changing trip needs of the community.  Following public health guidance, there are operators sheltering-in-place out of an abundance of caution, while others have underlying conditions that make them especially vulnerable. We are expecting over 40% of our operators to be out in the coming week. Remaining operators will continue to be on the job doing the heroic work of keeping San Francisco moving during this crisis. 
In order to maintain service levels to provide social distance, we must focus our available resources on the lines that most critically serve essential trips. This means temporarily reducing Muni service, and prioritizing routes in most critical need during the pandemic.  
Our priority is to be fully transparent with the community. Our goal is to restore normal service as quickly as possible. However, in the interim, we will prioritize our available resources based on connections to medical facilities, Muni's Equity Strategy, and data from customer travel patterns we've observed during the COVID-19 shelter-in-place order. In order to maintain frequency, and sufficient social distance on these services, we will continue to operate 17 routes, while temporarily eliminating services on others.  
Changes to Muni service are being rolled out in phases  
Monday, April 6 
Customers should prepare for delays across the Muni system both Monday and Tuesday. We expect to be below necessary staffing levels to provide adequate service. This gap will cause missed runs and delays that may not be accurately reflected in NextBus predictions. If you need to make an essential trip, plan to use other options or allow extra time when riding Muni. 
Tuesday April 7 
Service will be temporarily discontinued on seven routes that are experiencing low ridership or have nearby lines that provide similar service and connections. Routes to be discontinued include the 2 Clement, 3 Jackson, 5 Fulton, 7 Haight, 10 Townsend, 21 Hayes and 31 Balboa.  
Wednesday April 8 
Service will be further reduced to our 17 most-used lines. This core network will provide service within one mile of all San Franciscans. This approach allows Muni to continue to serve San Francisco's medical facilities and focuses on equity to ensure service for our customers most reliant on transit. The frequency of buses will vary by line so that lines experiencing some crowding will have more frequent service than others. 
The 17 core routes that will remain in service, with some modifications include: 
N Judah Bus
L Taraval Bus
T Third Bus
1 California
8 Bayshore
9 San Bruno
14 Mission 
14R Mission Rapid
19 Polk
22 Fillmore
24 Divisadero
25 Treasure Island
29 Sunset
38 Geary
38R Geary Rapid
44 O'Shaughnessy
49 Van Ness/Mission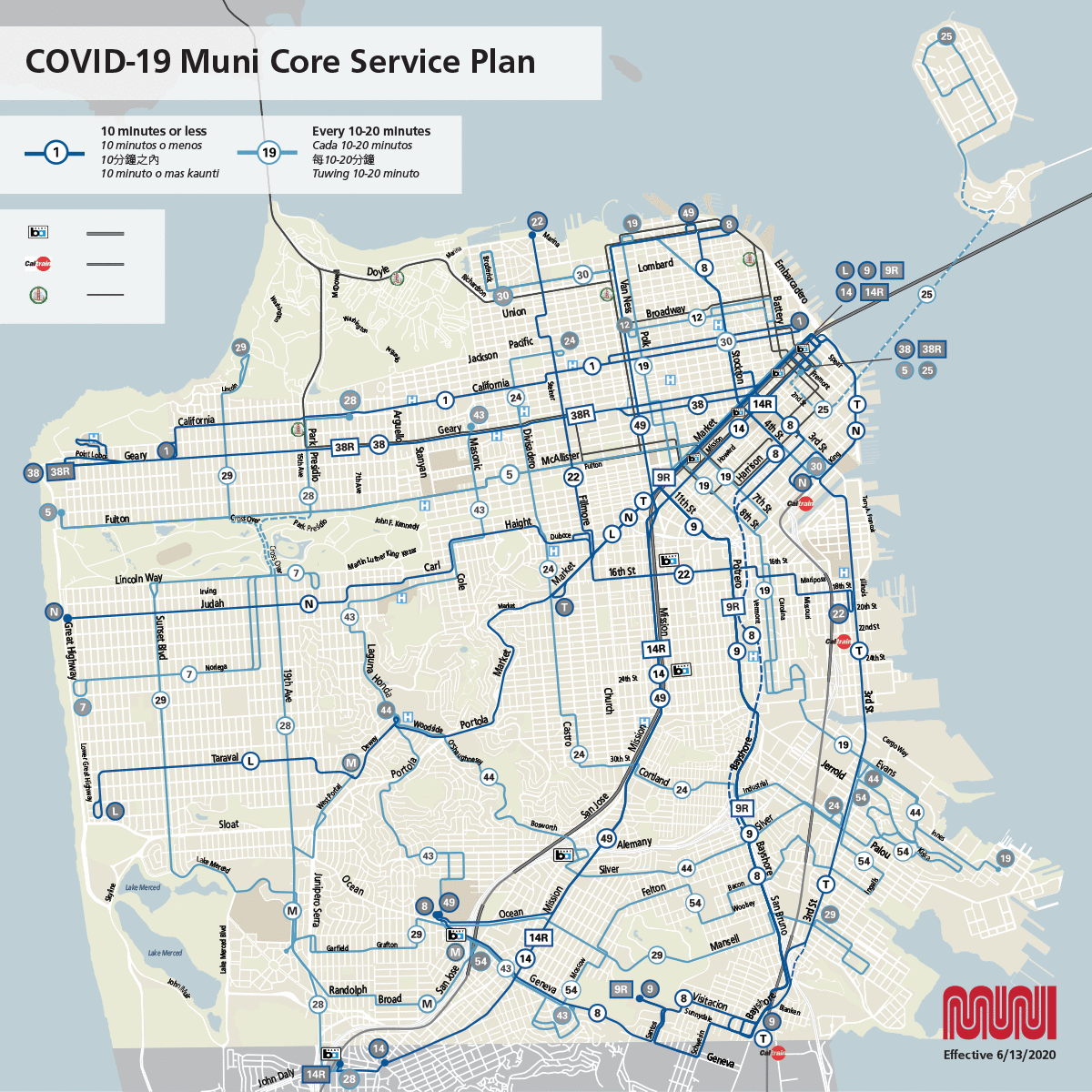 Map of service starting Wednesday, April 8 
More details on the exact service plan will be available soon, so stay tuned and thank you for your patience as we all get through this difficult time together.  
How San Franciscans Can Help 
We need San Franciscans to help us continue to minimize risk of COVID-19 transmission on Muni. Please remember to stay home except for essential trips that cannot be made any other way. Take alternative transportation to Muni if you can. 
Comply with the shelter-in-place directive 
Make only essential trips 
Use Muni for essential trips only when other options are not available 
By developing a plan to deliver core Muni service with the resources available, we can continue to minimize risks of transmission and ensure our transit system works for essential trips across San Francisco. 
For more information on what were are doing and updates to SFMTA services, please visit SFMTA.com/COVID19.