Muni Service Changes, Rapid Network Launch Tomorrow
We're excited to be launching an enormous number of Muni service improvements and changes, starting Saturday, April 25.
Service improvements, a "Rapid Network" and a new map with streamlined route names will make getting around the city on Muni faster and easier.
Here are the basics:
SERVICE IMPROVEMENTS
Increased frequency and extended hours means more service and less crowding on the following routes:
Service Change

Lines

AM Frequency Increase

5R, 8AX, 8BX, 14R, 14X, 38R, 41, 10, 28

 

PM Frequency Increase

5R, 8AX, 8BX, 14R, 14X, 38R, 41

Midday Frequency Increase

5R, 8, 14R, 29

Extended AM Hours  

14X, 1AX, 1BX, 8AX, 8BX, 30X, 31AX, 31BX

Vehicle Changes

14X (40' buses)

Additional Weekend Hours

38R (Now on Sundays)

14R (Extended hour on Saturday & Sunday)

RAPID NETWORK
"Limited" routes will be called "Rapid," e.g., 38R instead of 38L, because these routes don't provide a limited service, but rather a more rapid trip.
| | |
| --- | --- |
| OLD LIMITED (L) LINES            | NEW RAPID (R) LINES |
| 5L Fulton Limited | 5R Fulton Rapid |
| 9L San Bruno Limited | 9R San Bruno Rapid |
| 14L Mission Limited | 14R Mission Rapid |
| 28L 19th Ave. Limited | 28R 19th Ave. Rapid |
| 38L Geary Limited | 38R Geary Rapid |
| 71L Haight/Noriega Limited | 7R Haight/Noriega Rapid |

NEW ROUTE NAMES & NUMBERS
The following route name changes will more appropriately identify where the following buses travel in the city.
| | |
| --- | --- |
| OLD BUS ROUTE | NEW BUS ROUTE |
| 6 Parnassus | 6 Haight-Parnassus |
| 8x Bayshore Express | 8 Bayshore |
| 16X Noriega Express | 7X Noreiga Express |
| 17 Parkmerced | 57 Parkmerced |
| 33 Stanyan | 33 Ashbury-18th |
| 71 Haight-Noriega | 7 Haight-Noriega |
| 108 Treasure Island | 25 Treasure Island |

The following improvements will be coming to the bus shelters on Muni's Rapid Network.
IMPROVED BUS SHELTERS
New transit poles outfitted with solar powered lanterns will be visible day or night.
Redesigned flag signs will better identify route information, intersection names and real-time arrival details.
Bright red chevron-style decals, just below the shelter rooftop, easily signal a Rapid stop.
Just outside the shelter, new bicycle racks allow for the convenience of "park & ride" and serve as anti-cluster anchors—helping to distribute waiting riders more evenly between the front and rear doors.
For more details, visit www.muniforward.com, or check out today's press release.
Thank you for riding Muni!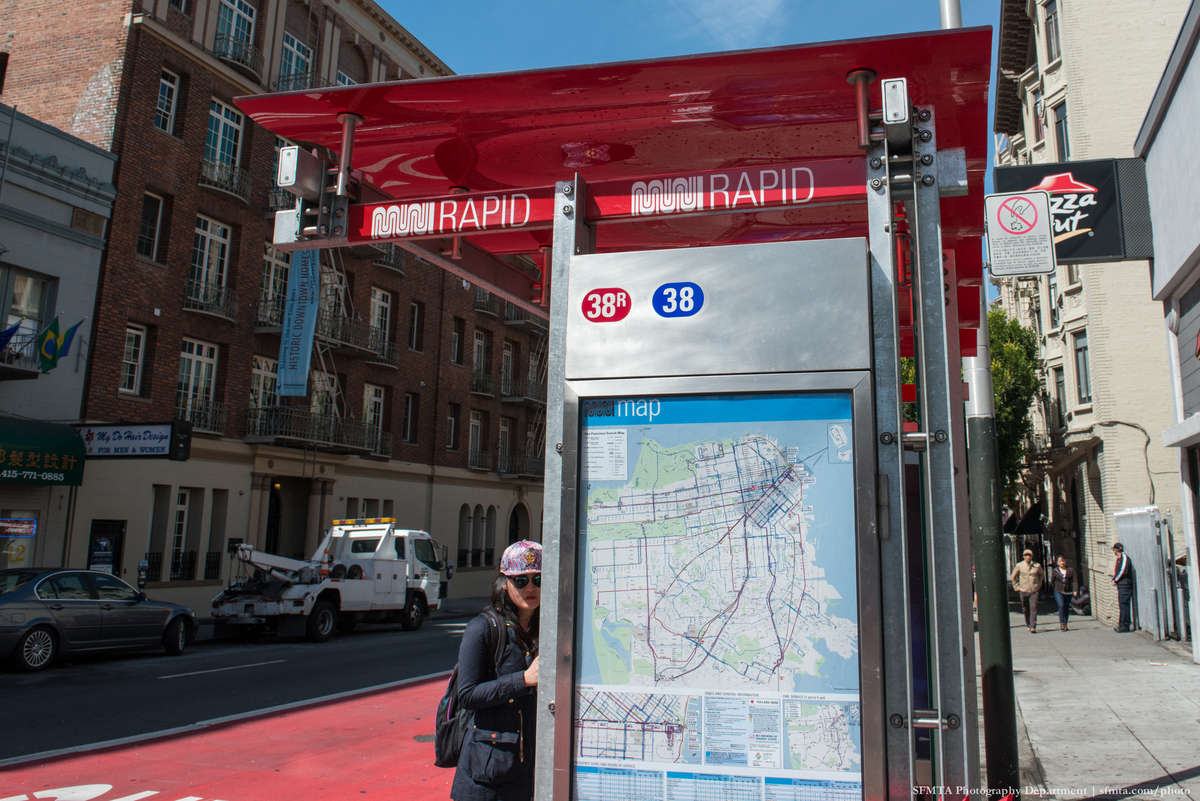 Today's ribbon cutton on Geary Street unveiled a suite of features coming to shelters along Muni's Rapid Network and reminded customers of service changes and new maps in use starting tomorrow!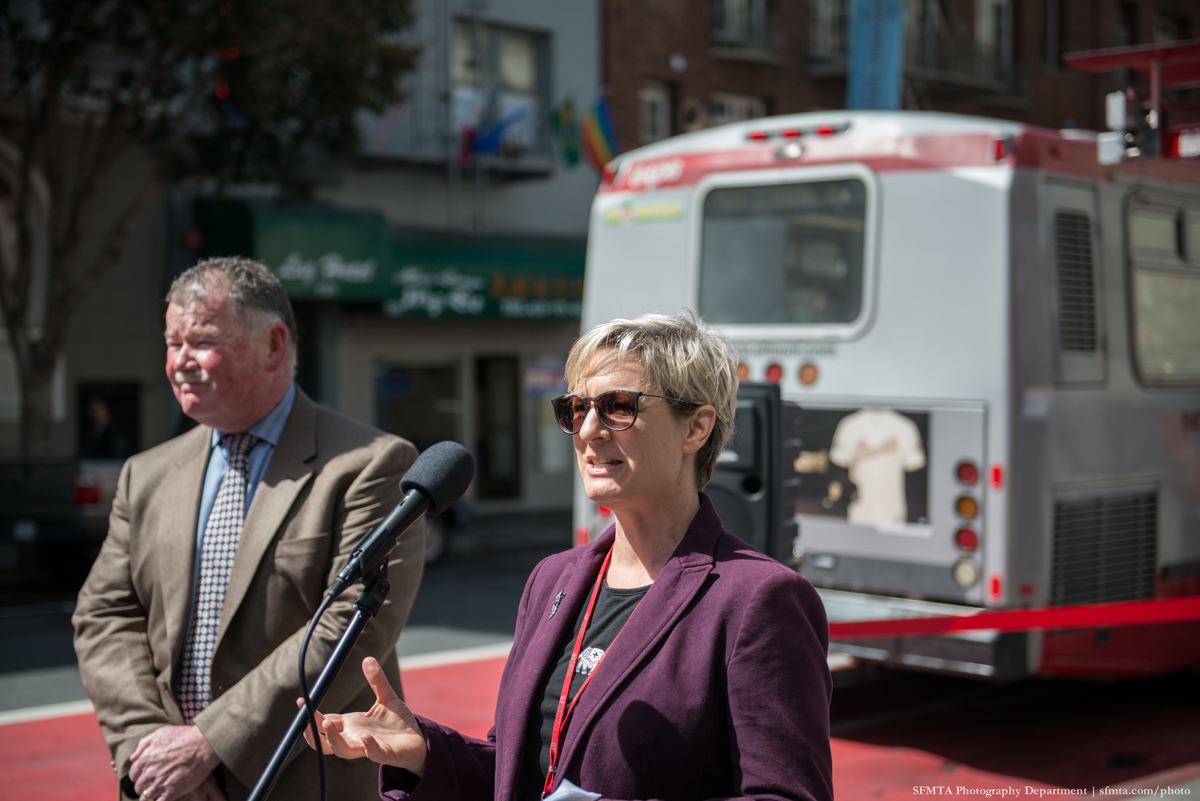 SFMTA Vice Chair Cheryl Brinkman helped launch Muni's "Rapid Network" and this weekend's service changes.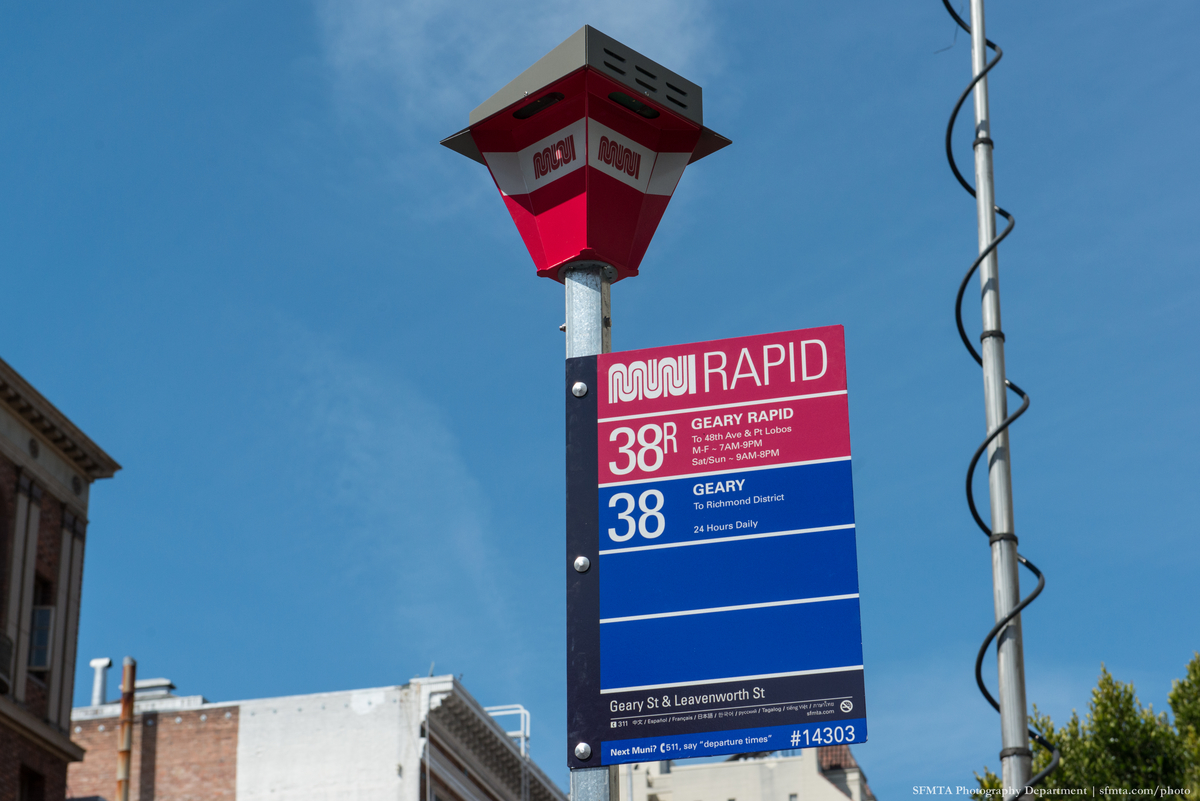 An example of the new solar powered lanterns that will accompany Muni stops along the Rapid Network.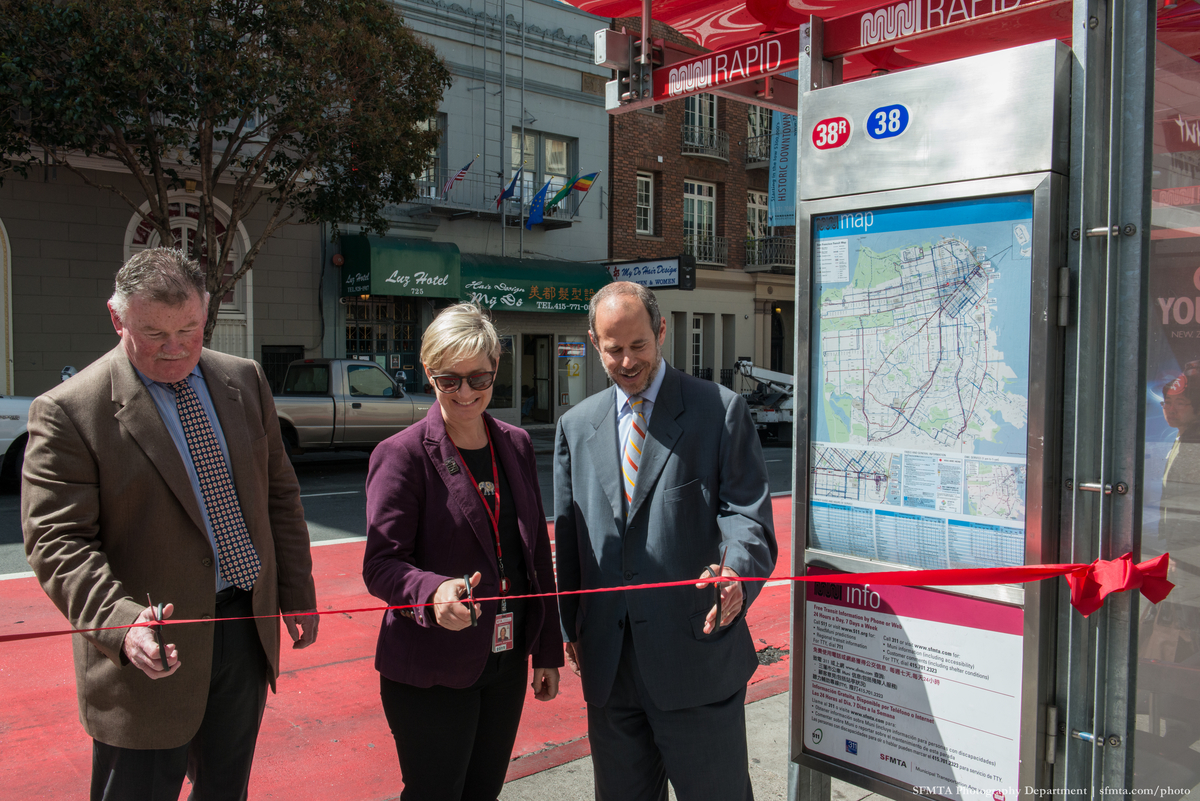 John Haley, Cheryl Brinkmand and Ed Reiskin cut the ribbon on the updated Rapid shelter on Geary Street.