N Judah Motorization Allows City Partners to Complete Critical Maintenance Work
Friday, February 24, 2023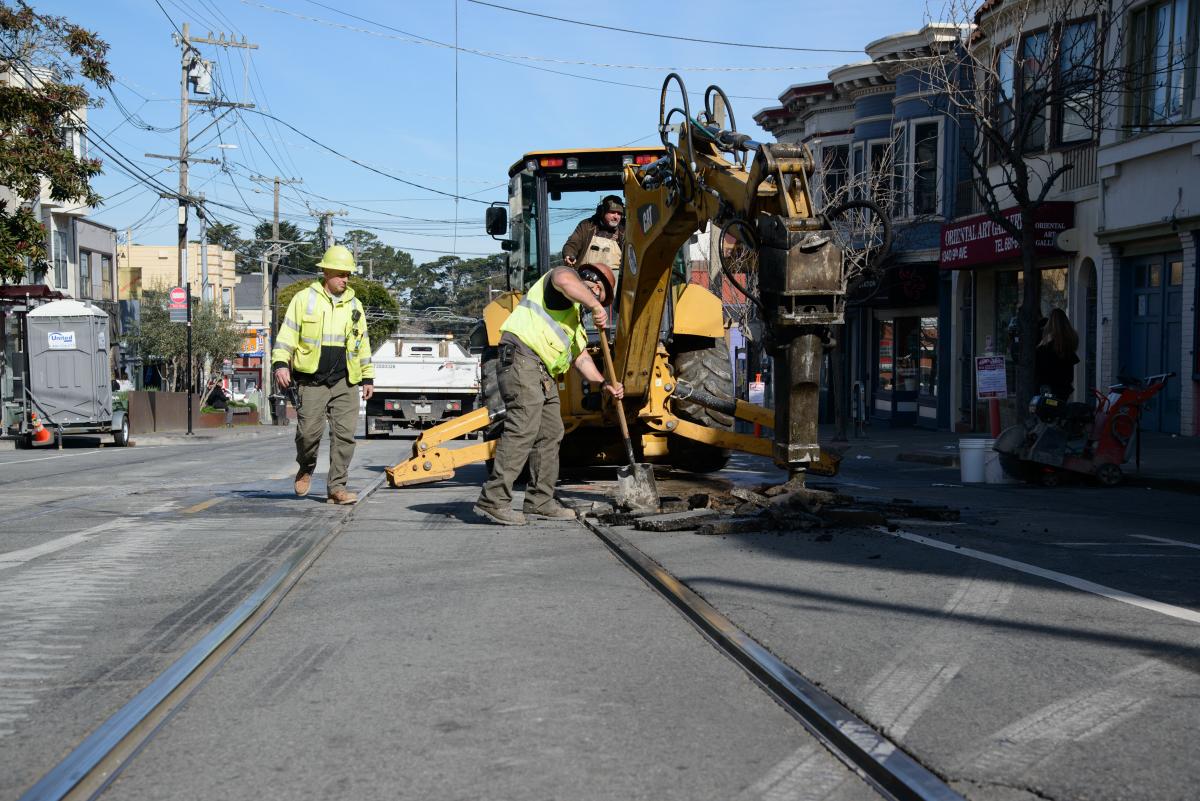 MOW Crew Repairing Damaged Pavement Around Tracks on 9th Avenue
Kudos to the SFMTA's Maintenance of Way (MOW) teams for successfully completing critical work during the N Judah motorization on Feb. 18 and 19. The purpose of the motorization was to provide access for work to be done in Muni's right of way by Public Works, PG&E and the SFMTA, including utility pole replacements at Cole and Carl, sewer investigation, repairs at 18th Avenue and Judah and 41st Avenue and Judah. The SFMTA was also making improvements to the J Church surface route between Duboce Park and the Balboa Park Station to increase service reliability, enhance street safety and reduce travel times. 
To maximize the benefits of the motorization, the MOW teams took advantage of the opportunity to complete project milestones and critical maintenance work  for traction power and overhead lines, mechanical systems, light rail track and signals. 
To ensure that our riders had the transit service they needed along this corridor, bus shuttles served as a substitute for N Judah rail service between Ocean Beach and Church and Duboce. Train service continued between Church and Duboce and Caltrain. The SFMTA's communications team also helped to notify customers of the alternative service plan during the rail shutdown through printed, digital and audio messaging and wayfinding ambassadors.  
Muni maintenance initiatives such as these aim to make subway operations more reliable for customers and prevent future breakdowns. The coordination by our teams across divisions is building on the successful Fix It! Weeks we had last year, which have helped reduce major delays in the Muni Metro by more than 80 percent. We look forward to more to come at our first Fix It! Week scheduled for March 16 to 22.  
For updates, please visit the subway maintenance project. For real time service advisories, please follow us on our Twitter at our Twitter at @SFMTA_Muni..