Neighbors Embrace a Design Change on Sidewalk Utility Cabinets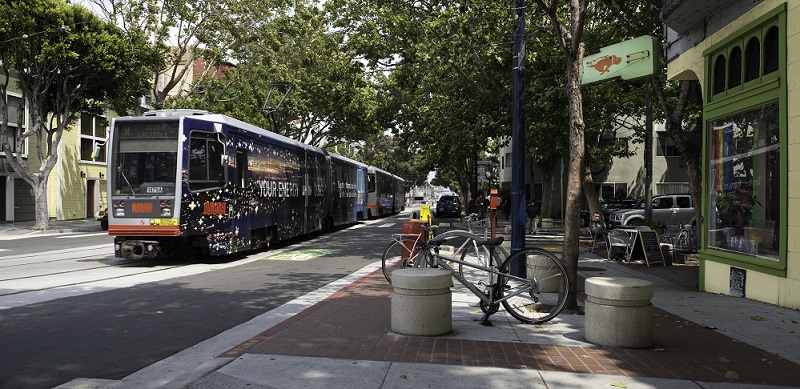 With what might appear to be a small step, was a big deal with the Duboce Triangle neighborhood.
Back in February, we reached out to the Duboce Triangle neighborhood to collect public comments on the installation of two utility cabinets at the northwest corner of Duboce and Church Street. In response to public feedback, we decided to change the proposed design to keep the electrical traction and power circuit underground. The community welcomed the new plan with enthusiasm.
"I am most appreciative that SFMTA listened to the concerns of the neighbors and modified the design to eliminate additional above ground cabinets in the public thoroughfare," said Kathy Ober, a resident living near the Church and Duboce intersection.
Nancy Randall is another neighbor who voiced her concerns over installing the boxes on the sidewalk. Learning about the new proposal, she said: "I, for one, appreciate the SFMTA working with the neighborhood's input and modifying the design. It restores my faith in humanity and how a collective of voices can be heard."
As part of the new feeder circuit system, two new utility cabinets were proposed to replace the old cabinet on the northwest corner of Duboce Avenue and Church Street. Although the new plan will enable us to underground most of the components, the existing cabinet box at that corner will stay and continue its function. The new design will allow the system to be powered by multiple substations with minimal disruption to the streetcar and bus service along Church and Duboce Portal.
The project is currently finishing the design phase. The contract will go out for bid in June and construction is expected to begin in late summer.
The planned work will start with the excavation of a one-foot-wide trench from 14th Street to Reservoir Street on the western sidewalk along Church Street for conduit installation. This work will last for two or three weeks. SFMTA ambassadors will be on hand to provide assistance to the local businesses. After that, minor work will take place around the existing box on Duboce and Church.