A New Connection with Art in Chinatown
Thursday, February 2, 2023
Artwork at the Chinatown-Rose Pak Central Subway Station brings communities to the forefront by honoring the history and contemporary identity of Chinatown. These art pieces deliver vivid colors and designs to every level of the station. Muni customers can expect a unique experience at this new station. 
The three artists with work at Chinatown-Rose Pak Station received the Visionary Artist Award last year and were honored at the Harmony and Bliss Gala — an event that supports the Chinese Culture Center of San Francisco and its mission to elevate underserved communities and give voice to equality.     
Yumei Hou transformed two of her traditional Chinese paper cuts into large laser-cut metal panels painted a vibrant red and installed to stand slightly off the wall to allow for shadow casting. Spanning the station's mezzanine and ticketing hall walls, Hou's monumental artworks portray scenes from Yangge (Rice Sprout Song), a popular folk dance from the Northern provinces of China. 
Tomie Arai titled her art series Arrival. It illustrates the life and history of the area surrounding the station through large-scale images translated into architectural glass elements. Once installed, transit riders will encounter contemporary imagery of the vibrant Chinatown community on the station's parapet façade along Stockton and Washington streets. The artwork project continues at the platform level with historical imagery translated into glass panels covering the 25' high walls at each end of the platform. On the north platform wall, Arai includes images of the early settlement of San Francisco, the gold rush, immigration to the United States through Angel Island and the great earthquake. South platform work celebrates the resilience of the community of Chinatown and greater San Francisco through a collage of images from 1906 to the present. Arai's artwork is expected to be installed in 2023.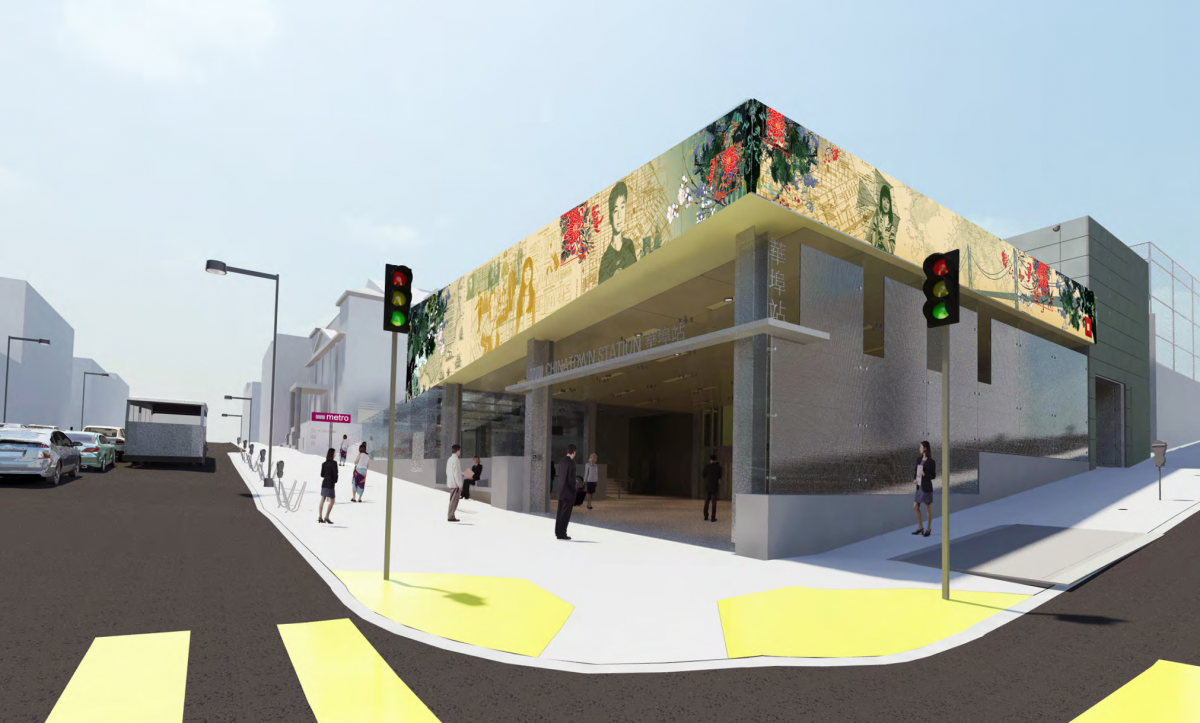 Rendering of station parapet with glass artwork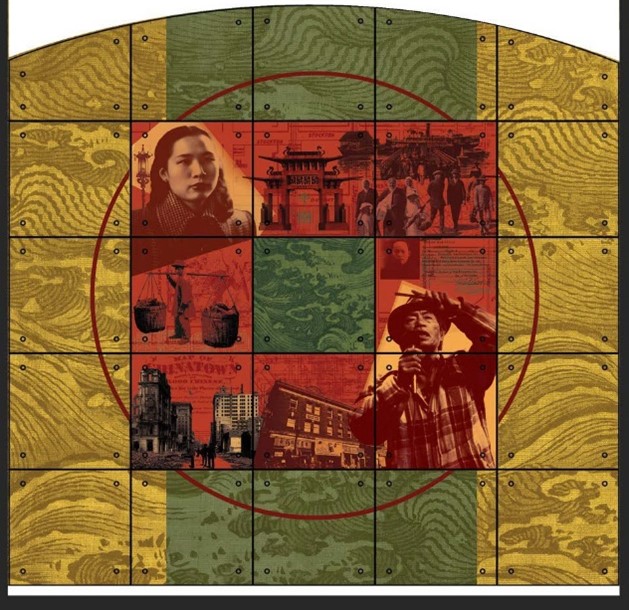 Artwork design for South platform wall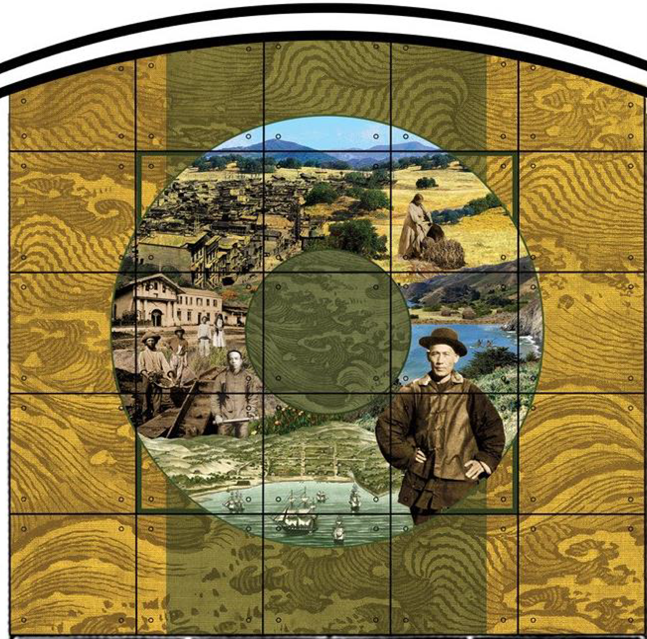 Artwork design for North platform design
Clare Rojas created an integrated tile mural titled A Sense of Community for the cross-cut cavern wall at the concourse level. The artwork features a variety of unique Silk Road textiles patterned in the style of a cathedral window quilt. Sourced from art and design institutions, fashion designers, and local fabric stores, the swatches are framed within a small circle closely connected to those around it, resulting in a dynamic pattern that represents the Chinatown community held together by a common history and culture. 
Hear from Yumei and Tomie in an interview video, where they discuss the process and inspiration for their work. A special thank you to the San Francisco Arts Commission for making public art possible at the four new stations. 
Visit Chinatown this weekend during the Lunar New Year Parade. Learn more about the installations or take pictures in front of the art. New T Third Service from Chinatown-Rose Pak to Sunnydale is Monday through Friday, 6 a.m. to midnight and Saturdays and Sundays, 8 a.m. to 12 a.m. 
Yumei Hou:  
Tomie Arai:  
Clare Rojas: