The Next Phase of Slow Streets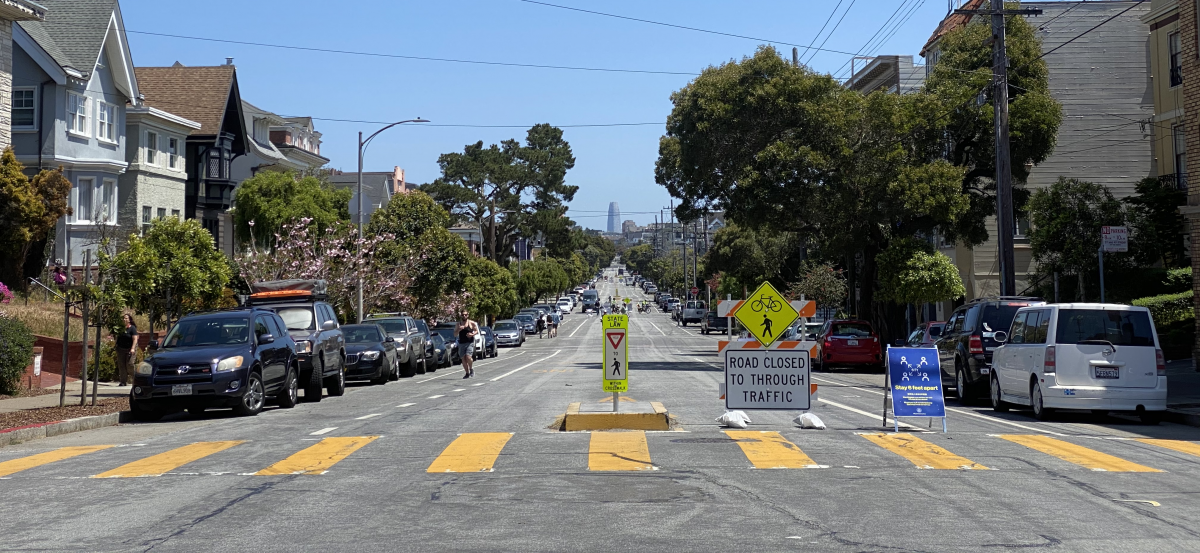 Due to the COVID-19 health crisis, the way we get around and where we are going are changing. Many San Francisco residents need to walk and take other modes of transportation for their essential trips. However, sometimes it is difficult to maintain the six feet of social distance on many sidewalks. Because of this, many pedestrians are choosing to walk in the street, exposing themselves to swiftly moving vehicle traffic. Our Slow Streets program aims to limit through traffic on certain residential streets and allows them to be used more as a shared space for foot and bicycle traffic. 
At the start of the program, we released a survey and have happily received over 1,300 Slow Streets suggestions from San Franciscans. We heard broad support of the program from many residents and businesses, and we are pleased to announce the following future Slow Streets corridors, many generated by you: 
20th Street, from Valencia to Potrero 
23rd Avenue, from Lake to Cabrillo 
Chenery, from Elk to Brompton 
Excelsior, from London to Prague 
Golden Gate Avenue, from Masonic to Divisadero 
Jarboe, from Moultrie to Peralta 
Lane, from 3rd Street to Oakdale 
Lombard, from Jones to Stockton 
Mariposa, from Kansas to Texas 
Sanchez, from 23rd to 30th  
Shotwell, from 14th Street to Cesar Chavez 
Somerset, from Silver to Woolsey  
Stockton, from Bay to Lombard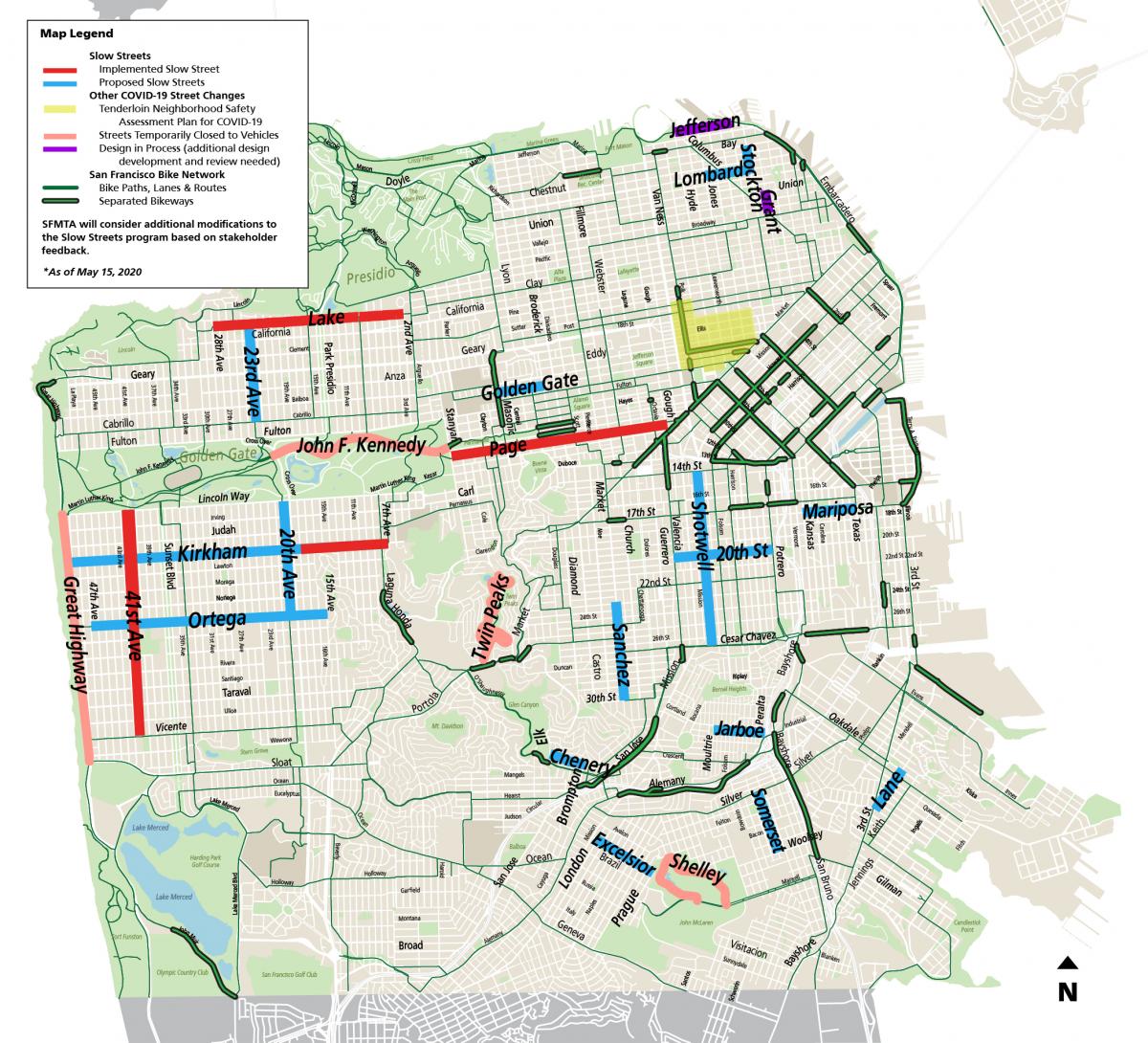 SFMTA's implemented (red) and proposed (blue) Slow Streets corridors. 
The first four Slow Streets corridors we implemented (41st Avenue, Kirkham, Lake, and Page) total 11 lane miles, and the remaining first phase of planned Slow Streets total 9 lane miles. These thirteen new corridors add another 14 lane miles of streets prioritized for walking and biking, for a complete Slow Streets network of 34 lane miles.  
Slow Streets are one element of the city's efforts to provide physical distancing as people make essential trips. They create more space for those traveling on foot or by bicycle while still making sure people who live on the streets, and emergency vehicles have full access. Signage restricts through vehicle traffic, and SFMTA has worked with navigation map providers to re-route through traffic through these corridors on their apps. 
How were these streets selected? 
SFMTA staff gathered the most frequently suggested corridors. Streets were initially screened for conflicts with Muni service, primary public safety routes, and commercial loading zones. Additional screening criteria included intersection geometry and sight distances, topography, surrounding land use, connections to the bicycle network and open space network, and reductions in Muni service.  
The most requested Slow Streets corridors include Sanchez Street and Shotwell Street in the Mission, Chenery Street in Glen Park, and Golden Gate Avenue in Western Addition. We also solicited corridor suggestions from community-based organizations and District Supervisors' offices and included recommendations from previous community planning efforts. 
Due to the multiple uses of our roadways, not all streets are good candidates for Slow Streets. For example, Jefferson and Grant streets are locations with high commercial delivery needs and complex emergency vehicle access needs. We are working with adjacent stakeholders and other City departments to create a detailed plan that allows for increased pedestrian access, business recovery, and complex access needs during the current public health crisis. 
What is the Tenderloin Neighborhood Safety Assessment and Plan? 
We heard a lot of interest in adding more Slow Streets to the Tenderloin area. At the same time, last week Mayor Breed announced the release of the Tenderloin Neighborhood Safety Assessment and Plan for COVID-19 -- a comprehensive report of the current conditions in the Tenderloin and a block-by-block plan for addressing those challenges.  
The Tenderloin Plan is part of the City's broader efforts to address the public health crisis in San Francisco and among people who are experiencing homelessness. We noted the area on the map above and will support other departments in our capacity, including adding things like Slow Streets where appropriate.  
What is next? 
We are currently working to schedule the implementation of the additional Slow Streets corridors with the input from neighborhoods, community groups, and elected officials. SFMTA is balancing the need for Slow Streets in each district and will share regular updates on our progress and plans.  
Please remember to use Slow Streets for essential trips. They are not neighborhood gathering points. We also encourage everyone to bring a face covering and maintain proper physical distance from people outside their households. We are continuously monitoring this program for its effectiveness and want to make sure it is being used properly. 
For updates and additional information on the SFMTA's Slow Street Program, visit the program webpage at SFMTA.com/SlowStreets. Please also visit SFMTA.com/COVID19 for the latest agency updates about our COVID-19 response.