Nightly Subway Closure Starting Aug. 12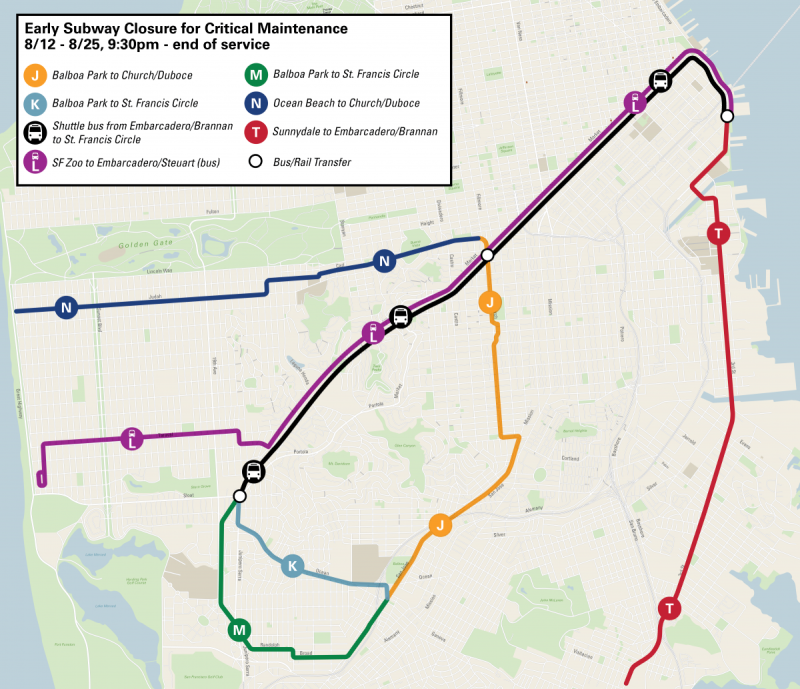 Our maintenance crews work hard every night after Muni Metro subway service hours to maintain the tracks and equipment underground. On most nights, this gives them only about two hours to get work done. In order to complete critical maintenance tasks that cannot be completed during normal windows, we are planning an early subway closure, so crews have more hours each night to do this vital work.
Starting August 12 and continuing for approximately two weeks, the subway between Embarcadero and West Portal will close early at 9:30 p.m. When the subway closes early, buses will run above ground to connect all stops, beginning at 9:30 p.m. through the normal end of train service. OWL service will remain unchanged. Trains will start regular morning service each day.
Transit service plan – 9:30 p.m. to 1 a.m.
Shuttle buses will serve all Muni Metro stops between Embarcadero/Brannan and St. Francis Circle

K/M – Train service between Balboa Park and St. Francis Circle

L – Buses will run between Embarcadero/Brannan and Zoo. No L trains running.

N – Train service between Ocean Beach and Church/Duboce (Inbound N trains become outbound J trains at Church/Duboce)

J – Train service between Balboa Park and Church/Duboce (Inbound J trains become outbound N trains at Church/Duboce)

T – Train service between Sunnydale and Embarcadero/Brannan
Trains of inbound N Judah and outbound J Church will use the accessible stop entering the Duboce Portal to serve passengers needing the ramp.
Muni customers are encouraged to leave extra travel time when riding Muni during the subway closure. Regular bus fares will apply on bus shuttles and valid transfers will be accepted.
What Is Being Done?
The extended window will give us an opportunity to do complex work aimed at making subway operations more reliable and preventing future breakdowns. The maintenance will cover overhead lines, tracks, signals and the Automated Train Control System, (a signal system that tracks the location and speed of any trains in the subway).