Nothin' But a G Thing, Well Actually a GZ Thing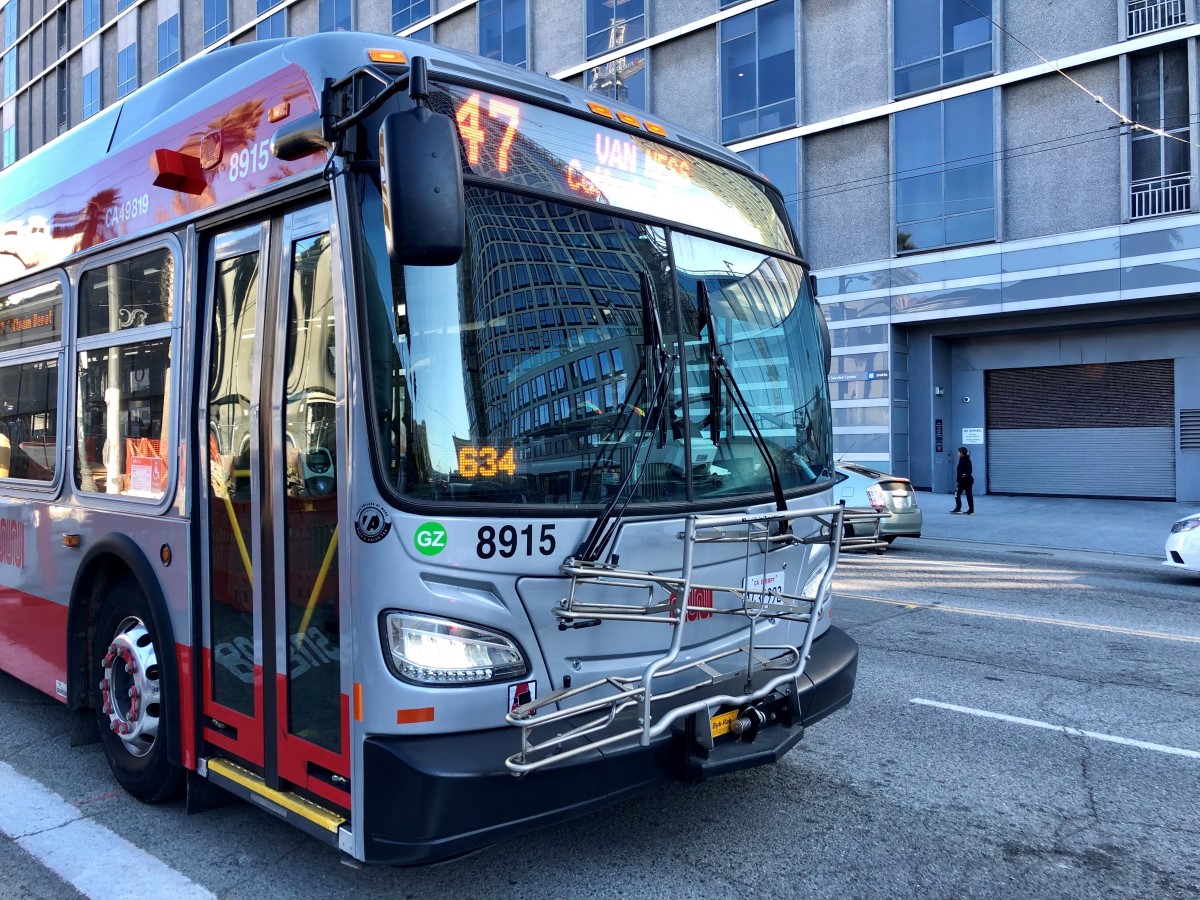 Today, Muni operates the greenest fleet of any city in North America. Carrying 26 percent of all daily trips in San Francisco, Muni generates less than 1 percent of the city's greenhouse gas (GHG) emissions (and less than 2 percent of the city's transportation sector GHG emissions). While we are very proud of all these numbers, it doesn't mean we aren't trying new ways to be greener.
In 2013, the SFMTA began a vehicle procurement, with the active support of then Supervisor Breed, to replace all of the agency's diesel coaches with hybrid electric vehicles. This year, 68 of these vehicles are being delivered with the latest batteries and a GPS-enabled switch, which will cause the bus to automatically switch to EV mode as it enters geo-fenced areas (Green Zones) throughout the city. Look for the green GZ sticker on the front of the bus and listen for the..... silence? As the coach enters the Green Zone, the diesel hybrid motor switches off and the battery power kicks in.

The criteria for establishing these zones were developed with stakeholder input and focus on Muni Equity Strategy neighborhoods and areas with poor air quality. Of course, other considerations, such as topography, factor into where these zones can be placed. Muni has identified four Equity Strategy neighborhoods, two residential neighborhoods and seven bus routes for initial implementation. Taking advantage of the latest technology, our new batteries allow buses to run up to 1/3 of their routes with the engine off. There are many benefits to this, such as noise reduction for riders and residents and a more comfortable rider experience.
This represents a milestone achievement for the SFMTA on its path toward achieving the agency's Zero Emission Policy and reinforces San Francisco's position as a global sustainability leader. This is the first program of its kind in the world. The geo-fenced zones were chosen to focus primarily on Muni Equity Strategy neighborhoods, those neighborhoods in our city with high percentages of low-income households and people of color and where respiratory illnesses occur at a disproportionate rate. Green Zone buses have begun operating on the 28/28R, 43, 19, 2, 47 and 12 lines.