As the SFMTA and cable car enthusiasts gear up for what will undoubtedly be an entertaining afternoon this Thursday in Union Square, the atmosphere will be a little bittersweet. That's because this year's edition of the Cable Car Bell Ringing Contest will mark the final appearance of Cable Car stalwart and three-time bell ring champion, Ken Lunardi.
After 35 years in the brown and tan, 30 of which have been spent at cable cars, the man known as "Mr. Grip" by his collogues for his "bone-crushing" handshake has decided to call it a career and slide into retirement, where he hopes to work on his golf game and see the sights wherever they may be.
For a man who has made so many bell ringing appearances, he's actually lost track of the exact number, he does remember how much of a struggle it was for him just to qualify for his first contest.
A self-described non musician, Ken said he had to "start from scratch" when first starting out, trying to develop a sound and routine that would be good enough to qualify for the big show in Union Square and compete against the likes of bell ringing legend, ten-time champion Carl Payne. After several disappointing tries, he made his first finals on his fifth attempt. After that, there was no stopping him as he went to become a regular fixture at this event. In addition to his three championships, he has been the runner-up on eight occasions and finished third four times. Not too shabby for someone with no background in music.
As a third generation Muni legacy, Ken represents a tradition of service. His father, who served as his line trainer, worked out of Green Division for 27 years, while his paternal grandfather drove out of Presidio division for 34 years. Collectively, the Lunardis have given 96 years of service to Muni and the SFMTA. It should be noted that his maternal grandfather also worked for Muni, so you can say working for this agency was in his DNA.
As he gets ready to pull into the Cable Car Barn one last time later this year, he's been hard at work to go out in style — which won't be an easy task. Even after so many contests, coming up with new sounds and rhythms to stay competitive doesn't get easier. As Ken tells it, "not every bell is the same. You have to play according to the bell." Come Thursday, maybe this savvy veteran will find a little bit of Cable Car magic and leave us all with an unforgettable performance.
The 52nd edition of the Cable Car Bell Ringing contest is this Thursday, July 9 at noon in Union Square. Visit the event page for contest rules and details.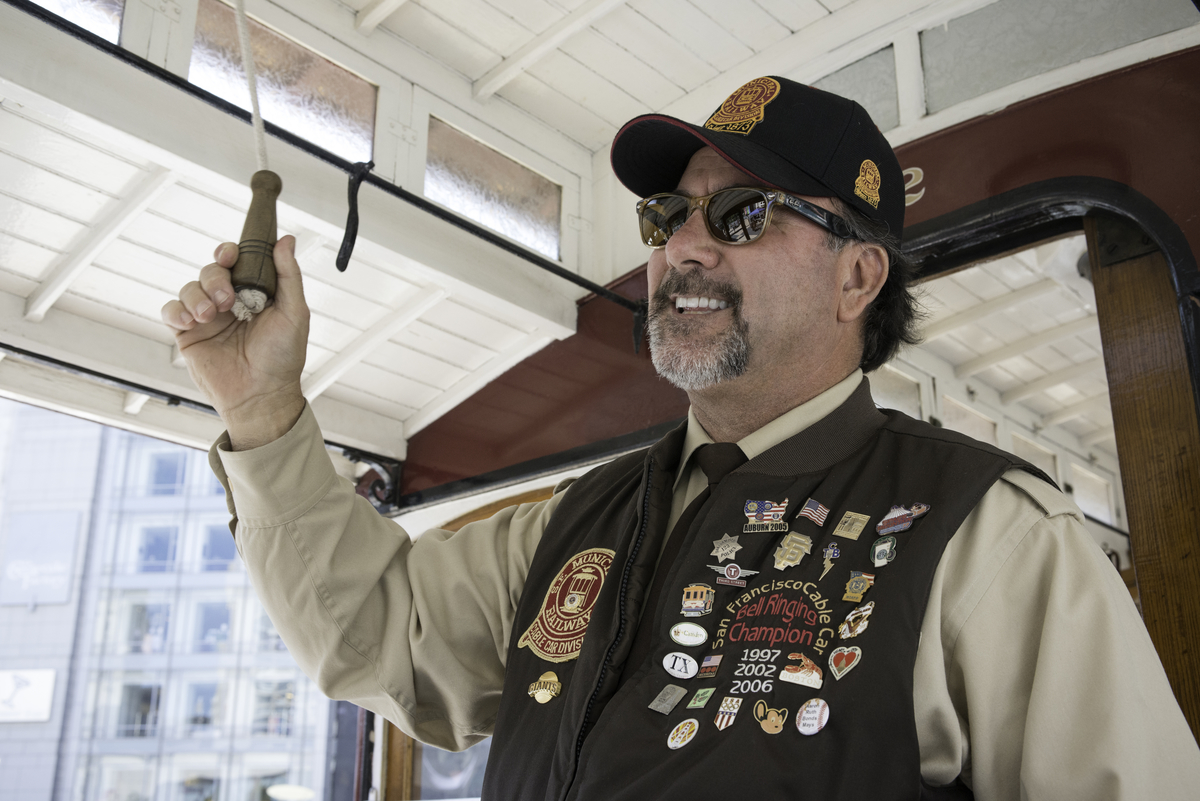 Ken Lunardi competing at the Cable Car Bell Ringing Contest on September 6, 2012. SFMTA Photo Archive