Parking Meter Pilot Coming to Dogpatch
A small but exciting pilot project at parking meters on Indiana Street in the Dogpatch is starting Monday, November 9. For the past couple of years, all metered surface parking lots have been equipped with "pay-by-license-plate" functionality. Now we want to test the "pay-by-license plate" function for on-street parking meters as well.
The only change is that you'll enter your plate number instead of a parking space number. Drivers may PayByPhone or at the multi-space paystation, just like always. Nothing will change about the forms of payment accepted: drivers will still be able to pay with coins, credit/debit or SFMTA parking card.  
Here are the benefits:
You can pay at any paystation on your side of the block. So drivers may head in the direction of their destinations, pay at the nearest meter, and be on their way. 

If you pay for parking but have to leave early, you may return to the same block and park without having to pay again, as long as you are within the original time frame you paid for.
For the SFMTA, we are using this pilot to test if the system can help:
Streamline enforcement, allowing parking control officers more time to focus on safety issues like double-parking and neighborhood concerns including Residential Permit Parking enforcement

Remove the need for space numbers and markings on the street that are costly to install and maintain

Allow for more vehicles to fit on each block when space markings are removed

Reduce the number of meters needed, freeing up sidewalk space and saving the cost of installation and maintenance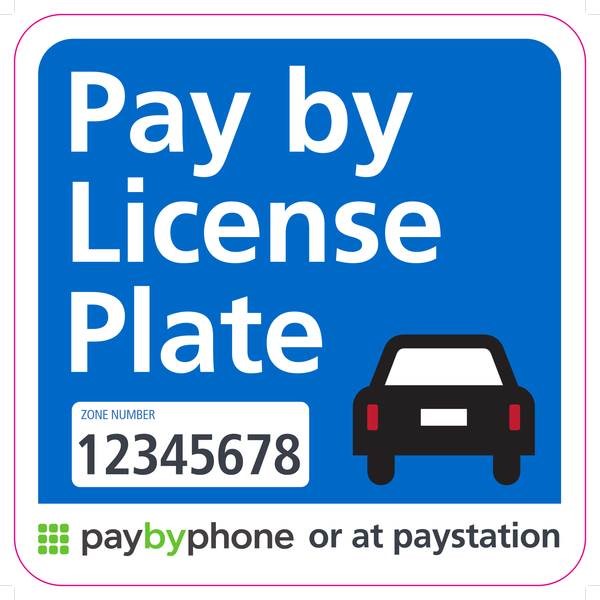 Example of signs to be installed in the pilot area explain how to pay and provide a zone number.
Location and Privacy Details
The pilot is planned for Indiana in part because multi-space paystations already exist between Mariposa and Cesar Chavez streets on the on the following address blocks: 600, 800, 900, 1000, 1100 and 1500.  We plan to install permanent metal signs on the pilot blocks to indicate that customers must enter their license plate to pay, and temporary signs in the early stages of the pilot to notify drivers of the new payment process.
To connect payments with plates for enforcement purposes while preventing anyone from tracking specific plates, we will be masking license plate numbers in our database so that only a limited number of characters from each license plate will be stored.
How to Pay-by-license plate at a Paystation:
Enter license plate number at the closest or most convenient pay station

Choose the amount of parking time

Pay

with coins, credit/debit or SFMTA parking card
How to Pay Using a Smartphone
Download or open the Pay-By-Phone app

Enter zone number found on nearby meters or pay stations

If it's your first time in the app, enter your license plate number

Choose the amount of parking time

Pay

with credit/debit or SFMTA parking card

You can extend your meter time through the app, if needed
How to Pay Over the Phone 
Call the number posted on signage

Respond to the prompts




Existing users will be prompted to enter the 4- or 5-digit location number, license plate number and parking time required

New users will be guided through a registration process

Pay with credit/debit or SFMTA parking card

Extend your parking by calling the same number
 How to Pay Online
Visit the PayByPhone website

Create a PayByPhone account and use it to pay for parking.

Enter location number, license plate number, and amount of parking time

Pay with credit/debit or SFMTA parking card

Extend your parking by visiting the website again