In-Person Pride Parade & Celebrations Return This Month!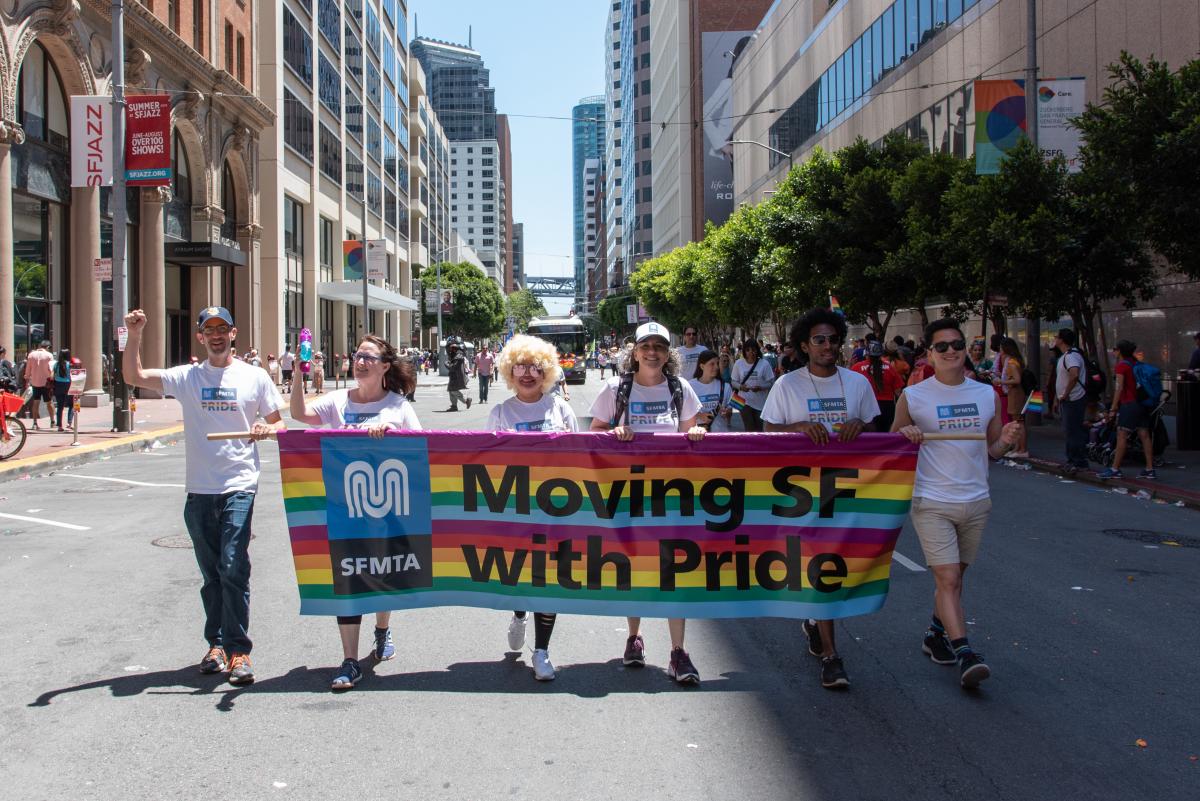 The SFMTA is happy to join San Francisco Pride celebrations when they return to in-person events this month as the city continues its recovery from the pandemic. This year's theme is "Love will Keep Us Together." The Trans March is happening on Friday, June 24 and the Pride Parade is on Sunday, June 26. SFMTA staff are, of course, an important part of the LGBTQIA+ community that keeps SF moving with Pride. Pride is an opportunity for us to demonstrate our continued support of the LGBTQIA+ community, promoting our core values of respect, inclusivity and integrity. 
History/Background of SF Pride  
San Francisco had its first Pride celebration in 1970. For more than three decades the LGBTQIA+ community and their allies have been moving San Francisco forward to become a better, safer, and more equitable world for the LGBTQIA+ community and the city a better place for people to live, work and enjoy.   
Historically, San Francisco's Pride parade is the largest in the country with more than a million people in attendance, usually including travelers from cities across the country and around the globe celebrating and paying homage to the members of the LGBTQ+ community.  
Diversity, Equity & Inclusion for All 
Pride is a celebration and counterpoint to the discrimination and challenges the LGBTQIA+ community has historically faced. And we can all be proud that San Francisco has been a pioneer on such issues as same-sex marriage, health care and anti-hate legislation. 
Recognizing the strides and achievements made by the LGBTQIA+ community over more than five decades, the SFMTA's theme for 2022 is "Moving San Francisco with Pride." As home to one of the world's largest and most prominent LGBTQIA+ communities, we look forward to celebrating Pride all month long. 
What You Should Know About SF Pride 2022 
Trans March – Friday, June 24  
This year's Trans March takes place Friday, June 24 at 5:30 p.m. 
We'll be partnering with the Trans March to provide our rolling cable car for the march. 
Pride Parade and Celebration – Saturday, June 25 and Sunday, June 26 
This year's Pride Parade and Celebration takes place the last weekend in June. from 11 a.m. to 6 p.m., Saturday and Sunday. 
The parade begins at 10:30 a.m., Sunday and is estimated to end between 2:30 and 3:30 p.m. 
Links
Visit the SF Pride website to learn more about the city's Pride festivities.
Visit the San Francisco Trans March website to learn more about San Francisco's Trans March. 
To catch Muni to any of these events, use the SFMTA Trip Planner.  
Participating in one of the world's largest Pride events is a thrilling and unique experience. We hope you can join in this fun, inclusive event. Whether you identify as LGBTQIA+ or as an ally, everyone is welcome.