Pokemon Go: Catch Muni to Catch 'Em All
You may have noticed that bus and rail lines across San Francisco are carrying a few extra passengers. Nidorans and Magikarps of the Pokemon world are among some of your fellow riders commuting across the city. Bay Area trainers are flooding the streets and hustling to the nearest Pokestops and gyms for the sole sake of catching them all.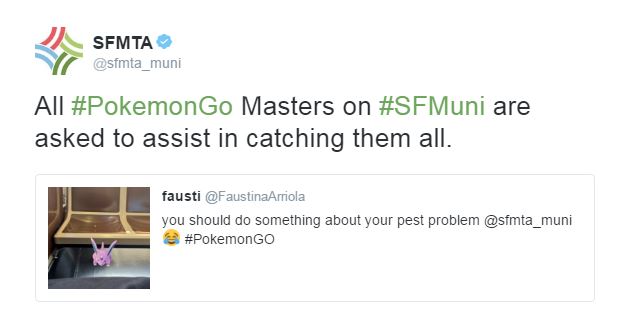 We always appreciate the good humor of our riders and followers.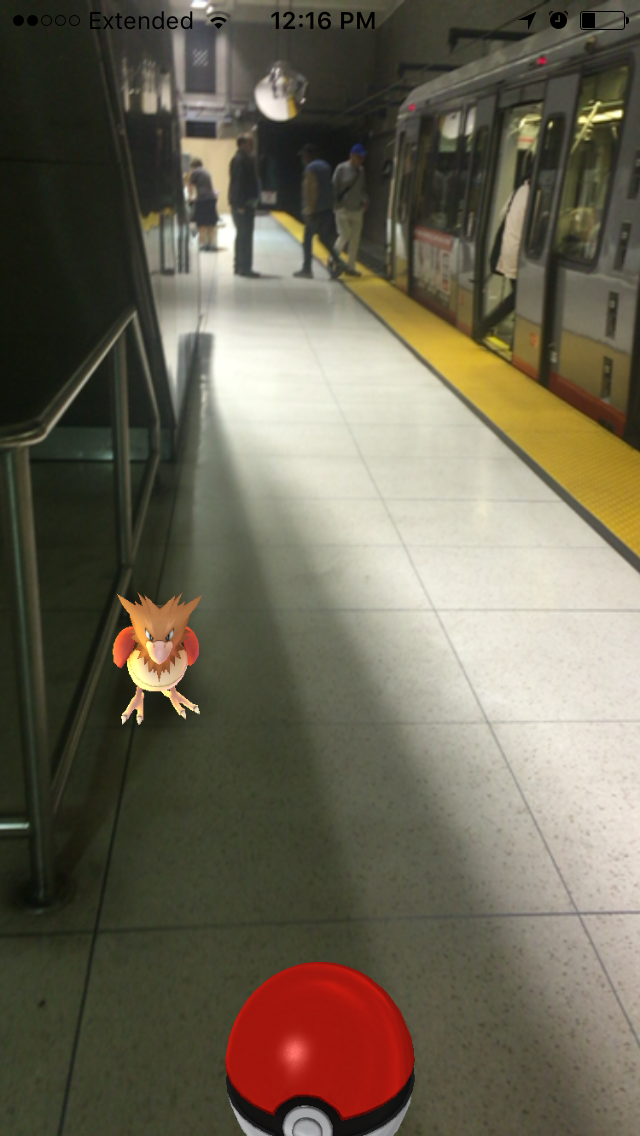 Keep an eye out in the subway.
Playing Pokemon Go while riding Muni is a harmless way of passing the time — here are some tips on how to "level up" with help from Muni.
Hopping on Muni Metro or the historic F Market is a quick way to the Ferry Building — and to snag the iconic Bulbasaur.
One of the rarest Pokemon of all time, Clefairy, can be hunted down along the 19 Polk route in the Tenderloin.
Whether you're headed to a museum or to enjoy a picnic, the 44 O'Shaugnessy, 5 Fulton, or 33 Stanyan can get you to Golden Gate Park, where you can also find Eevee and Dragonair.
Fancy a Flareon? the 6 Parnasus arrives roughly every 15 minutes to get you to Victoria Manalo Draves Park on Folsom in SoMa. 
Pikachu is a serious trainer's most valued Pokemon. The 38R Geary Rapid is a speedy way to catch this lightning fast rarity near Land's End on the city's west side.
If it's a Pokemon gym you seek, popular battlegrounds include Union Square — arrive by the 38 Geary, Muni Metro's Powell Station or a Powell Street Cable Car — and the top of Coit Tower accessible via the 39 Coit.
Take advantage of Muni to save you time, money and provide vast access to some of the city's Pokemon hotspots. Our operators deliver a safe ride that will allow time for you to scan your surroundings for a potential Caterpie under your seat. Frequent riders-turned-trainers cite the 18 46th Ave, 22 Fillmore, 29 Sunset and 38 Geary lines as goldmines for some of the city's rarest Pokemon. This city map, published by Curbed SF, indexes all 151 Pokemon and their most common hangouts.
This national and international phenomenon has an avid following in the City By the Bay and the entire Bay Area. It's also pretty popular further south, where public transit riders in Los Angeles have the help of a special Twitter account run by LA Metro dedicated to tracking Pokemon along their rail lines. No matter where you are playing, it's important to stay safe.
We've joined the National Highway Traffic Safety Administration, SFPD and our fellow transit systems to remind trainers to be alert while having fun. You can find SFPD's Pokemon Go Safety Tips here.


Last Wednesday's crawl saw scores of trainers in the city.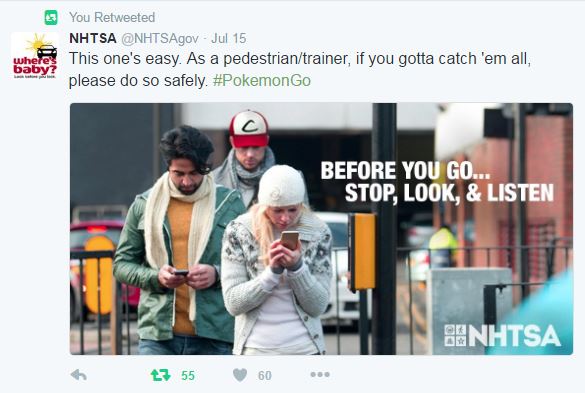 Good luck and happy hunting!