Pre-Pay, Get Cable Car Tickets the Easy Way!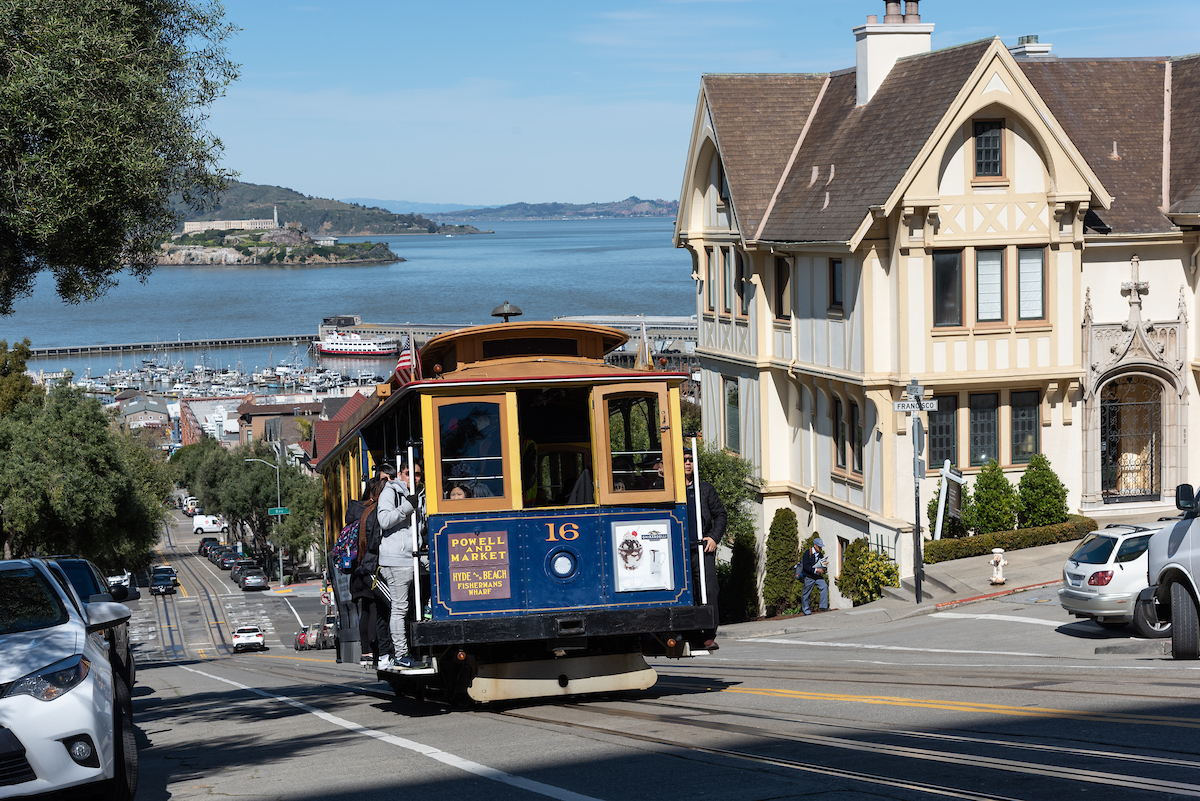 No experience is more San Francisco than riding a cable car, its a trip through history and the most exciting way to climb our steep hills. Something you might not know about the city's cable cars is that the easiest way to ride them is to buy tickets before you board. That's right. The quickest way to catch a cable car is to pre-pay for your trip with a Clipper® card, via MuniMobile® or at sales locations around the city.
How Much Does It Cost to Ride a Cable Car?
From one-way tickets, costing seven dollars, to passes for multiple rides, you can find all up-to-date pricing details for Adult and Youth tickets* on our webpage. Please note, cable car fares must be purchased in advance before boarding at the terminals located at Powell & Market, Bay & Taylor and Hyde & Beach Streets from 8 a.m. to 5 p.m. daily. *Discounted cable car rides, costing three dollars, for Seniors, Disabled and Medicare tickets are from 9 p.m. to 7 a.m.
Can You Pay for Cable Car Tickets with a Clipper Card? Yes!
Clipper is the all-in-one transit card for the Bay Area. To ride our world-famous cable cars using Clipper, buy a one, three or seven-day Visitor Passport for discounts on multi-day rides. Clipper also offers a monthly "M" or "A" Pass that includes cable car rides along with other transportation. Information on purchasing a Clipper card at sales locations and in stations can be found at ClipperCard.com. A three dollar card fee applies for initial purchase.
Can You Get Cable Car Tickets on MuniMobile? Yes!
MuniMobile is the official ticketing app for Muni, the city's transit system. MuniMobile lets you buy and use tickets instantly from your smartphone. No transaction fees apply. Buy a one, three or seven-day Visitor Passport via MuniMobile for discounts on multi-day rides. For details on downloading the MuniMobile app or purchasing cable car for multiple riders from a single phone (you can purchase and store up to 60 individual tickets at a time!) Here is more information on MuniMobile.
Can You Ride Cable Cars With a Visitor Passport? Yes!
Great for multi-day travel, a Visitor Passport allows for one, three or seven consecutive days of unlimited rides on cable cars (as well as Muni, Muni Metro and historic streetcars). Passports can be purchased at ticket kiosks, on Clipper, via MuniMobile and at sales locations.  A discount applies when purchasing Passports on MuniMobile or Clipper.
Want to Learn More About Cable Cars?
Cable cars were invented in San Francisco nearly 150 years ago. Today, there are three lines to choose from -- two start at Powell & Market and continue to the Fisherman's Wharf area; one starts at California & Market and continues to Van Ness Avenue. No matter which direction you're headed, there's a fun adventure waiting for you onboard a cable car!
Here is more information on how to ride cable cars and other Muni transit vehicles. Also, the Cable Car Museum is always free and a fun way to learn about these National Historic Landmarks.