Public Artwork Unveiled Inside New Station in Yerba Buena
Have you had a chance to explore the Central Subway's new stations? Special weekend service is Saturdays and Sundays, from 8 a.m. to 12 a.m. midnight, through the end of the year. Ride the trains and be mesmerized by beautiful artwork at each new station. 
Muni customers will encounter public art when using the four new Central Subway stations to reach their destinations. The art was commissioned by the San Francisco Arts Commission and funded by the City's Art Enrichment Ordinance, which allocates 2% of the total eligible costs of public works projects for public art. Public art helps draw out the identity of a space, aids in understanding a neighborhood's historical or cultural significance, and builds a connection between the visitor and surrounding community. 
The Yerba Buena/Moscone Station includes artwork by Catherine Wagner, Leslie Shows and Roxy Paine. The installations can be found on the station's surface and concourse levels. 
Catherine Wagner transformed photographs she took in the late 1970s that document the monumental construction of the George Moscone Convention Center, and focus on ideas of transformation. Titled Arc Cycle, the artwork reproduces several iconic images from this photographic series, translating them into laser-etched granite at the concourse level, and art glass at the station's entry.  

Leslie Shows created Face C/Z, installed in the ticketing hall on the concourse level. Based on an image of iron pyrite made with a consumer grade scanner, the artwork was hand fabricated in a unique style combining mirrored, fused, painted, and engraved glass, sheet metal, and other permanent materials The pyrite (or "fool's gold") image speaks to ever-shifting notions of value in industry and aesthetics, the many historical "gold rushes" of California, and the idea that anything might be made valuable under the right circumstances.  

Roxy Paine created a monumental, 110 feet tall sculpture for the public plaza at 4th and Clementina streets outside of the station. Titled Node, the artwork is conceived to emerge from the complex manmade structures existing beneath the sidewalk, including the subway, communication networks, electrical and water supply, and waste systems that are all lifelines of a functioning city. According to Paine, the sculpture is "an elegant line connecting earth to sky, people to underground systems, and sculpture to city." Node is expected to be installed in early 2023.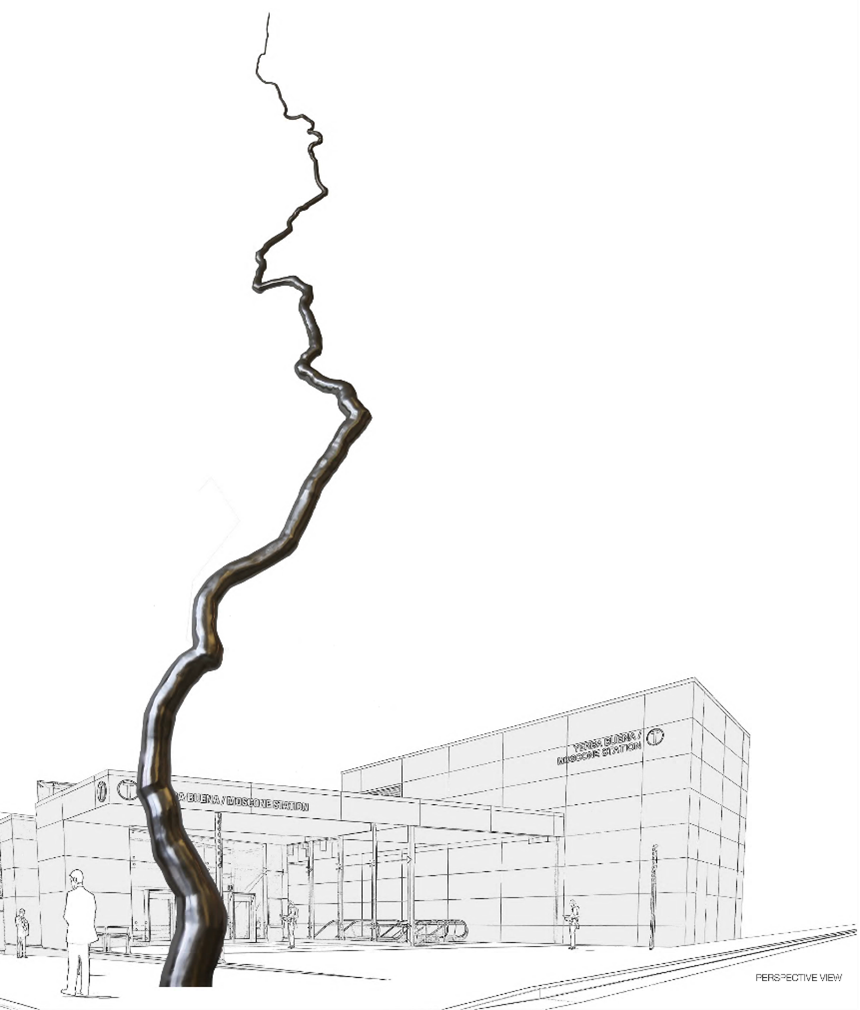 Mockup of art installation on the station's plaza
Watch an interview video with artists Leslie Shows and Catherine Wagner to learn more about their inspiration for their work on display at the new Yerba Buena/Moscone station. A special thank you to the San Francisco Arts Commission for making public art possible at the four new stations. 
Full revenue service will begin January 7, Monday through Friday, 6 a.m. to midnight and Saturdays and Sundays, 8 a.m. to midnight. 
Stay tuned for additional blogs showcasing public art at the other new Central Subway stations. 
For more artist information:
Roxy Paine:  
Leslie Shows: 
Catherine Wagner: 
Moto Ohtake: