A Celebration of Equity and Inclusion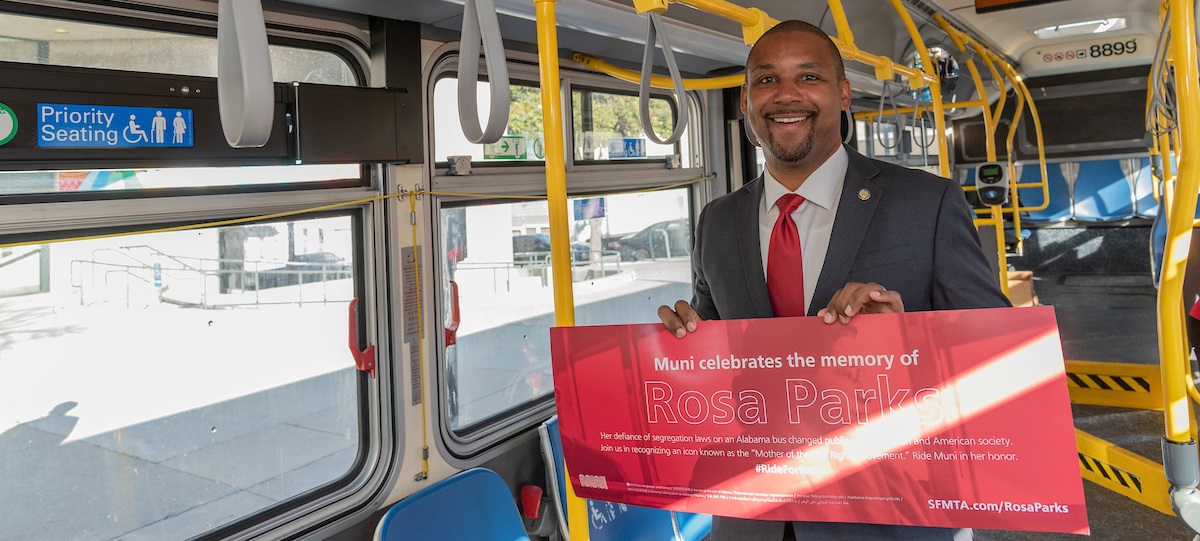 We are celebrating a courageous woman who helped transform the way we think about equity in transit—beginning with a new Muni campaign honoring Rosa Parks.
Parks is one of the most closely associated names with the fight against racial discrimination on transit and widely known as the "Mother of the Freedom Movement." The idea to honor this civil rights icon came to us from Supervisor Shamann Walton and at least one other San Francisco constituent.
"As you know we are working to establish a permanent seat on Muni Buses for Rosa Parks. As we get closer to the permanent honor, we are supporting the #RideforRosa campaign with SFMTA and honoring Rosa Parks on buses with placards that have her photo and a little piece of history," said Supervisor Shamman Walton.
Just to remind ourselves of Parks' story: In 1955, she refused to give up her bus seat to a white passenger in segregated Montgomery, Alabama. Her arrest touched off the year-long Montgomery Bus Boycott—a protest that ended when the Supreme Court ruled that segregation on public transit was unconstitutional and illegal.
Thursday, we launched a campaign in her honor---March is Women's History Month and a fitting time to recognize women who have stood up for civil rights in transportation.
When you encounter our campaign on your commute, let us know by using the hashtag #RideforRosa. Also, stay tuned for more posts on local heroes who have altered the course of transportation in San Francisco as we wrap up the month.