Safe Streets in the Year of the Rat!
Wednesday, February 19, 2020
Happy Lunar New Year! Celebrated by many in the Asian community, the Lunar New Year follows the cycles of the moon and the beginning of its calendar year is usually in late January or early February. For many, the beginning of the year brings a fresh mindset and resolutions for a happy and healthy new year.
Each year is represented by one of 12 zodiac animals who are associated with certain characteristics. 2020 is the Year of the Rat, the rat is considered a clever and resourceful character. Safe Streets in the Year of the Rat launched last week and is an educational traffic safety campaign reinforcing one of Vision Zero's main messages of slowing driver speeds for everyone's safety.
In the zodiac, rats are seen as savvy, quick thinkers. They're not the fastest, instead they use their smarts to get ahead. This new Chinese-language campaign references these zodiac qualities and encourages people to plan ahead for their trips throughout the city by leaving early and driving smart, not fast.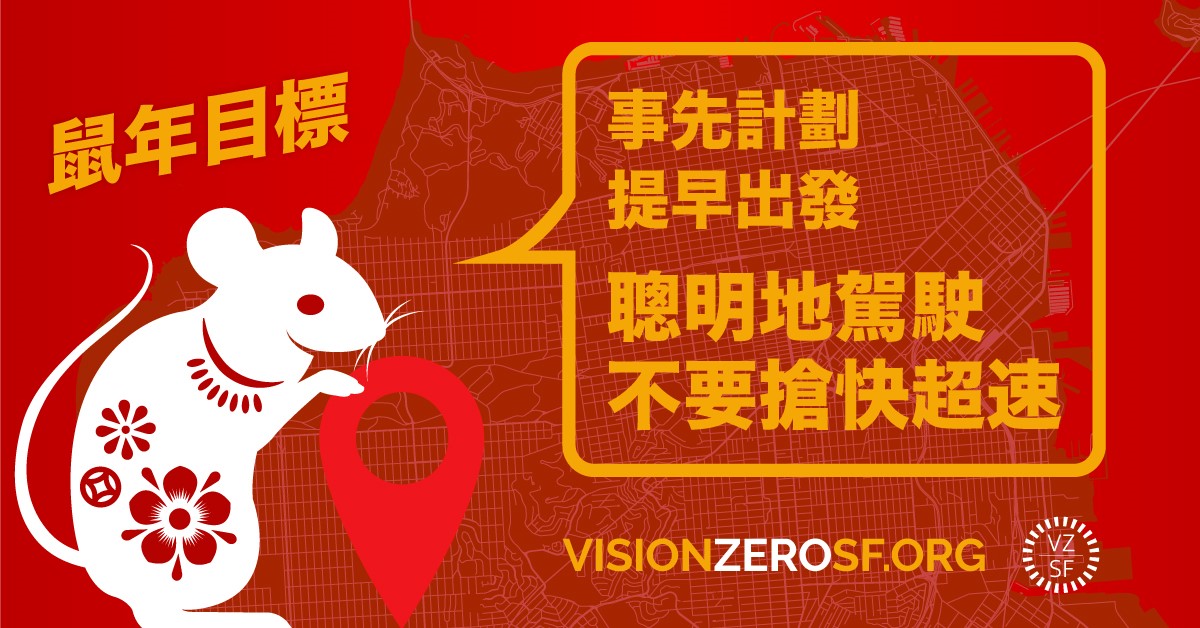 Copy reads: Goal for Year of the Rat. Plan Ahead, Leave Early, Drive Smart, not Fast.
Vision Zero launches this campaign aimed at advancing cultural competency and reducing injury disparities. As stated in the Vision Zero Action Strategy, equity is a core principle. Our transportation system should be safe for all road users, for all modes of transportation, in all communities and for people of all incomes, races and ethnicities, languages, ages, abilities, and housing status.
Chinese make up the second-largest racial group in San Francisco (U.S. Census Bureau, 2012-2016 American Community Survey 5-Year Estimates) with Chinese being the second most spoken language in the city. This community is also disproportionately involved in severe and fatal traffic collisions. To ensure Vision Zero safety messaging reaches this important community in San Francisco, Safe Streets in the Year of the Rat was developed.
To achieve equitable outcomes and save lives, Vision Zero initiatives go deeper with multicultural communication and outreach so that we can uncover culturally-specific assumptions, barriers, and motivations that lead to more effective ways of reaching communities of concern.
Over the last couple of years, organizations and cultural consultants serving Chinese populations - as well as residents themselves - were involved in the development of this campaign. From outreach to focus groups and intercept surveys, the Chinese community shared traffic safety concerns, identified common channels for receiving information, and prioritized the visual look and messaging of the campaign.
The campaign plays on the Lunar New Year of the Rat theme as well as emphasizes the culturally celebratory colors of red and gold throughout the design. Here's to a safe New Year for all San Francisco.
Where will people see this campaign? To reach the greatest number of people, the bulk of this campaign will be delivered through digital advertising and will connect with Chinese-speaking drivers through their devices (cell phones, laptops, etc.), especially drivers using Waze, Uber, and Lyft apps as well as those using WeChat. Paper advertisements will also be placed in Chinese-language newspapers.
Vision Zero SF is the city's road safety policy that will build safety and livability into our streets, protecting the one million people who move about the city every day. San Francisco is committed to achieving our Vision Zero goal of zero traffic deaths.
To learn more about Vision Zero work visit visionzerosf.org