Safety Doesn't Take a Holiday: Ride Muni Free on New Year's Eve
Monday, December 28, 2015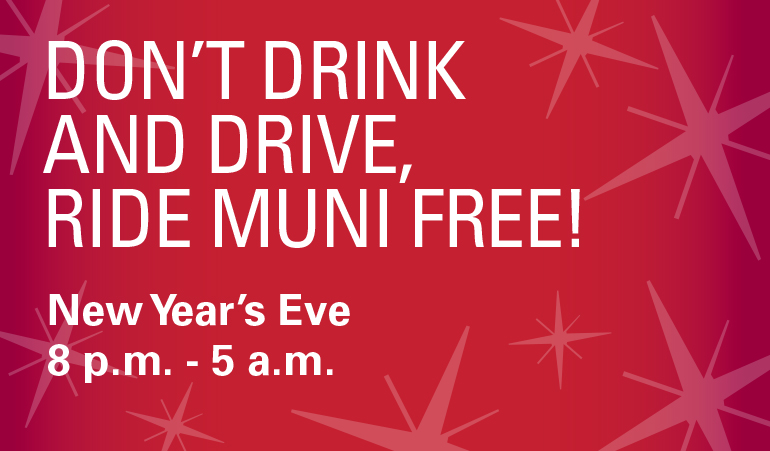 As you finalize plans to ring in the New Year, do you know how will you get home from the party? Let us do the driving.
Continuing a 16-year tradition, the SFMTA reminds you to consider letting Muni get you to and from the festivities this New Year's Eve by offering free service all night, from 8 p.m., Dec. 31 to 5 a.m., Jan. 1, 2016. 
In support of Vision Zero and sponsored by 76, Ride Muni Free NYE reminds you that the safest place to start the New Year is in the passenger seat.
Ride Muni Free NYE includes all Muni routes and lines. Clipper® card customers must remember not to tap their cards for the free rides. Metro fare gates will be set for "fare-free" starting at 8 p.m. New Year's Eve.
Ongoing  Blue Light Emergency Telephone and Radio System Replacement Projects which have been closing metro stations for the past few months will take a holiday reprieve to accommodate Ride Muni Free NYE. Muni Metro service will be available and running until 4 a.m. on Jan. 1.
Prepare for your free rides around town by checking out the full New Year's Eve Planned Alert.  A few key details:
Complimentary Muni service from 8 p.m. on Thursday, December 31 to 5 a.m. on Friday, January 1.
Extra Owl service (1 a.m. to 5 a.m.): 5 Fulton, 14 Mission, 22 Fillmore, 24 Divisadero, 38 Geary, 90 and 91 Owl and the L and N Owl bus routes.
Service on the F Market historic streetcar line is provided by buses after approximately 4 p.m.
Service on cable cars will be provided by buses after approximately 4 p.m.
Extra 1 California service will operate between Presidio Ave and Drum Street from 7 p.m. until 3 a.m.
Late night transit services will also be available from our regional transit partners: AC Transit, BART, and SamTrans.
Cheers to a safe and happy 2016!