San Francisco Parking Tips: Six Keys to Understanding Commute Hour Tow-Away Zones
Tuesday, September 20, 2016
Our "San Francisco Parking Tips" blog series explains some of the lesser-known rules listed in the SFMTA's new Streets of San Francisco Parking Guide (PDF). It's part of the SFMTA's effort to make it easier for locals and visitors to understand and follow the rules of on-street parking.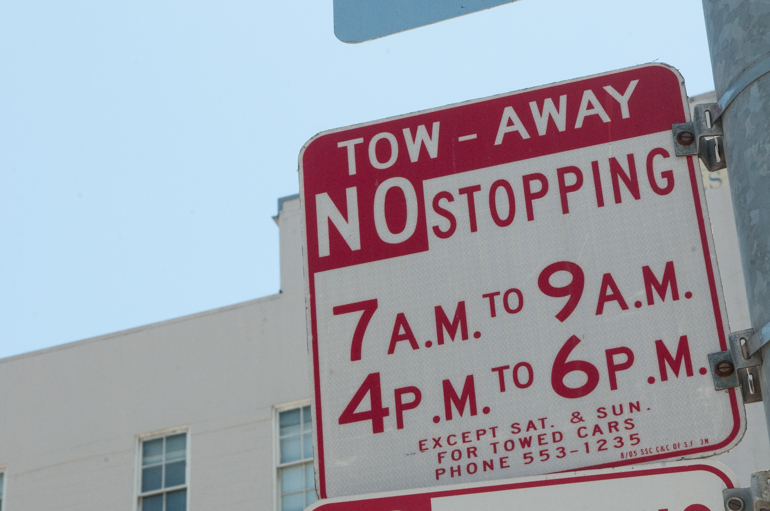 Look for these red and white signs (and others) before you park. 
Commute hour tow-away zones are curbside parking areas that are converted to traffic lanes to reduce traffic congestion during rush hour. During posted times, drivers are prohibited from stopping in these lanes, and violators may have their vehicles ticketed and towed.
Commute hour tow-away zones tend to be found on streets prone to heavy traffic, such as downtown and SoMa.
These restrictions are usually in place between the peak commute hours of 7 a.m. to 9 a.m. and 3 p.m. to 7 p.m., though the specific times are posted on signs.
Commute hour tow-away restrictions take precedence over any other restrictions posted on the street. There are no exemptions for drivers who display disabled parking placards or stop to pick up or drop off passengers.
We don't want your vehicle to get towed any more than you do. Here are some tips to avoid it.
Six Tips to Avoid Having Your Vehicle Towed in a Commute Hour Zone
When you park, read all signs within 100 feet of the vehicle carefully. Signs may indicate different parking rules on the same block, including restrictions for street sweeping and residential permit zones. Check the screens and signs on parking meters as well.
Notice if there seems to be an abundance of available parking on a usually busy street – it could be a sign of a commute hour tow away zone.
Give yourself plenty of time to move your vehicle prior to the time the restrictions take effect.
Set a reminder on your phone to move your car prior to the restricted time.
At a parking meter, don't forget that your time is still limited by commute hour restrictions – no matter how much you pay for.
Remember: Stopping in a tow-away zone at all is a citable violation, even if you are in the vehicle.
If Your Vehicle Does Get Towed
You should retrieve your vehicle as soon as possible to avoid storage fees, which accrue after the first four hours, and daily thereafter.  
Prior to paying any towing and storage fees, you have the right to:
Request a copy of the Towing Fees and Access Notice (.PDF)
Receive an itemized invoice of actual charges
Receive your personal property, at no charge, during normal business hours
Retrieve your vehicle during the first 72 hours of storage and avoid a lien fee, which is an additional fee that increases with interest each day your car remains in storage.
Inspect your vehicle, or have it inspected by your insurance carrier, at the storage facility with no charge during normal business hours
Retrieving a Towed Vehicle
AutoReturn provides all tow-related services for the City and County of San Francisco. The office is located at 450 7th Street across from the Hall of Justice. If you think your car has been towed, visit the AutoReturn website or call them at (415) 865-8200 for more information. Fee information for towed vehicles is also available on AutoReturn's FAQ page.
While tow fees are necessary to recover costs for parking enforcement and towing, they can be a burden, particularly for low-income residents. That's why we recently reduce our tow fees by $22.25. We also reduced the administrative fee for first-time tows by $89 (and by $175 for low-income individuals). Additionally, we waive all fees and provide a 48-hour grace period on storage fees for stolen vehicles that were towed.
For more on how to park legally in San Francisco, see our Parking Guide webpage and download the full Streets of San Francisco Parking Guide (PDF). The full text of local laws governing parking and traffic can be found in the San Francisco Transportation Code.
Stay tuned for more parking tips on our blog, and don't miss our previous post about the 72-Hour rule.