Season's Greetings and Schedule
Friday, December 21, 2018
As the festive season is now upon us and the new year is fast approaching, we wish you and yours a festive and safe holiday.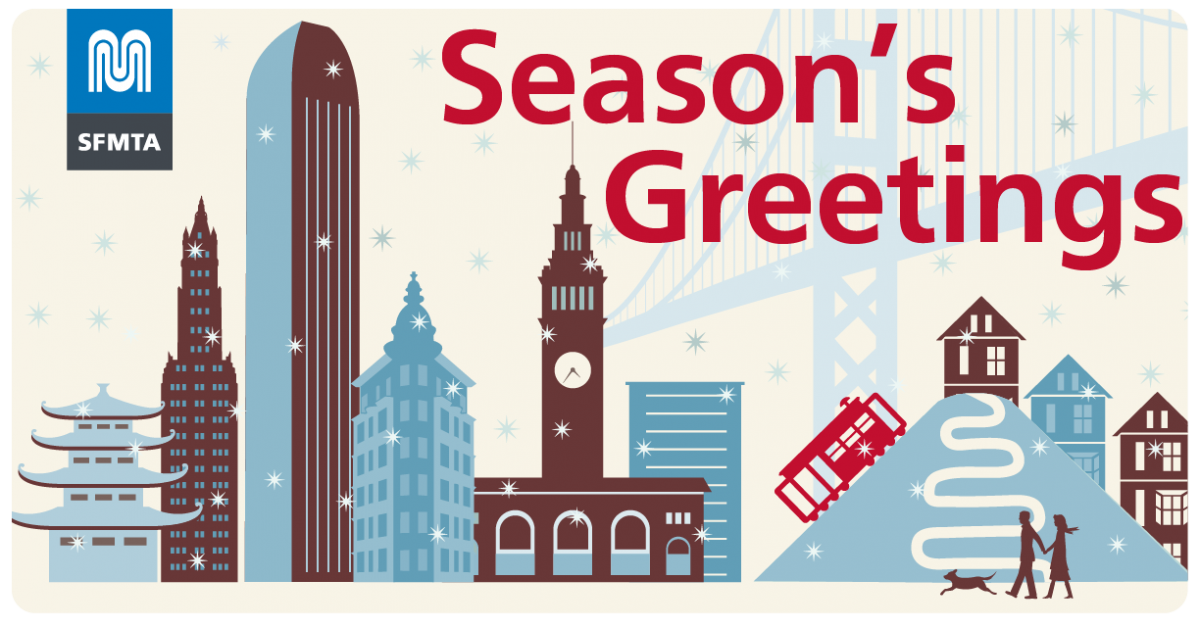 In 2018 we realized some significant milestones, from expanding our light-rail fleet to delivering 70 miles of safer streets. And we continue to work on implementing improvements to our service.
Our blog strives to help you get the information you need to be involved and to make your voices heard. Each year, we take this opportunity to thank our readers and commenters for their support. Thank you!
Over the next couple of weeks, Moving SF will publish on a lighter schedule. Muni will also adjust its schedule around the Christmas and New Year holidays.
Christmas and New Year's days are two of the three days of the year when meters are not enforced. (The third is Thanksgiving Day.) Note: parking meters and seven-day street sweeping restrictions will be enforced on Monday, Dec. 24 and Monday, Dec. 31. For further information on the holiday parking enforcement schedule, please check the SFMTA holiday parking enforcement page and the Port of San Francisco website.
Don't forget, Muni wants to be your New Year's Eve designated driver. Starting at 8 p.m., Monday, Dec. 31, Muni will be free to get you to or from your NYE revelry.