Seeing Double? Big Muni Ridership Jump Over Weekend
Did you take Muni this weekend? You were not alone (as you may have noticed). Public transportation ridership was up all over the region, and SF was no exception.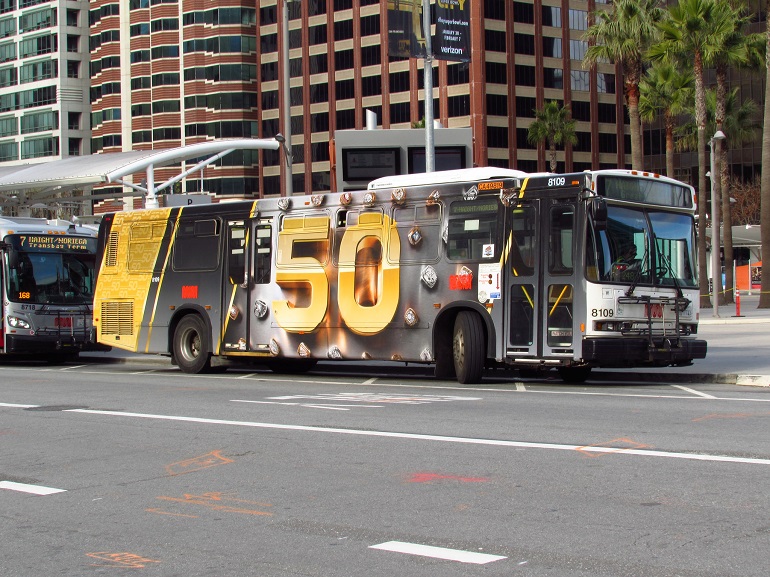 Muni is moving Super Bowl 50 festivities inside and out on January 25, 2016. Photo credit: brunosuras/Flickr
SFMTA's head of Muni (transit), John Haley, was exceptionally pleased, "While Super Bowl Week has only just begun, we encouraged the public to take mass transit and so far they are making the right choice. I'm proud of the staff who have been working extra long hours to provide extra service, coordinating transit re-routes and ensuring the safety of everyone who is depending on Muni."
Throughout the Muni system, buses and trains carried loads more than on a regular weekend. All Muni Metro stations saw twice the number of customers passing through compared to a usual weekend. In fact, Powell Station had the highest ridership this year — even higher than New Year's Day.
Extra shuttle trains in the subway contributed to Muni's ability to keep folks moving. And the preparation done by Muni maintenance crews meant that there were fewer mechanical issues on the street.
To all of those who headed our call to take transit — thank you for helping to keep our city moving, and thank you for riding Muni!