Seeking Bike Parking Peace of Mind? Try Our New Lockers
The days of fastening your bike to a pole and hoping for the best are fading fast.
Better bike parking solutions are increasing. The SFMTA recently installed 48 new stainless-steel bike lockers across the city – you might have noticed the newest ones outside Moscone Center, inside Japan Center or the Ulloa Street parking lot, near West Portal Station.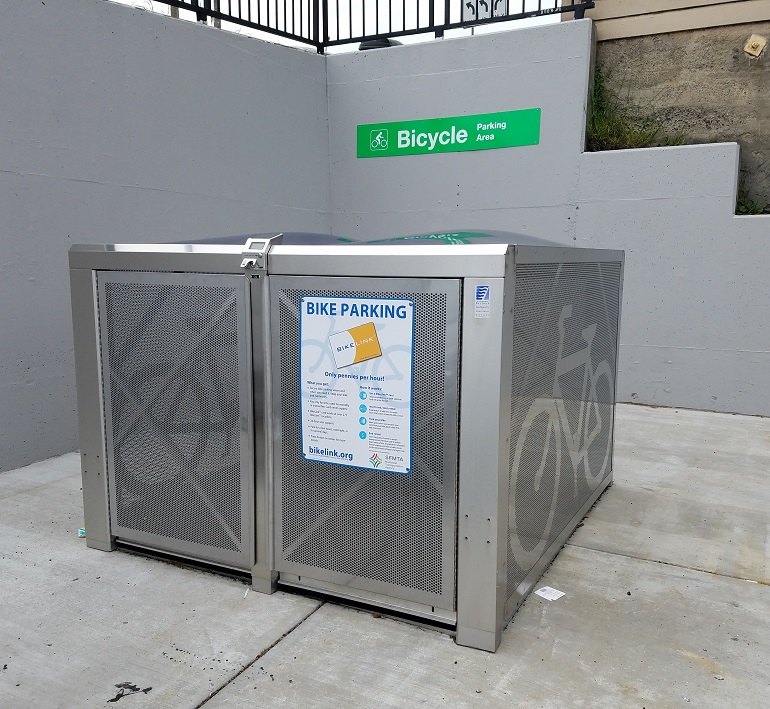 The new electronic lockers, which we installed thanks to two grants from the Bay Area Air Quality Management District, offer people who bike a safer and more secure option as they go about their day. The lockers feature plenty of room to store gear such as lights, gloves, reflective vests and helmets. And, unlike the former lockers made of solid plastic, the new lockers feature perforated walls and doors you can see through. Even better, they don't require a key to open.
Instead, you can rent the lockers with a BikeLink™ card. This is the same card use for BART bike lockers. Similar to a Clipper card, the BikeLink cards store your locker payment and let you access the locker securely. The rate is just 5 cents an hour for your allotted time.
Electronic lockers make it much easier to make trips that combine biking and transit. On any given day, commuters can be seen storing their bikes in one of the lockers at transit hubs like West Portal prior to boarding a Muni Metro train.
As our newly released annual bike count report shows, bicycling continues to be the fastest-growing mode of everyday transportation mode in San Francisco, with an estimated 82,000 bike trips in the city per day. We're installing more lockers to keep that trend going.
To join the city's on-demand bike parking revolution, check out our Bike Locker webpage for more info on how to get a BikeLink card and reserve a locker.
Our 48 electronic bike lockers are located at these six city-owned downtown parking lots and garages: