Select Increases to Muni Service Frequency Starting May 16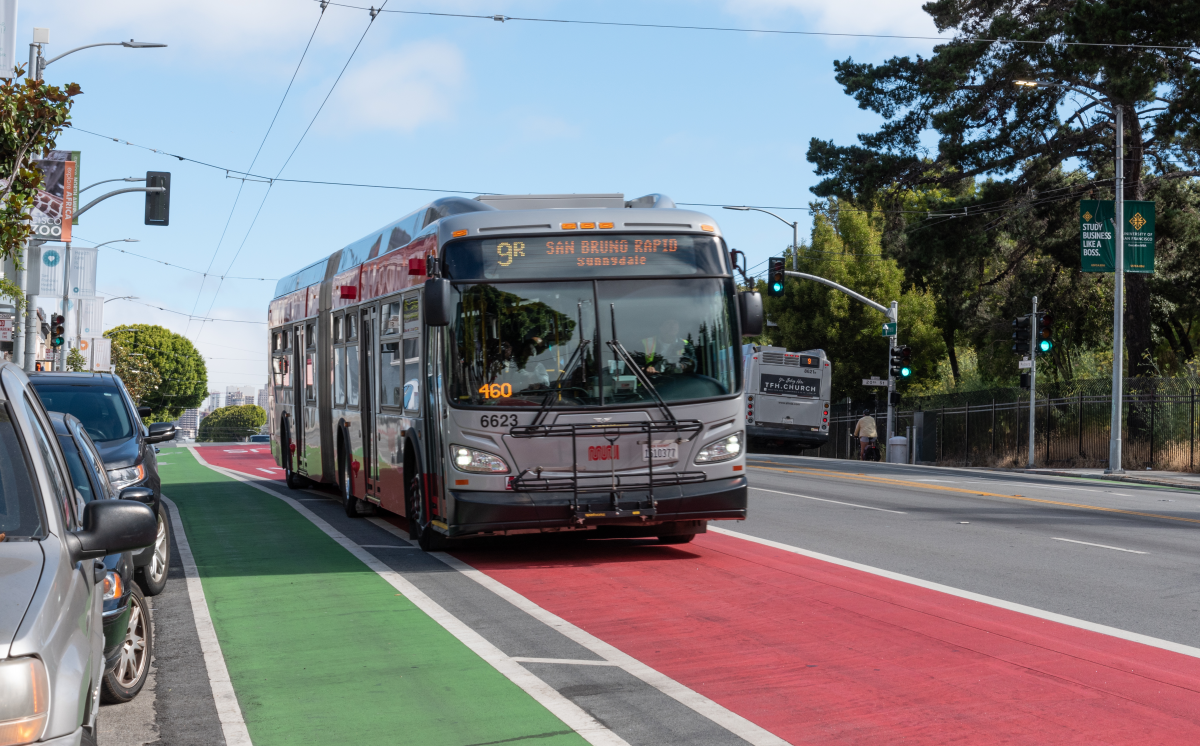 Beginning Saturday, May 16, the SFMTA will increase the frequency on a number of lines in Muni's existing COVID-19 Core system and reinstate the 9R San Bruno Rapid. This more frequent service will continue to support essential trips in San Francisco and address crowding in several of our routes, allowing for better physical distancing.  
We are able to deliver these changes because our staffing availability has improved, and we have implemented additional bus cleaning programs. These changes allow us to make service frequency increases to our COVID-19 Core service network. 
Public health orders require Muni to limit capacity on our vehicles to provide enough space onboard to physically distance from others. By having buses arrive more frequently on routes experiencing higher passenger volumes, we can provide customers more room to physically distance. These improvements allow Muni to continue to support essential trips that cannot be made in other ways.  
Ridership data is facilitating precise decision-making about where to increase the frequency of Muni service.  Weekday frequencies on the following routes will be improved by two to four minutes, and they will all operate at frequencies of 10 minutes or less:  
8 Bayshore 
14R Mission Rapid 
22 Fillmore
38R Geary Rapid 
49 Van Ness/Mission 
N Bus  
T Bus 
The 14 Mission Owl frequency will be improved by 10 minutes for both weekday and weekend service and will operate approximately every 20 minutes from 10:00 pm to 5:00 am. 
On weekdays, the 9R San Bruno Rapid will also be restored to support physical distancing, help alleviate crowding on the 9 San Bruno line and add more frequent service to Zuckerberg San Francisco General Hospital. The 9R San Bruno Rapid and 9 San Bruno lines will resume their regular routing. When the 9R San Bruno Rapid is in service to McLaren Park on weekdays from 7:00 am to 6:00 pm, the 9 San Bruno will terminate on Bayshore at Visitacion. At all other times, the 9 San Bruno will go to McLaren Park. Further 9R details are provided in our transit and travel update. 
9R San Bruno Rapid: Frequency approximately every 10 minutes from 7:00 am to 6:00 pm (Weekdays only) 

9 San Bruno: Frequency approximately every 10 minutes from 5:00 am to 10:00 pm (Weekdays and weekends) 
Map of Core Service that will be in effect as of Saturday, May 16: 
Access a larger map of service in effect May 16 that also displays regional transit connections and can be downloaded.
The modified COVID-19 Core Service Plan is in support of essential trips that cannot be made in other ways. All San Franciscans are helping us maintain adequate space on buses for physical distancing by continuing to stay at home except for essential trips. If you need to make an essential trip, please use an alternate form of transportation whenever possible – walking, biking or driving – to save a seat on Muni for those who don't have other options.  
If you do need to travel on Muni, give yourself extra time. You may need to wait longer for a bus with available space for physical distancing. Masks or face coverings are required on Muni. To avoid getting passed up, cover your nose and mouth with a mask or other facial covering and give the operator a friendly wave to be sure they see you. Remember, your trip may now include transfers and a longer walk, and your fare is good for two hours across multiple buses. 
Visit SFMTA.com/COVID-19 for the latest information about Muni routes in service or to explore other ways to get around the city.