Service Changes - Back To School and Let's Hit the Beach
Wednesday, August 22, 2018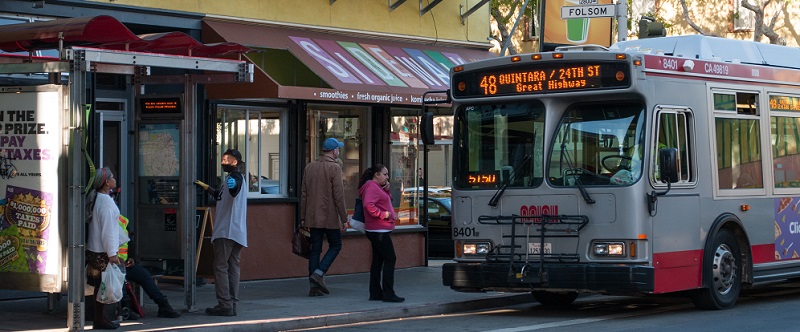 Across the City
Another round of service changes are headed your way, as part of our previously scheduled service improvements influenced by the Muni Service Equity Strategy, our budget hearings and other Muni rider feedback.
School trippers are back! Beginning August 25 the 24 Divisadero, 29 Sunset, 44 O'Shaughnessy trippers are being reinstated to accommodate the increase of school kids and their families using Muni to get to school. This is in addition to our other supplemental after-school service for 27 middle schools and 23 high schools throughout the city. These added runs begin at a school once the school day has ended and then merge into the regular bus route. Visit our Routes & Stops page to see a map and schedule for all SFMTA services. To find the school and which are the nearest bus routes and rail lines, visit our Middle Schools and High Schools pages.
Richmond/ Sunset/ West Portal
The northern terminal of the 44 O'Shaughnessy is changing from the near side of California and 6th Ave to the far side, which helps improve visibility at the intersection. Feedback from the community indicated that terminal buses were blocking the view of the traffic signal; this change could help improve safety concerns at California & 6th.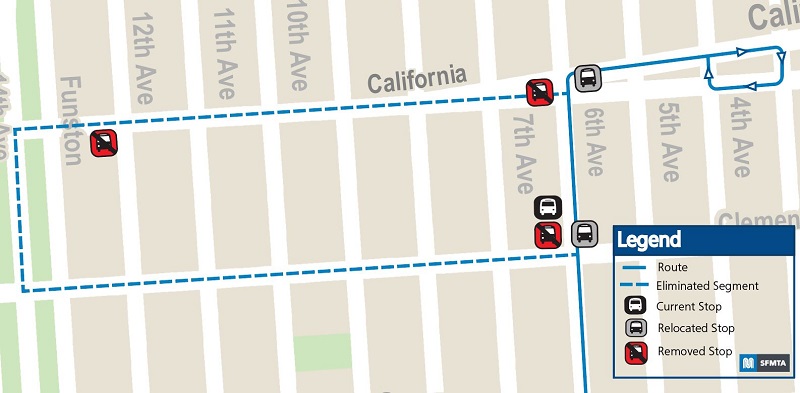 It's even easier to get to the beach! As part of the Muni Service Equity Strategy and an outreach study that SFMTA conducted in the fall of 2017 focused on the 66 Quintara, we found that residents wanted more and easier access to the beach. We're extending service on the 48 Quintara from 6:30 a.m. - 6:30 p.m. on weekdays all the way to Ocean Beach.
Based on customer feedback, we are increasing weekend frequency on the 66 Quintara from 30 to 20 minutes. This increase in bus frequency will make it easier for customers to get around the west side of the city on weekends, with improved access to connections to other Muni routes.
SoMa/ Salesforce Transit Center
The Treasure Island bus has officially moved into its new home at the Salesforce Transit Center. As of August 12, the 25 Treasure Island will terminate at the Transit Center on the upper-level bus deck.
Past Changes
We would like to thank the public for all their input that helps us fine-tune our routes, add extra service where needed and streamline our entire system. Here are some of the changes over the past two years that you helped us make.
Spring 2016
Frequency increases: 1 California, 2 Clement, 6 Haight/Parnassus, 7 Haight/Noriega, 10 Townsend, 12 Folsom/Pacific, 31 Balboa, 35 Eureka, 37 Corbett, 47 Van Ness, 25 OWL.

Weekend rail service frequency increases from 12 min to 10 min.

New routes: 44 and 48 OWL.

Route alignments and extensions to improve connections: 1BX California Express, 14R Mission Rapid, 18 46th Ave, 28R 19th Ave Rapid, 35 Eureka.

Extra service hours: Richmond Expresses extended to 7 p.m., 28R 19th Avenue, 57 Parkmerced, E Line on weekdays.

Upsize 30X Marina Express from 40ft to 60ft buses.
Fall 2016
Reliability improvements resulting from Sansome contra-flow lane for 10 Townsend and 12 Folsom/Pacific.

Upsize 5R Fulton Rapid from 40ft to 60ft buses.

2 Clement/3 Jackson structure change.
Winter 2017
Route alignment to improve access to Balboa Park BART: 28R 19th Avenue.

L Taraval stop consolidation.
Fall 2017
Combined the 7R Haight/Noriega Rapid and with 7 Haight/Noriega for an increase in coverage during the AM/PM peak.
Summer 2018
Frequency increases: N Judah, K/T Ingleside-Third Street, 8AX/8BX Bayshore Express.

Move into new Transit Center.

Upsizing of 1AX/1BX California Expresses, 9R San Bruno Rapid from 40 to 60ft buses.