SF Restaurant Week: January 22nd-31st
Tuesday, January 21, 2020
It's once again time for San Francisco Restaurant Week, where some of the best neighborhood restaurants thoughtfully create prix-fixe menus that highlight some of their signature tastes or take the opportunity to feature a new dish. It's a great week of restaurants strutting their creativity to give you, the diner, a peek at the food to tempt you to return.
This year SF Restaurant Week will feature two-course lunch and three or more course dinner menus at different prices determined by the restaurant:
Lunch (2+ course):  $15.15 & $25.25
Dinner (3+ course): $40.40 & $65.65 menus
Visit the SF Restaurant Week listings to choose by neighborhood or cuisine preference—menus are also included.
You may want to get yourself out via the 5 Fulton to experience the neighborhood gem Cassava where they are known for an exceptional Japanese breakfast of miso soup, market fish, pickles and the most sublime soft shell-poached egg in broth you may ever experience—right there in the Balboa District.   
Grab a colleague and hope on one of the vintage street cars (Line F) for an extended lunch at Starbelly over in the Castro for that fried chicken po'boy with jalapeno and radicchio slaw.
Dinner options are wide-ranging: you can't go wrong at Blue Plate on Mission Street, easily accessible by the 14, J Church and 49. Offerings include the indulgent black truffle gnocchi, blue plate meatloaf or egg tagliorni with lemon. An exceptional value can be found at China Live, a 30,000 square foot culinary and cultural destination in the heart of Chinatown.   
Whatever way you get there SF Restaurant Week offers Mexican, Indian, Italian, Caribbean and all sorts of tasty delights for lunch or dinner. Check out a new neighborhood and support a small business between January 22-31.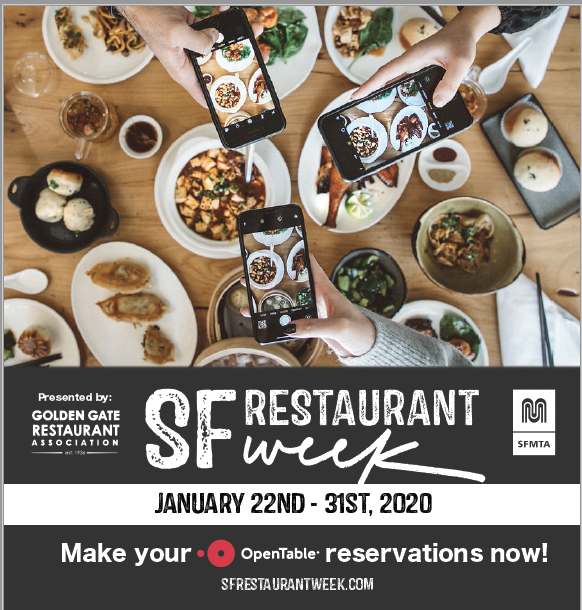 SF Restaurant Week, January 22-31, features two-course lunch and three or more course dinner menus.