SFMTA Announces New Pedestrian Countdown Changes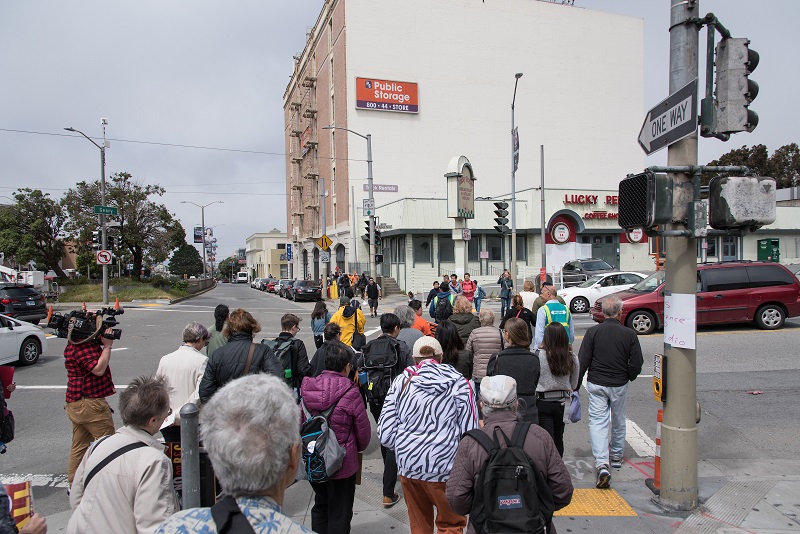 Walk it Like We Talk It: SFMTA Announces New Pedestrian Countdown Changes
On Wednesday, Senior & Disability Action (SDA), Walk SF, Supervisor Sandra Lee Fewer and community members joined the SFMTA to debut our new policy to increase the time shown during the pedestrian countdown from 3.5 ft/second to 3.0 ft/second for city crosswalks.
This change will amount to a couple of seconds at most intersections and as much as five seconds at lengthier crossings. It will also better communicate to all people, including seniors and people with disabilities, the amount of time left to cross the street. This new standard will be applied gradually over the next 10 years to the vast majority of the SFMTA's 1,200 signalized intersections. Work already underway includes a significant agency effort to retime many of the intersections north and south of Market Street.
This new implementation supports the goal of Vision Zero – the citywide effort to eliminate traffic deaths in San Francisco. This change also complements the recent passage of AB 390, which now makes it legal for Californians to step into a crosswalk when the countdown signal turns red.
The announcement took place at the corner of Geary Boulevard and Presidio, with speeches and a song culminating in the large group walking to Geary Boulevard and Masonic Avenue to safely cross the street together.
You can stay updated on what we're working on to make Vision Zero happen in San Francisco. From education to engineering and enforcement, this city-wide effort is a collaboration between city agencies and community groups to make safer streets for all.
To get you motivated about street safety this weekend, check out this song performed by SDA and Walk SF from the press conference: