SFMTA Annual Report: Streets for All
Tuesday, January 16, 2018
The new year may be off to a fast-rolling start.
But with the release of the SFMTA's new annual report, Streets for All, we're thrilled to take a quick look back at some of our agency's biggest moments.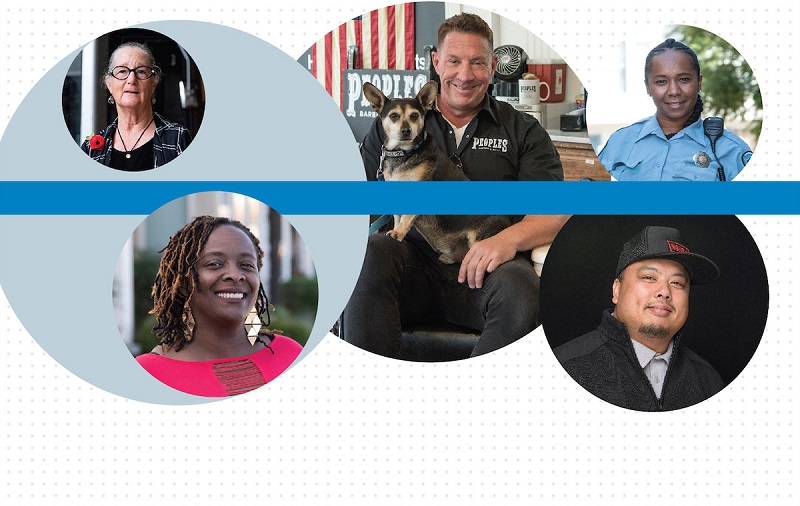 The fiscal year 2016-2017 brought a lot of change.
We received our first new 21st century Muni light rail trains! Crafted locally by the Siemens Sacramento plant, this new, more reliable generation of light rail vehicles will go 10 times longer without requiring maintenance than the old trains. The first train glided onto San Francisco streets last November.
Service improvements and vehicle upgrades also helped move Muni Forward – and customers again gave Muni high satisfaction marks in 2017, with 70 percent of riders rating its overall service as "good" or "excellent".
Not only are we replacing and expanding the Muni fleet, there were other ways we enhanced the transit experience.
From launching shuttles on our busiest Metro line, the N Judah, and beginning to implement Muni Forward safety improvements on the L Taraval line, to launching bigger buses on the 5 Fulton and changes on the streets to improve Muni reliability.
We also launched an interdisciplinary team to focus on Muni collisions and entered a notable stage of our Next Generation Customer Information System.
Equity is an important part of the conversation today, and our Muni Service Equity Strategy is a model for other city agencies. We look at historically underserved neighborhoods and where we see inefficiencies we make capital improvements and changes to make transit service more equitable.
And to make a more bike friendly city we have big projects in the works like the Polk Streetscape Project, Masonic Avenue Streetscape Project and Second Street Improvement Project.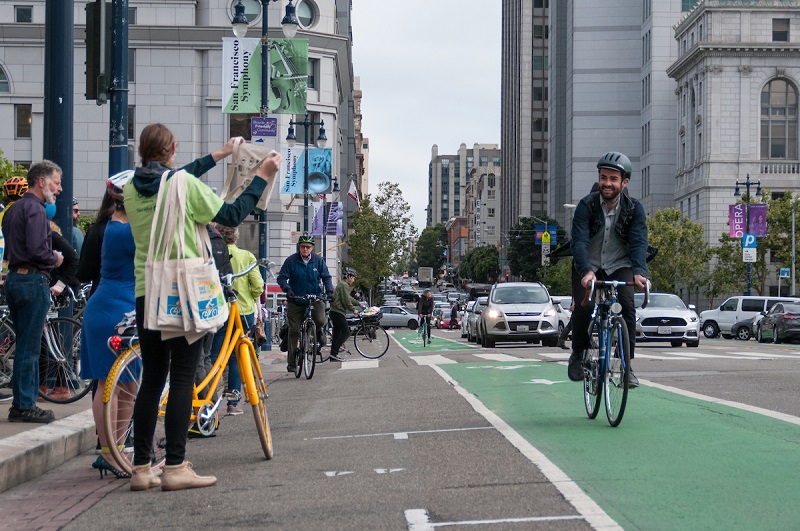 A big part of our story is Vision Zero, the citywide policy to eliminate traffic deaths.
There were fewer traffic deaths in 2017 than at any time since the city began recording this a century ago. While the only acceptable number of deaths is zero, it is encouraging to see that our efforts are impacting street safety even as the population increases.
The SFMTA designs safer streets to slow down traffic – we've added 17 miles of improvements to the high-injury network.
We also collaborate with city partners on Vision Zero education campaigns, street enforcement and policy evaluation. Recently San Francisco Bay Area Families for Safe Streets, a volunteer group made up of the family members of victims of traffic violence, teamed up with us to lobby state officials in support of automated speed enforcement. It will take the support of all of us to make sure our streets are safer.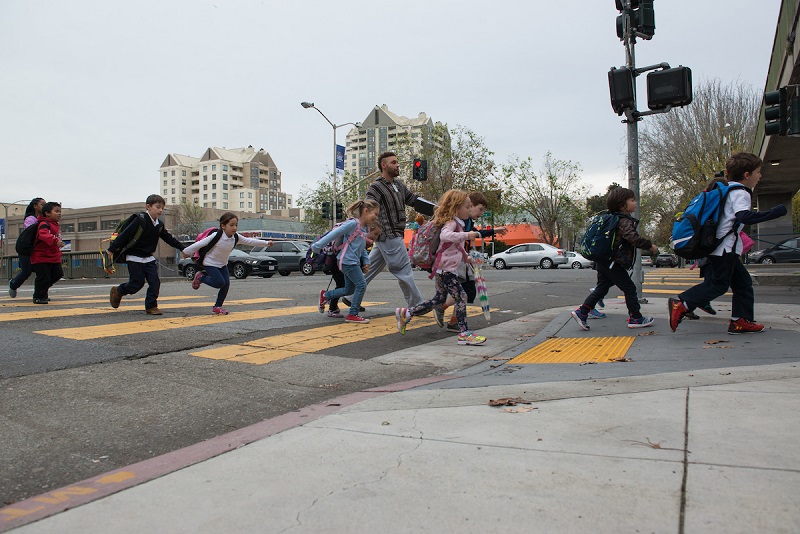 The way we plan the city is important.
This past fiscal year, 57 percent of trips were made by using public transit, bikes, walking, taxis and other more sustainable means of travel. The city's climate policy sets the goal of 80 percent of trips should be made using these modes by 2030.
Speaking of climate and the environment, our agency's reduction in CO2 emissions is noteworthy.
We've made an eightfold reduction, thanks to the modernization of our bus fleet and switching to renewable diesel, as well other efforts to manage resources wisely.
People are at the center of all we do...
...and that is why we would like to give a big thank you to all the community groups and everyone who played a role in working with us to achieve a city with streets for all! There's so much we'd like to share about our recent fiscal year. And we invite you to learn more about us and the transportation work we do together as a unified agency at SFMTA.com/AnnualReport.