SFMTA Public Meetings, April 4 - 17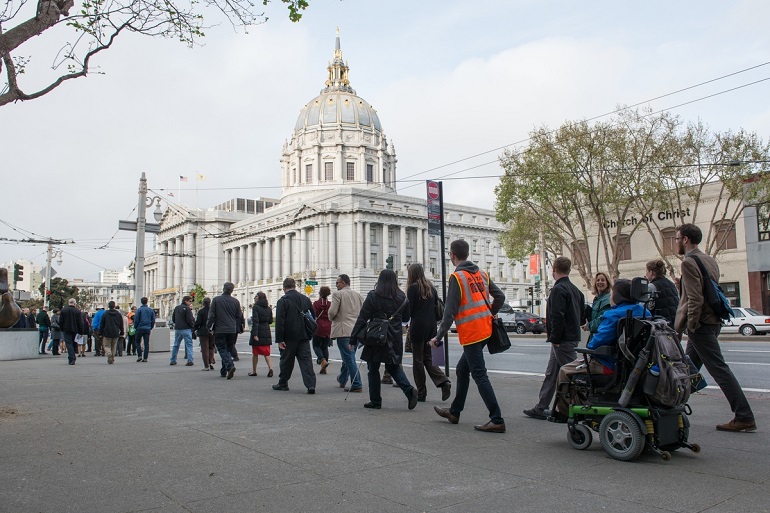 The March 3 Van Ness public walking tours included the Civic Center area and City Hall. 
Board of Directors Meeting: 1 p.m., Tuesday, April 5
City Hall, Room 400
Nearby Muni Routes: 5, 19, 21, 47, 49, F Market, Metro-Civic Center Station
Tomorrow's Board of Directors meeting will include a presentation and public hearing on the agency's 2017-2018 budget. This public hearing will cover possible changes to fees, fares, and fines, while considering other ways to invest in the operating and capital budgets. Our goals are to create a safer transportation experience for everyone by improving transit, walking, bicycling, ridesharing and carsharing. Improving Muni reliability and creating initiatives for safer streets are all detailed in the preliminary proposals in the budget presentation (.pdf).
After conducting nine meetings, including a webinar, staff continues to compile feedback from the public to inform the priorities that will shape the final budget, which must be submitted to the mayor and the Board of Supervisors by May 1.
Our proposed budget includes more investments than ever in better transit, safer streets, smarter parking management and more. We already have 147 new buses in service, and the first of our 215 new trains will arrive later this year. We continue to implement transit-first priority projects, and we will roll-out out our first Muni Equity Strategy to improve transportation in the city for low-income seniors, youth and those with disabilities. A blog post detailing our efforts and proposals can be found here.
Our Board of Directors meetings are usually held on the first and third Tuesdays of each month. The agendas are posted under "meetings" on the Board's web page 72 hours in advance of the meeting. All regular meetings can be viewed on The City channel 78 or online at the SFGovTV2.
If you can't make tomorrow's meeting, another presentation and public hearing will be held on Tuesday, April 19. You can also e-mail comments to sfmtabudget@sfmta.com or tweet them by mentioning the SFMTA's Twitter handle, @sfmta_muni, and the hashtag #SFMTAbudget. You can also sign up for email updates.
Van Ness Improvement Project Walking Tour: 4:30 p.m., Monday, April 18
Old First Church Fellowship Hall
1751 Sacramento Street,  between Polk and Van Ness
Nearby Muni Routes: 1, 47, 49
Project staff will lead a fun and informative mile-long walking tour highlighting the changes you can expect to see once construction of the project is completed. The tour will start from the southeast corner of Van Ness Avenue and Sacramento Street, outside Old First Church. The walk will continue south and conclude at Eddy Street. During the previous public tour, more than 40 people joined to learn about transit and safety improvements planned for Van Ness Avenue between Mission and North Point streets.
Space is limited! Please RSVP to vannessbrt@sfmta.com.
To be notified about future walking tours, sign up for project updates. A summary of the inaugural walking tour can be found here. 
Our Meeting Round-up feature highlights different SFMTA public meetings that will be held within the coming two weeks. These meetings give you the chance to share your ideas and provide us with helpful feedback. Join us at our next meeting to learn more about SF's changing and complex transportation system.
Those listed above are just a few highlights. You can find a full list of upcoming meetings and keep up to date on your favorite SFMTA committees here.