SFMTA Public Meetings, Feb. 9 – 20
ISCOTT Meeting: 9a.m., Thursday, Feb. 12
SFMTA Offices, 7th Floor, Room 7080
1 South Van Ness Avenue at Market Street
Nearby Muni Routes: 9, 9L, 47, 49, F Market
The Interdepartmental Staff Committee on Traffic and Transportation (ISCOTT) is a committee of city staff members that meets twice a month to discuss proposed temporary street closures for special events. ISCOTT is composed of members from the following agencies: the SFMTA, Public Works, Police, Fire, Public Health and the Port of San Francisco.
The agenda for Thursday's meeting has been posted. As the outdoor event and activity season heats up, these meetings will become increasingly busy.
 
SFMTA Board of Directors: 1p.m., Tuesday, Feb. 17  
City Hall, Room 400
Nearby Muni Routes: 5, 19, 21, 47, 49, F Market
Our Board of Directors meetings are usually held on the first and third Tuesdays of each month.
The agendas are posted under "meetings" on the Board's web page 72 hours in advance of the meeting. All regular meetings can be viewed on The City channel 78 or online at the SFGovTV2.
 
Open House for Mission Improvements: 6p.m., Wednesday, Feb. 18
The Women's Building
3543 18th Street
Nearby Muni Routes: 14, 14L, 33, 49
The SFMTA is working on making San Francisco transportation safer and more reliable. Community members are encouraged to attend the meeting and receive the latest information about the Muni Forward 14 Mission Rapid Project. The proposed improvements along Mission Street include: removing turn conflicts at busy intersections, adding transit sidewalk extensions and establishing transit-only lanes to reduce muni delays. As a part of this effort we are holding a public forum regarding the proposed changes along the corridor.
This meeting will also be the last open house for the Mission Street Public Life Plan, conducted in coordination with the San Francisco Planning Department. The proposals include improving pedestrian safety, establishing transit-only lanes and providing strategies for art display.
If you cannot attend, but would still like to provide feedback about the 14 Mission project, please take the online survey for the project.
 
Policy and Governance Committee Meeting: 9a.m., Friday, Feb. 20
SFMTA Offices, 7th Floor, Union Square Conference Room
1 South Van Ness Avenue at Market Street
Nearby Muni Routes: 9, 9L, 47, 49, F Market
The Policy and Governance Committee (PAG) recommend and consider policies and procedures concerning the Board's operations and standards. 
Our Meeting Round-up feature highlights different SFMTA public meetings that will be held within the coming two weeks. These meetings give you the chance to share your ideas and provide us with helpful feedback. Join us at our next meeting to learn more about SF's changing and complex transportation system.
You can find a full list of upcoming meetings and keep up to date on your favorite SFMTA committees here.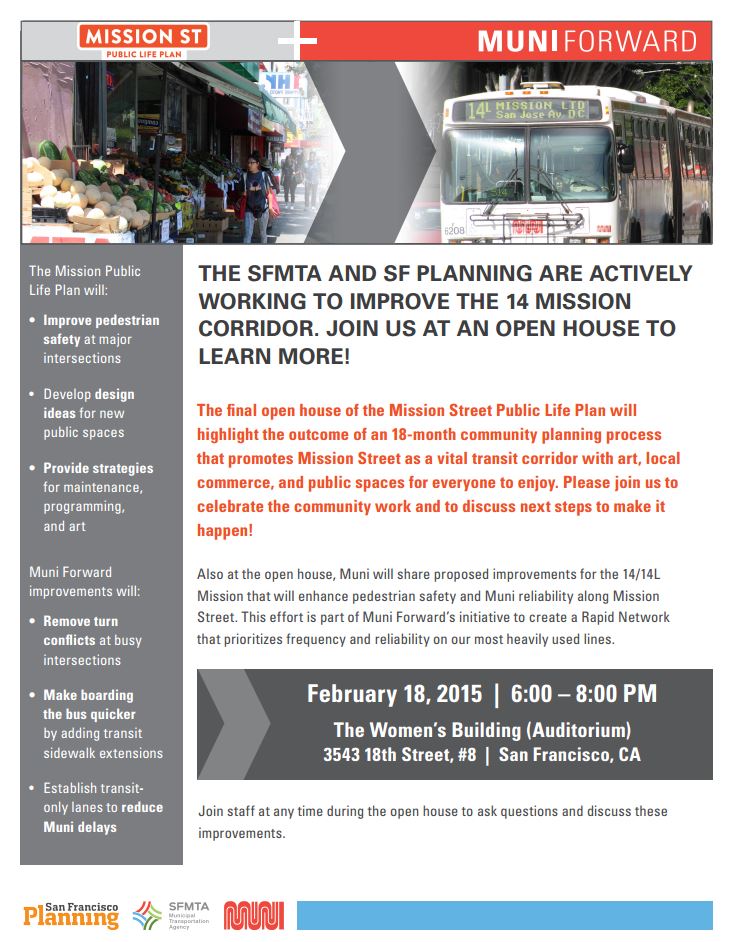 The meeting flyer for the last Mission Street Public Life Plan open house. Join us on Feb. 18 to learn more!