SFMTA Racks Up More Racks
Wednesday, February 20, 2019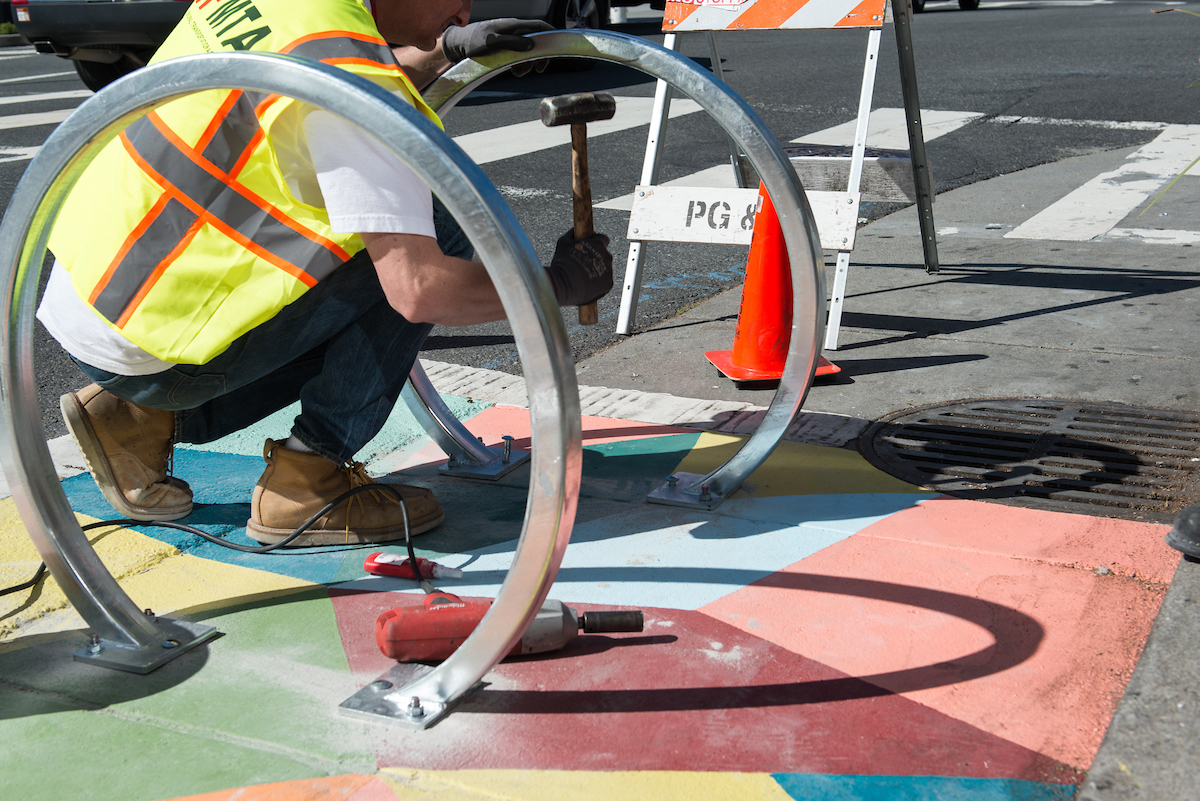 Today, there are more than 6,000 bike racks in San Francisco, supplying 12,000 spaces (each rack can accommodate two bikes) to securely lock your bike (or scooter!) And with more people using two wheels to get around, demand for racks is high.
That's why the SFMTA is serious about installing more parking. We even have a dedicated Bike Parking Program that relentlessly installs more than 1,200 parking spaces annually. And we have a plan to install even more parking … for bikes that is.
Each year we install up to 600 bike racks and believe it or not, a boggling 80 percent of the racks we install are at the public's request.
With more people getting around on two-wheels, from their own bikes to shared, stationless bikes and scooters, public demand for more bike parking has surged. Last year alone, the SFMTA received 500 rack requests from the public.
The good news is that the SFMTA saw this coming and stockpiled an armada of bike racks. Now, all we have to do is get them out on the streets, which is where you come in.
How Can I Request A Bike Rack?
You can request a new sidewalk bicycle rack on our webpage. Prior to submitting your request, please take a look at the Bicycle Rack Specifications and the Sidewalk Bicycle Rack Placement Guidelines. We also install high capacity bike corrals. If you're interested in requesting a bicycle corral please look at the Bike Corral Standards and Application Form for more information.
Where Is Bicycle Parking Located In The City?
There are over 6,000 bicycle racks and corrals citywide available for public use. Most existing long-term bicycle parking in San Francisco is provided by our regional transit operators, BART and Caltrain. The SFMTA also provides long-term bicycle parking options in city-owned garages in and around downtown with a combination of bicycle racks at most locations and electronic bike lockers at various public garages throughout the city.
Before planning your trip, take a look at the bicycle parking options available at selected SFMTA Garages.