SFMTA Staff Recognized for Putting Riders First
SFMTA staff were honored for their work to keep the city moving during the San Francisco Transit Riders' Rider First Awards last Friday. The nonprofit organization that aims to better transit in San Francisco gave awards to several members of the SFMTA's hard-working staff who put Muni customers first. 
"It's as important as ever that we come together to show our appreciation for all those people working hard to make Muni better every day for riders, despite all the challenges," the San Francisco Transit Riders said of the awards.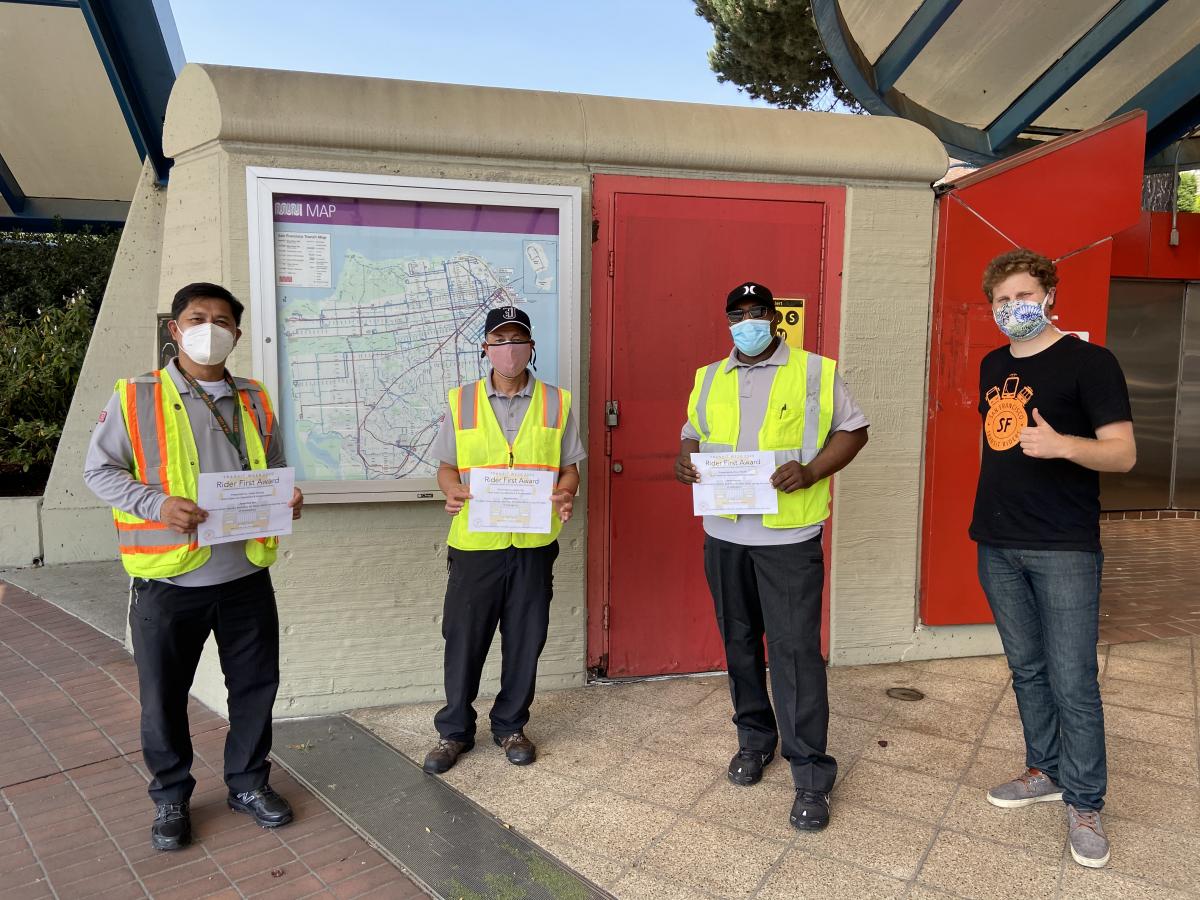 The San Francisco Transit Riders present awards to Perry Poole, Johnny Siu, Celso Abueg at West Portal Station.
The Transit Riders presented awards to: 
Myra Phillips and the Car Cleaner team for developing and instituting new cleaning protocols and systems in a quick and effective response to the pandemic, 

Dickson Yee and the Personal Protective Equipment team for tireless work making sure our Muni operators and staff have personal protective equipment, 

Cable car operators Perry Poole, Johnny Siu, Celso Abueg and Sam Eversly for stepping up in a new role as ambassadors and using their customer service skills out to the streets to help direct people during all the service changes, 

Public Information Officer Enrique Aguilar for visual communications that helped the public understand service changes and the importance of transit lanes, 

Jason Lee for  ushering the biggest improvement in customer information in two decades through design and the SFMTA Board serving as the Program Manager for the Next Generation Customer Information System, 
Felix Castillo for being a voice for his fellow Muni Operators during the pandemic, 

Shaun Reeves, a Muni Operator, who helped transport homeless San Franciscans under investigation for COVID-19 infection in the early days of the shelter-in-place. 
You can watch the SF Transit Riders' Rider First Awards ceremony here. "This year has shown once again that Muni is the critical transportation link for our essential workforce. People who are riding Muni throughout this crisis are the critical workers doing the essential tasks we depend on during these difficult times," the organization said. "They're also the people who depend on Muni to access services We have always known #TransitIsEssential." 
The SFMTA congratulates the staff who won awards for their dedication to our customers.