Shared Spaces Lights Up Skybridge on Stevenson
Tuesday, November 24, 2020
The Shared Spaces program has imagined new ways to utilize public spaces around the city. Skybridge on Stevenson, a unique partnership between SFMTA, OEWD, the San Francisco Parks Alliance, the Mid Market Community Benefit District, and Zendesk in an alley in SoMa illustrated how coming together, we can support communities.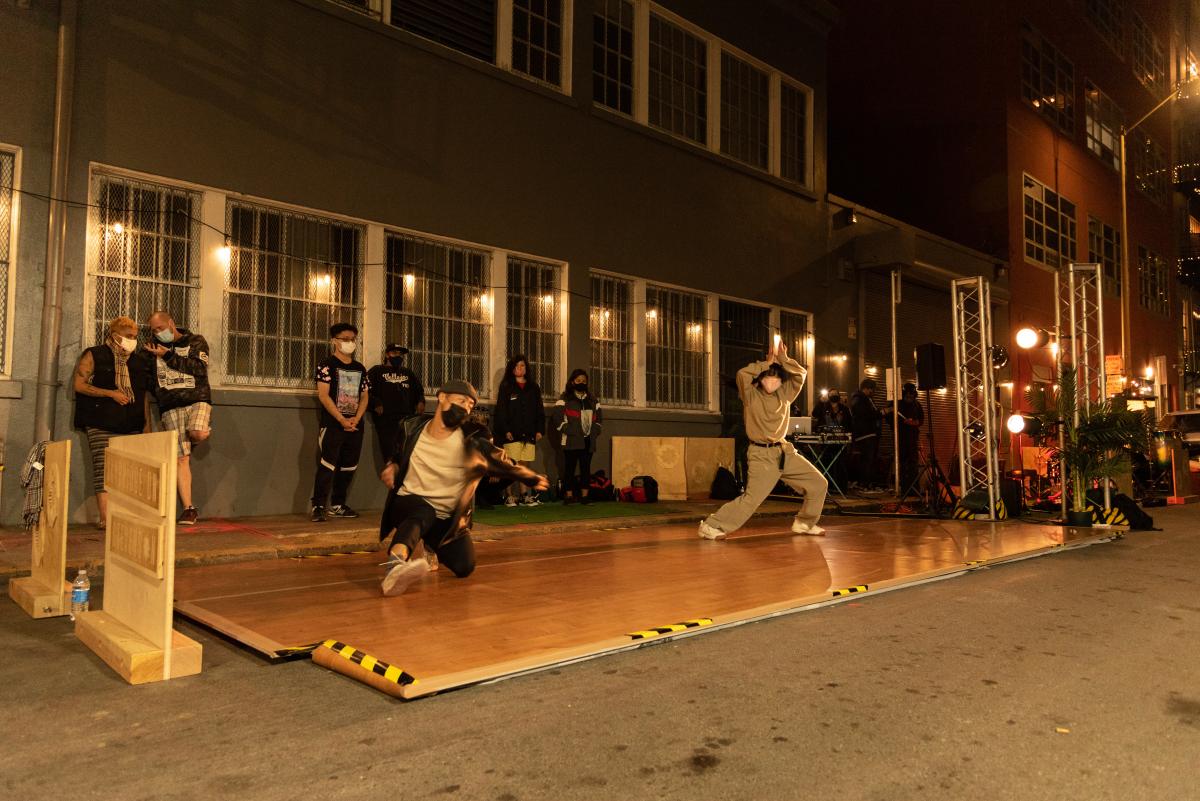 Dancers were just one part of the programing for the Skybridge Shared Space
While completing its ten week run, the Shared Spaces program  event served as a launchpad to reimagine community building in the diverse neighborhood where SOMA Pilipinas, the Transgender District, Theatre District and Mid-Market mix. Dense neighborhoods like SOMA often lack access to open spaces and community gathering locations, making this project even more important.
Every Thursday evening, Stevenson Street was shut down between 6th and 7th streets for performances by area musicians, dancers and artists. Food from area businesses like Montesacro Pinseria Romana SF and The Grilledcheezguy were available free of charge to attendees, many of whom are residents of nearby SROs. Even with the required masks, physical distancing and other safety measures, the event provided an evening of normalcy during these challenging times.
The Skybridge project showed how we are working to be nimbler and provided needed services during the pandemic. The Parks Alliance had already planning a lighting installation and pop-up events to activate the Stevenson alleyway. However, the Shared Spaces program expedited permits and gain support that otherwise might have taken years so that the community could enjoy the space more quickly.
The Skybridge on Stevenson team made it a priority to understand what the community was looking for, both before and after COVID-19 hit. Behind the lighting installation was a desire for increased safety as well as foot traffic to local businesses. Theater and music groups were looking for an outdoor space to practice and perform. Local residents sought opportunities to connect with each other safely.
"As someone who comes into these communities, you are the least knowledgeable," says Mark Bonsignore of the SF Parks Alliance. "Really listen to what needs to be done. There's always a way. You can't always build a park so we look at underutilized areas of the city and utilize them so they can be for the public benefit."
With several SFMTA projects like Mission Street SoMa, Better Market Street, the 6th Street Pedestrian Safety Project, and Safer Taylor Street either underway or starting soon, we are exploring opportunities to utilize public space and/or side streets for community-building during construction. For example, the 6th Street Pedestrian Safety Project will ensure that Skybridge on Stevenson can continue during construction. We look forward to plans aiming to restart the event this spring.  
Thank you to all the partner organizations and people that made this project a huge success.