Shelter-in-Place Allows Muni to Analyze Sources of Delay
During shelter-in-place, San Francisco has set the pause button. Besides essential workers, people have stayed home, causing daily traffic congestion to feel like a distant memory. Over these months, Muni has continued to serve approximately 100,000 passengers a day for essential trips on a network of core routes. As traffic has virtually disappeared, Muni delays have disappeared with it.  
These highly unusual circumstances allowed the SFMTA to analyze data for Muni travel times and key sources of delay in ways that would otherwise be impossible. By monitoring Muni travel times during shelter-in-place, we were able to quantify the impacts congestion has on Muni service during normal times. What we're learning can help bring back our transit system in a way that addresses past problems, as the city begins to recover.  
With fewer cars on the road, peak Muni travel times were reduced citywide by an average of 15% compared to pre-COVID-19. Most travel time savings came from reduced traffic delay, with less than 5% coming from fewer people getting on and off the bus. Specific transit corridors saw much higher time savings. For instance, the 28 19th Avenue line experienced some of the most dramatic travel time reductions with peak time savings of up to nearly 50% in some areas. But many heavily-traveled Muni corridors throughout the city saw significant travel time reductions, as shown in the map. This data underscores that much of Muni's delay and reliability issues are caused when buses are stuck in traffic congestion.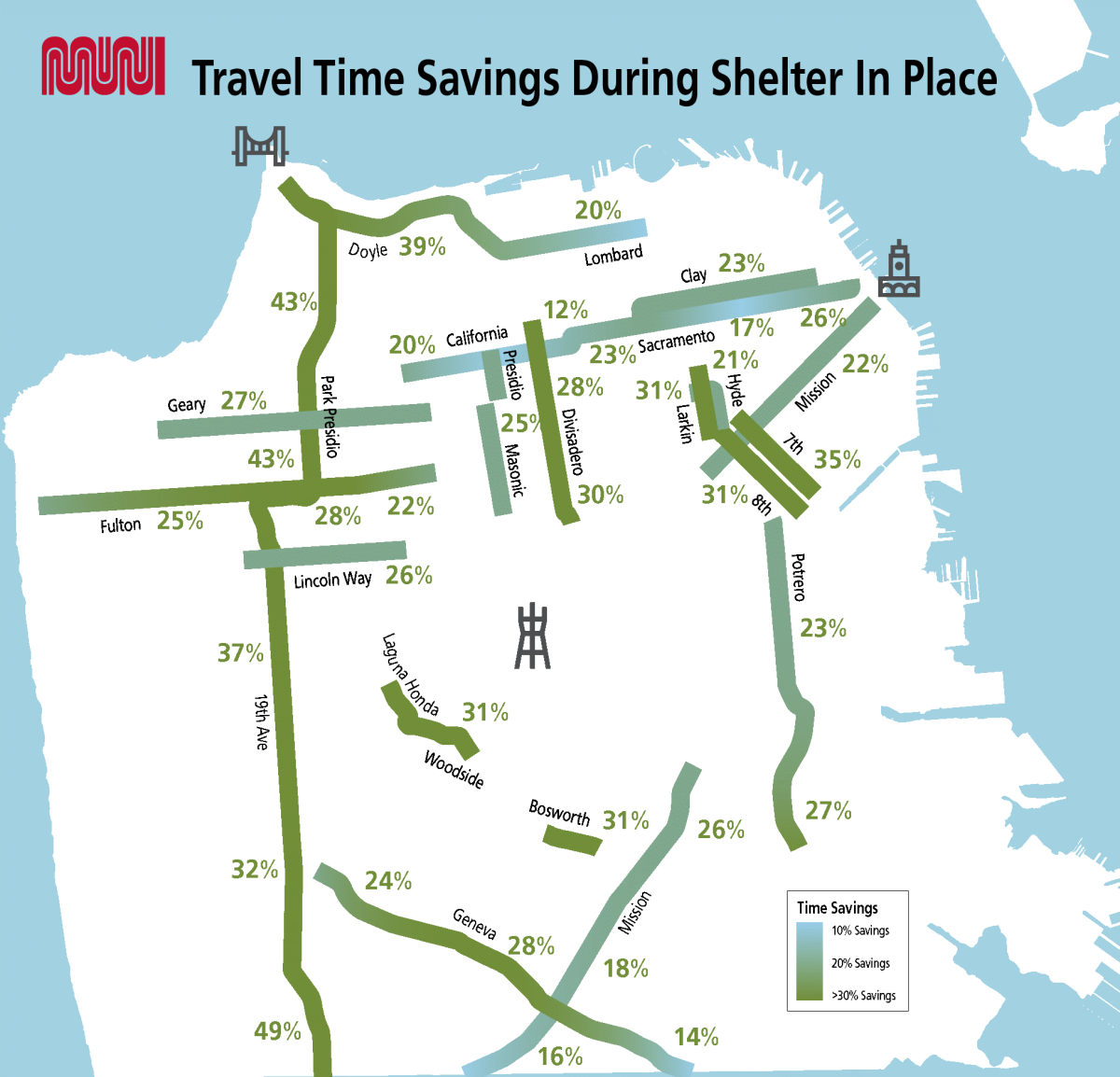 Time savings represent greatest percent reduction observed in each segment across all directions and times of day (AM or PM Peak).
Perhaps most notably, corridors with existing transit lanes had very different results. During shelter-in-place, most bus lines traveling in transit lanes saw little change in travel times because those lanes already allow Muni to avoid traffic congestion. This data tells the success story of our Muni Forward program: where we've made targeted investments in transit priority, we're seeing results. 
As Muni continues to provide service for essential trips during this crisis, the importance of saving time on routes is more critical than ever. Physical distancing requirements mean that Muni's passenger capacity is cut in half from pre-COVID levels. With Muni buses at reduced capacity, there is a higher risk of crowding at stops and on buses as people wait for a bus that has room. Faster travel times mean buses can complete trips in less time and turn around back into service more quickly, increasing frequency with the same number of buses. This increased frequency allows Muni to serve more people to address crowding and maintain better physical distancing on buses. In addition, shorter travel time means passengers spend less time on the bus, reducing their risk of exposure. 
As our local economy restarts, San Francisco has an unprecedented opportunity to purposefully rebuild our transportation system to facilitate a resilient recovery. Public transit is at the foundation of San Francisco's economy, connecting workers to their jobs. Congestion is expected to return quickly, likely above pre-COVID levels, after stay-home-orders are lifted and more businesses re-open. While traffic delay is a burden for all road users, it affects transit riders the most right now because it increases the risk of exposure to COVID-19 by elongating trips. We are working deliberately to update the Muni network to support the city's new normal and address transportation needs that have been amplified by the health crisis.