SmartAsset Ranks Muni Second-Best Transit System in the U.S.
Today, we're taking a closer look at the recent study published by SmartAsset ranking city transit systems.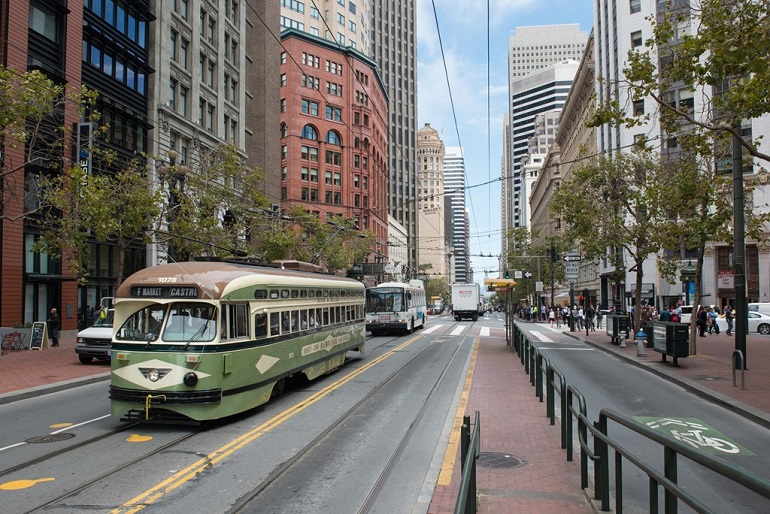 The folks at Citi IO, a non-profit urbanism blog, shared the study last week and added some interesting tidbits from the Texas A&M Transportation Institute. For example, "drivers in the 15 largest U.S. metro areas spend an average of 63 hours per year stuck in congestion on the way to work, costing an average of $1,433 per person." Keeping this city moving is a huge challenge. As more and more people are drawn here, street space gets tighter and tighter. We're working hard to make our system more sustainable, equitable and efficient.
SmartAsset, a personal finance technology company headquartered in New York, uses financial modeling to power advice on major financial decisions. They based their top 10 rankings on U.S. Census Bureau data on the use of public transportation in every U.S. city with a population of more than 175,00 people (136 cities total). Five criteria were used to establish the rankings: 
Average commute time for transit users
Percentage difference between average commuter times of car commuters and transit users.
Percentage of commuters who use public transit.
Total number of commuters who use public transit.
The difference between the citywide median income and the median income of transit users.
Transit versus commuter times speak to a transportation system's efficiency. Usage information reflects the availability of public transit. The fifth metric reflects the overall quality of the system. A smaller income gap between city residents and public transit users indicates a system that provides an attractive option for all commuters.
San Francisco was heralded for "its buses and commuter trains that constitute the most significant pieces of San Francisco's transit system." Muni was praised for handling 220 million passengers a year and BART was commended for its role in shuttling commuters in from outside of San Francisco.
Oakland ranked number 10 in the survey. Oakland has a hefty 21 percent of the population using public transportation to get to work, with the median income of transit commuters just 2 percent lower than that of car commuters. The top ten public transit systems in America as determined by SmartAsset are as follows:
Washington, D.C.
San Francisco, CA
Boston, MA
Chicago, IL
New York, NY
Seattle, WA
Jersey City, NJ
Pittsburgh, PA
Philadelphia, PA
Oakland, CA
Read more on SmartAsset's determination of America's Top 10 Cities for Public Transportation here.