So Fresh and So Green, Green: Our Commitment to an All-Electric Fleet by 2035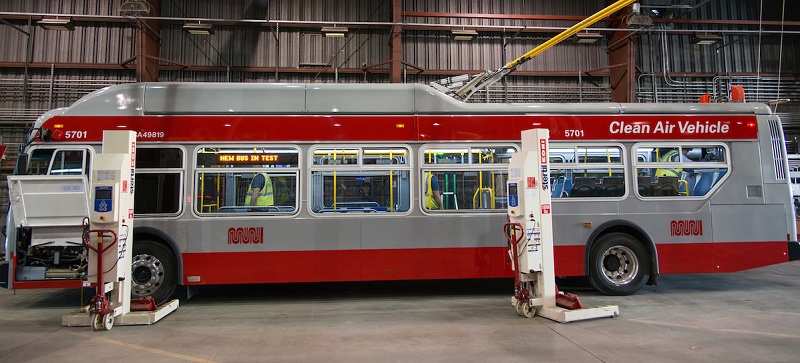 We are committed to providing both reliable and sustainable transportation for the city of San Francisco and our vision for a cleaner San Francisco is crystal clear. Along with Mayor Mark Farrell, we announced our commitment to have an all-electric bus fleet by 2035. This means that the SFMTA will only purchase all-electric buses starting in 2025 to meet the goal for 2035. An all-electric bus does not use fuel and relies solely on the battery within its operating system.
Muni currently operates the largest fleet of zero-emissions electric trolley buses. Trolley buses, like all light rail, streetcar, and cable car vehicles, run on 100 percent greenhouse gas-free Hetch Hetchy electricity via overhead wires. Muni also runs a fleet of low emissions electric hybrid vehicles. The electric hybrid vehicles run on battery, as well as clean, renewable diesel. Over 50 percent of the transit fleet, including light rail, cable cars, historic streetcars and electric trolley buses are largely powered by greenhouse gas-free hydropower generated from Hetch Hetchy. Beyond that, our new electric hybrid buses use 100 percent renewable fuel. Fun fact: Muni carries 26 percent of all trips in the city, but accounts for less than two percent of these emissions.

Our efforts have made our city's transportation system one of the greenest in the world.
Going forward, the SFMTA has been rolling out new electric hybrid buses with higher capacity on-board battery systems. The increased on-board battery capacity will allow the SFMTA to run a test program to operate "Green Zones" along several electric hybrid routes that would run only by battery for significant portions of the route. The "Green Zone" signifies an area in which the vehicle will not produce any emissions. The SFMTA is working to identify these zones throughout the city.
Next year, we plan to purchase a limited number of zero-emission battery electric buses to test throughout San Francisco. The most crucial step to support the zero-emission goal is to determine the infrastructure needs for electric buses, including upgrades for our existing facilities to accommodate charging requirements and maintenance.
Check out what some of our existing zero-emissions electric trolleys look like: