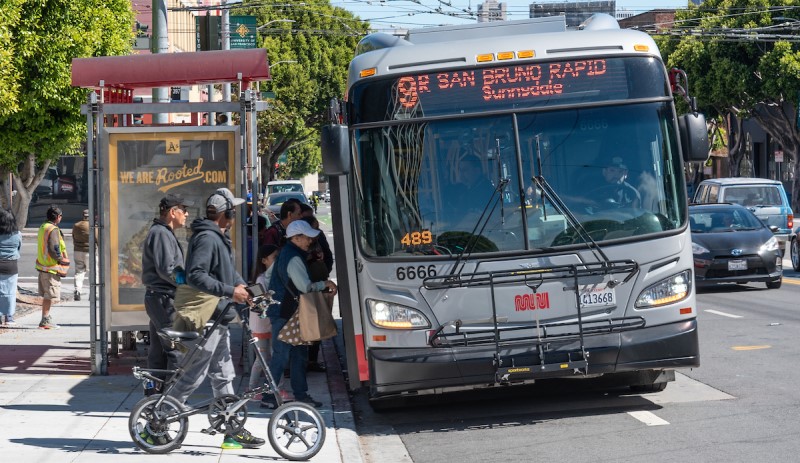 Next Stop: SFMTA Partners with Hunters Point Family and BAYCAT to Capture Youth Experiences with Transportation in the Bayview.
As a part of youth engagement for the Bayview Community Based Transportation Plan, SFMTA helped facilitate a collaboration between Hunters Point Family's GIRLS2000 program and BAYCAT Academy to encourage youth to "sound off" on transportation challenges in their communities. The project, entitled Next Stop: GIRLS2000 + SFMTA, was youth-led from beginning to end.
Over the course of three months, students from BAYCAT Academy and GIRLS2000 worked together to produce the short documentary – taking the lead from inception to production. The youth voice is commonly overlooked in the planning process, although they are some of the most vulnerable to transportation changes. This partnership, spearheaded by Hunters Point Family, provided a platform for youth to voice their desires for transportation improvements in their community. Through the film, students advocated for improved access to transit and safety on Muni. They also provide a call to action to their peers, encouraging them to reach out to government leaders or organize at school to help prioritize transportation needs for youth in the City.
Students from GIRLS2000 also participated in a curriculum designed for the Bayview CBTP to expose youth to careers in transportation engineering and planning. They had the opportunity to conduct outreach, participate in a youth transportation workshop and visit the SFMTA to sit on a special youth panel! We are especially grateful to Roslyn Bell from Hunters Point Family and GIRLS2000. The students offered invaluable insight, wit and much laughter to the Bayview Community Based Transportation Plan.
Here is more information about the Bayview Community Based Transportation Plan.