Stepping Up Rush Hour Congestion Enforcement
One thing you can't help but notice on San Francisco's streets is the growing demand for space. We know congestion slows down Muni, makes driving through the city more difficult and makes our streets less safe.
Yesterday, Mayor Lee announced a new rush hour congestion strategy to target parking and traffic enforcement efforts during the commute hours in order to maximize the results: safer streets that are easier to navigate.  
The strategy press release outlined four areas and several locations that we'll be focusing on starting next week, during the morning rush hour (7 a.m. to 9 a.m.) and the afternoon rush hour (4:30 p.m. to 6:30 p.m.):
Construction projects: the city will evaluate construction lane closures along major traffic routes and enforcement teams will ensure compliance with regulations. City work crews will be instructed to not impede the right-of-way during rush hours, except in the case of public safety.
 
Double parking: the city will increase enforcement for double parking during peak commute hours to ease congestion caused by double parked cars. Parking control officers (PCOs) will initially target key transit corridors to ensure reliability for drivers and Muni riders. Since the Mayor's Congestion Strategy was announced in December, there has been a 53 percent increase in citations for double parking.
 
Delivery trucks: the city will target delivery trucks that block traffic for cars and bikes. This behavior reduces lanes of traffic and impedes transportation flow, which causes unsafe conditions for pedestrians and cyclists, and additional congestion.
 
Don't Block the Box: enforcement crews will expand the partnership between the San Francisco Municipal Transportation Agency and the San Francisco Police Department for "Don't Block the Box" enforcement violations. This practice has traditionally obstructed intersections on traffic arteries leading up to the freeways. The strategy calls for more parking control officers during the afternoon rush hours. Since the Mayor's Congestion Management Plan last year, parking control officers have issued 3,514 gridlock citations. This represents a 25 percent increase compared to the preceding five months, and 102 percent since 2014. 
The rotating enforcement efforts will be targeted to the following locations: South of Market, 3rd Street, 4th Street, 19th Avenue, Divisadero, Columbus, Fell Street/Oak Street, Geary Boulevard, Geneva Avenue, Harrison Street, Mission Street, Pine Street/Bush Street, and Van Ness Avenue.
You can help! 
"Blocking the Box" (driving into an intersection and getting stuck) and double-parking are two behaviors that can have a real impact on street safety. Both of these activities make it harder for other drivers to see pedestrians and for pedestrians to cross the street safely. If we can all commit today to not doing either of these things when we're driving, our streets will be a lot safer and less congested.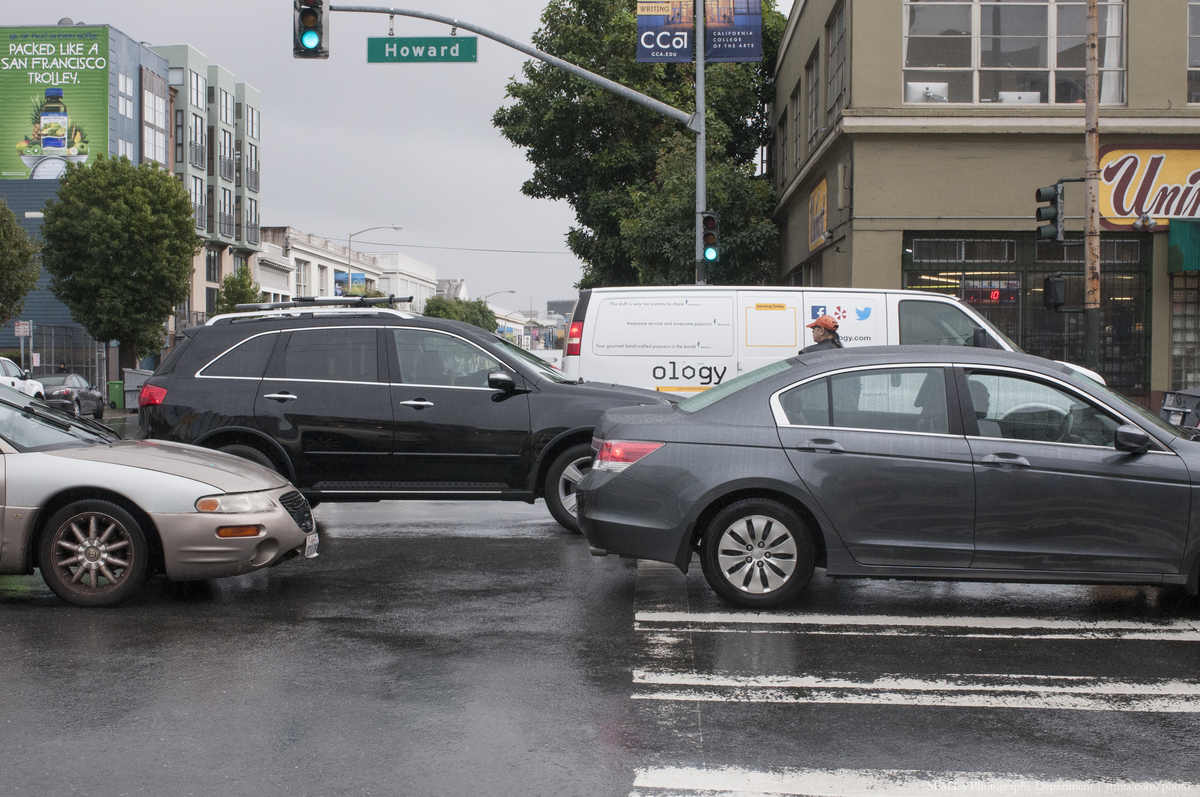 Don't Block the Box! If you can't exit an intersection safely, don't enter it. Blocking the box increases congestion and causes a real safety hazard.