Streets for All: Light Rail's Future - Today
Thursday, February 15, 2018
Our 2016-2017 Annual Report, Streets for All, highlights our collection of recent achievements and goals. The stories captured in this Fiscal Year 2016-2017 SFMTA Annual Report demonstrate the role transportation plays in living out those values—chief among them the city's Transit First Policy. Throughout the year, we will be featuring excerpts from Streets for All on Moving SF to give our readers better insight on what we have achieved thus far, and what we look forward to bringing to the people of San Francisco.
Light Rail's Future, Today (page 6 of Streets for All)
November 2017 marked a major milestone for San Francisco. We cut the ribbon on our new 21st-century Muni train and sent it on its maiden trip along the N Judah line. Quieter and roomier than older Muni trains, Car 2006 whisked through tunnels and glided over San Francisco streets sporting a whisper-sleek, lightweight design. The car also carried a plaque dedicated to the late Larry Martin, a distinguished union and civil rights leader who started his Muni career as an operator.
Of the many remarkable things about this new Muni light rail vehicle, we must mention its delivery time. Five new trains were built locally at Siemens' Sacramento plant and delivered to our agency in fiscal year 2017–which was record time. Similar light rail orders take about five years to turn around, but Car 2006 came online just three years after Siemens took our order. It's a testament to the dedication of the people at the Siemens plant, as well as the leadership from San Francisco officials, especially the late Mayor Ed Lee, who helped acquire these five new trains and the 200 others on the way that will replace and expand our current fleet.
This new, more reliable generation of light rail vehicles will go 10 times longer without requiring maintenance than the old trains. The new Car 2006 is also a tribute to more than 8,000 Muni riders who told us what features they'd like on their new trains. And it's the physical embodiment of strong teamwork by the SFMTA's transit staff. Thanks go out to everyone who helped us usher in a new era for Muni Metro.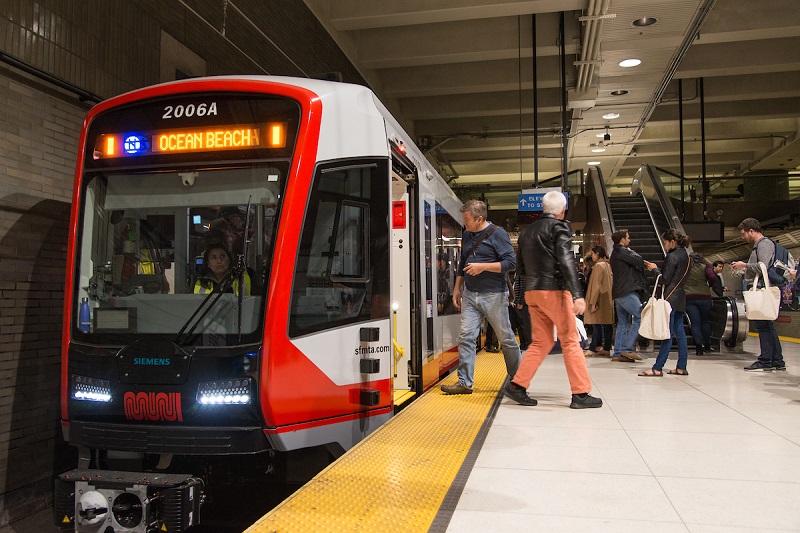 Key Features of Muni's New Light Rail Trains:
Modern diagnostic software helps our maintenance teams troubleshoot complex issues and track patterns
Doors and steps have fewer parts, reducing breakdowns and the need for repairs
Lighter trains, quieter ride; and new destination signs will help highlight the train's line
New front step mechanisms will let customers use accessible platforms with less wear on other steps
New seating design widens aisles and creates more space for passengers, strollers and luggage
Check out the video of our inaugural ride. Look for more of these trains on a Muni Metro line near you as we ramp up to delivering one new LRV 4 a week.