Streets for All: Remembering Harvey Milk
Our 2016-2017 Annual Report, Streets for All, highlights our collection of recent achievements and goals. The stories captured in the Fiscal Year 2016-2017 SFMTA Annual Report demonstrate the role transportation plays in living out those values—chief among them the city's Transit First Policy. Throughout the year, we will be featuring excerpts from Streets for All on Moving SF to give our readers better insight on what we have achieved thus far, and what we look forward to bringing to the people of San Francisco.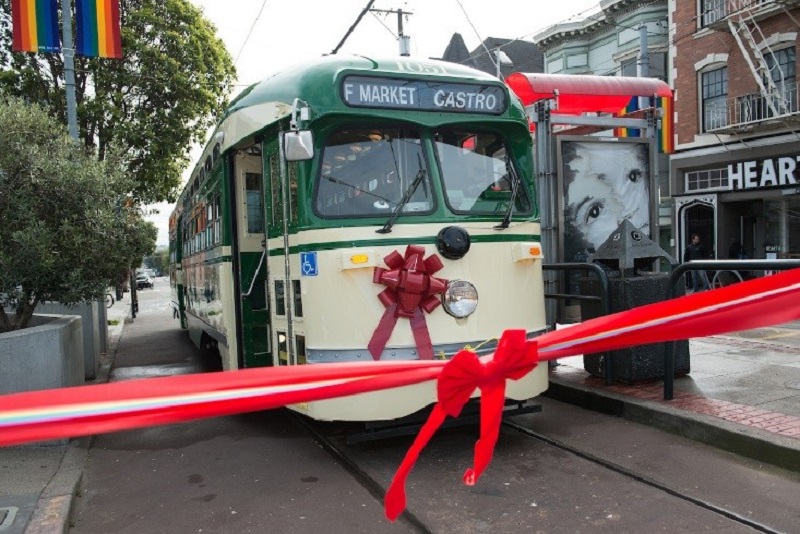 Remembering Harvey Milk
Historic Streetcar Back in Action We honored the late San Francisco Supervisor Harvey Milk this past year with the street re-dedication of the 69-year-old F streetcar. Milk was a dedicated Muni rider, and as California's first openly gay politician, a pioneering force for the LGBTQ movement. The Harvey Milk Streetcar, which transports 25,000 riders daily, is painted in the same green and cream colors used when Milk was elected to the Board of Supervisors in 1977. Inside are exhibits detailing Milk's life.
Check out our video highlighting the press conference we hosted to re-dedicate streetcar 1051 to Harvey Milk. You can also tour the inside and see the streetcar's features: