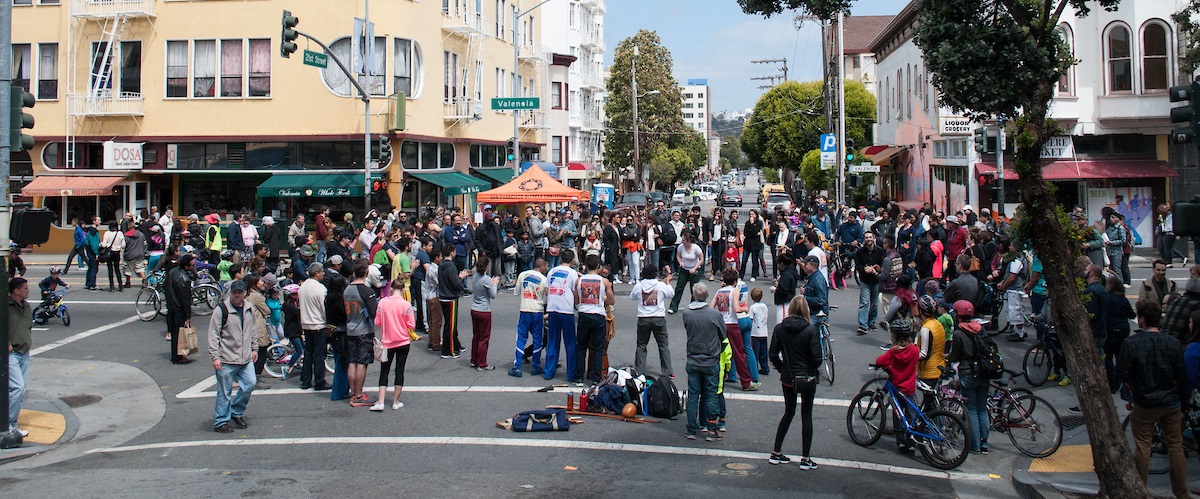 The 2019 season is on! Ten free events from March through October feature play zones, games, cultural performances, health resources, live music and more. Events are from 11 a.m. - 4 p.m. in diverse neighborhoods across the City, including the Mission, Excelsior, Tenderloin, Bayview and Dogpatch, Outer Sunset, Western Addition and the newest site, SOMA.
Inspired by the Ciclovía in Bogotá, Colombia, Sunday Streets empower and inspire local communities. So, step out or roll through the hoods joining small businesses, residents, nonprofits and local groups to celebrate car-free days with your neighbors, friends, family and new friends!
Small businesses, residents, nonprofits and local groups bring activities and performances to the car-free routes, with each neighborhood contributing a distinctive character and energy to the day. Sunday Streets support the Transit First core value of the SFMTA Strategic Plan by promoting more opportunities for biking, walking and showcasing transit. SFMTA project experts will be on hand to share updates and information on multimodal transportation options.  
Transforming miles of car-dominated City streets into open space is possible through the collaboration and hard work of hundreds of volunteers, neighbors, nonprofits and small businesses. Donate, exhibit, volunteer or sponsor Sunday Streets in 2019 to be part of a sustainable, greener and more accessible future. 

Sunday Streets 2019 Season Schedule
Mission – March 10
Excelsior – March 31
Tenderloin – April 14
Bayview/Dogpatch – May 5
Sunset/GGP – June 9
Mission #2 - July 14
SoMa – August 18
Tenderloin #2 - September 8
Western Addition – September 22
Excelsior #2 - October 20
For more information about this program, please visit the Sunday Streets website