Transit Month is Taking Over the Bay Area
Tuesday, September 12, 2023
Guest Authors Rebecca Gibian and Reanne Lacosta, San Francisco Transit Riders
Transit Month 2023 is a celebration of the role of public transportation in our communities and the Bay Area's economic, social and cultural vibrancy. In the span of just eight years, it has grown from Transit Day into Transit Week and into the robust month it is now, thanks to our partnership with Seamless Bay Area and other transit-focused agencies and organizations. Together we have reached hundreds of riders through events held across the city.  
We love seeing people get on transit and enjoy themselves, the ride and the experience. We appreciate that Transit Month encourages people to take a trip they never have or try a new line. We love seeing the shift that happens when people take the bus or train, realize how easy and affordable it is and then continue to do so (and tell their friends)! 
Transit Month is a time to show our support for the people who ride public transit, as well as all the drivers, mechanics and others who make the service possible every day. It is so much fun to come together as riders and lift each other, empower new riders to get on the bus and celebrate all that makes our city great. Over the years we've seen amazing events including Transit Hubs, a ride-along with CEOs from multiple transit agencies, a Ride Contest that logged over 3,000 rides last year, an attempt to ride all 27 agencies in one day, ride-alongs, rallies with elected officials and so much more.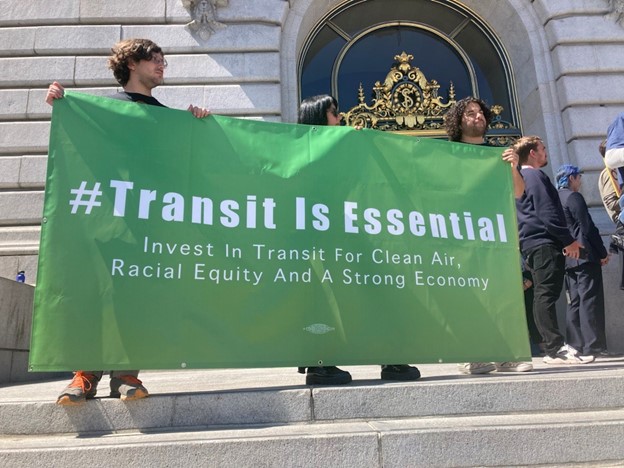 Riders rally in support of Transit Month at San Francisco City Hall in September 2023. 
It's no secret that the past few years have been hard on transit. We secured some funding for transit operations in the state budget recently, but it's not enough. That's why we need to uplift transit throughout September and highlight how it keeps our city equitable, equal and fun. Public transit is also a key platform to exercise our democratic rights in the city. Riders in San Francisco have used their political power to make sure that transit needs are prioritized, and Transit Month is dedicated to these efforts. It is more important than ever that we show our elected leaders how important transit is to our city, and that we need to continue funding it.
Everyone in our city deserves access to affordable, efficient, equitable and fast transit. Events like Transit Month help us come together as a community, raise awareness about what needs to be done, and celebrate the big wins we've had as a city over the years. 
You can check out all our events at the Transit Month Website, and sign up for our Ride Contest for the chance to win prizes just for riding transit! See you on the bus!  
San Francisco Transit Riders (SFTR) is dedicated to raising the rider's voice to improve access to public transit in San Francisco and to reduce the city's reliance on fossil fuels. We are fighting for an excellent, affordable and growing public transit system. We need great service that connects all neighborhoods. We need transit that provides equitable access to resources, opportunities, and each other.  
SFTR works within a broader ecosystem of advocates, non-profits, city and county officials, and policymakers who are engaged in advancing transportation priorities in the city and region. We're fighting for a public transit system that can live up to its potential and serve us all.