Tuesday, February 17, 2015
In order for transit to improve, the people operating the system need to be tuned into everyday riders. Social media provides the good, the bad and the ugly in terms of feedback, and transit is listening. City Lab, The Atlantic's engaging blog, recently reported in "How Public Transit Agencies Deal with All Your Angry, Mean, and Terrible Tweets" about a new study published in the Journal of the American Planning Association on the communication between public transit systems and their riders. Out of 130 transit agencies, more than 78 percent have utilized Twitter as a "web-based" customer feedback tool.
We certainly appreciate nearly all of the feedback we receive on @sfmta_muni. We use Twitter as an alternative and real-time approach to customer issues and concerns. Through @sfmta_muni, customers are able to get in touch with us during the week to receive quick updates about Muni delays and re-routes as well as issues concerning our city.
Through Twitter, the SFMTA promotes SF related discussions such as SFO airport cancellations, Bay Bridge closures and local city events. We don't just (if more than 700,000 trips a day can be "just") manage transit. Among other things, we plan bike and pedestrian improvements for city streets, enforce parking regulations, oversee taxi services and work with SFPD on street closures. We also promote emergency situations to our nearly 40,000 followers.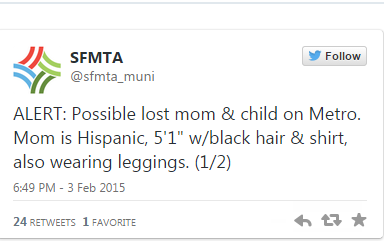 You may notice that we weren't actually included in the study. Not that we mind. We certainly appreciate learning more about our colleagues from the country.
Are you on Twitter? Please follow us @sfmta_muni. If you want the real-time alerts just for your Muni route or line, you can get that too by either text or email.
On Tuesdays we bring you a tidbit of transit news or trivia, either from our own backyard or from around the globe. Thanks for joining us.