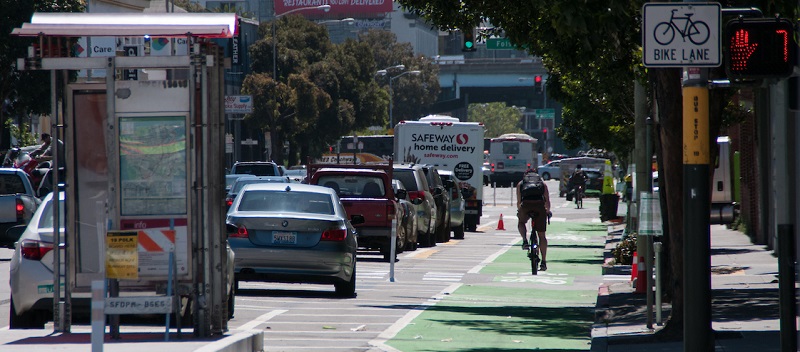 On Tuesday, the SFMTA Board of Directors will consider three transformative projects: the 6th Street Pedestrian Safety Project, Safer Taylor and the Howard Street Near-Term Improvements. Individually and collectively, these projects will enhance safety for everyone who lives on or travels through these important corridors.
The Tenderloin and SoMa are both what are referred to as "communities of concern", areas with a high concentration of minority and low-income households. These neighborhoods suffer a disproportionate share of the city's traffic injuries and fatalities and have among the highest percentages of their streets on the High Injury Network — the 13 percent of city streets where 75 percent of severe and fatal collisions occur.
No matter where you live, what your income is, or how old you are, you should be able to move about San Francisco's streets safely. While only 33 percent of San Francisco's streets are in low-income neighborhoods or communities of concern, the 47 percent of streets with the most severe injuries and fatalities and nearly 40 percent of the city's fatal collisions, are located in communities of concern.
The 6th Street Pedestrian Safety Project and the Howard Street Near-Term Improvements run through the SOMA Pilipinas Filipino Cultural Heritage District and the Safer Taylor Street improvements are located in the neighborhood with the most affordable housing units in San Francisco.
These projects will bring to SoMa and the Tenderloin important safety improvements that many other neighborhoods enjoy, such as new signalized intersections, parking-protected bike lanes, wider and more comfortable sidewalks, pedestrian daylighting to increase visibility at intersections and high visibility crosswalks while still emphasizing the unique character of both of these neighborhoods.
6th Street Pedestrian Safety Project
A person is hit by a vehicle every 16 days on 6th Street. Data analysis, comparing hospital and police records, suggests that a quarter of collisions on 6th Street go unreported. San Francisco cannot achieve its Vision Zero goals without making 6th Street safer. The 6th Street Pedestrian Safety Project will redesign the street from the ground up, creating a safe and inviting space for all who use it by:
Making it easier for pedestrians to cross the road by widening the narrow sidewalks on 6th Street and adding corner bulb-outs to allow for shorter crossing distances
Installing two new traffic signals at alleys between Market and Howard to help protect people crossing the street, while ensuring the smooth flow of traffic into the Tenderloin
Installing new street and sidewalk lighting to improve the experience for people walking on 6th
Adding new elements, such as decorative crosswalks, paving elements and palm trees, in collaboration with community groups, to make 6th Street an expression of the community's unique character
Safer Taylor Street
On Taylor Street, more than 50 percent of injury collisions along the corridor involve pedestrians, with most resulting from a driver failing to yield while turning. Additionally, more than half of auto collisions are caused by risky driving behaviors, such as running red lights and traveling at unsafe speeds. To enhance pedestrian safety in the Tenderloin, the Safer Taylor Street Project will:
Widen the sidewalk and shorten crosswalks to allow pedestrians more time to cross, while drivers will have dedicated turn signals, separate from pedestrian crossings
Reorganize travel lanes to reduce risky driving behaviors
Improve passenger and commercial loading to support residents and businesses on Taylor Street
The loading zones will help support single-room occupancy hotels, social service organizations, hotels and event venues by adding new and improved loading zones with up to five-foot buffers to separate those loading from traffic.
These proposals were developed with the help of input from more than 1,500 Tenderloin residents, workers and community leaders at over 40 community events. The SFMTA has prioritized events that give the most vulnerable a voice in shaping neighborhood street safety improvements.
Howard Street Near-Term Improvements
This year, two people have already been killed in traffic collisions on Howard Street. The Folsom-Howard Streetscape Project proposes long-term changes to improve safety on Folsom and Howard streets. The process of designing and installing those changes will take years, meanwhile, hundreds of thousands of people will continue to use Howard Street. The SFMTA's goal is to improve street safety as quickly as possible.
The Folsom-Howard Streetscape project team has worked with the diverse community along Howard St. to propose steps we can take before the longer-term improvements are implemented. The team has met with community groups, such as the South of Market Community Action Network, United Playaz, the Westbay Filipino Multiservice Center, the San Francisco Bike Coalition and Walk SF and over 30 local businesses along Howard Street. The project proposes quick and effective near-term safety measures, including:
A parking-protected bikeway to separate vehicles and bicyclists and create a more predictable street for all who use it
Adding more time for pedestrians to cross intersections, daylighting, advanced limit lines, and high visibility crosswalks to intersections to enhance pedestrian safety
Increasing the number of loading zones by 78 percent on Howard to allow businesses to safely load without double parking
We believe that these changes will make it safer and more pleasant to bike, walk, or load and unload on Howard.
How to Make Your Voice Heard
On Tuesday, October 16, the SFMTA Board of Directors will hear public comment and vote on whether to approve these projects the meeting will be held at 1:00 pm, in Room 400 of City Hall.
If you are unable to make the meeting and would like to let the board know whether or not you support the project, please email the Board of Directors at MTAboard@SFMTA.com.