Update: Muni Bus Substitutions for Safety Improvements on 19th Ave.
Thursday, October 19, 2017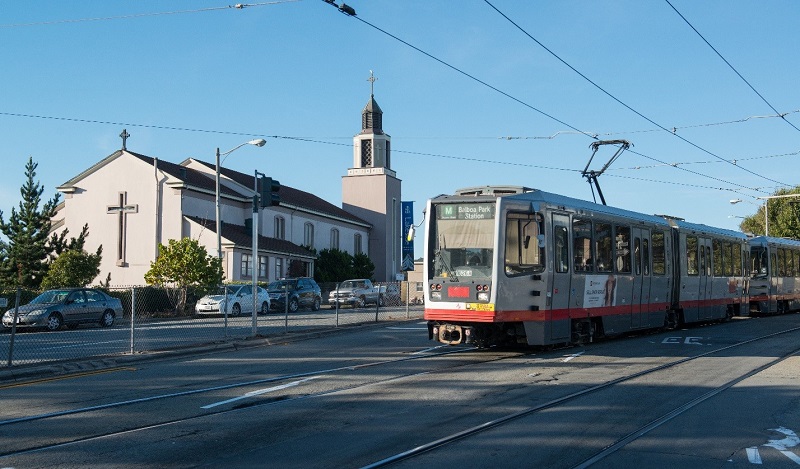 Work has begun on the pedestrian safety improvements in and near 19th Avenue and Junipero Serra, along Muni's M Ocean View Line. The work near the tracks on four weekends starting Oct. 28 will require M service to be substituted by buses. The original plan for this work described in our post from earlier this month included construction at two locations. The planned track replacement on 19th Avenue between Winston and Eucalyptus drives has been postponed until 2018; therefore, the full northbound closures over two weekends on 19th Avenue will not be needed.
The M Ocean View Improvements Project will make this area of 19th safer for people who walk and use Muni. Planned improvements include a safer pedestrian crossing on 19th at Junipero Serra Boulevard, vehicle safety measures at the trackway entrances and upgraded traffic signals.
M Ocean View Bus Service on Weekends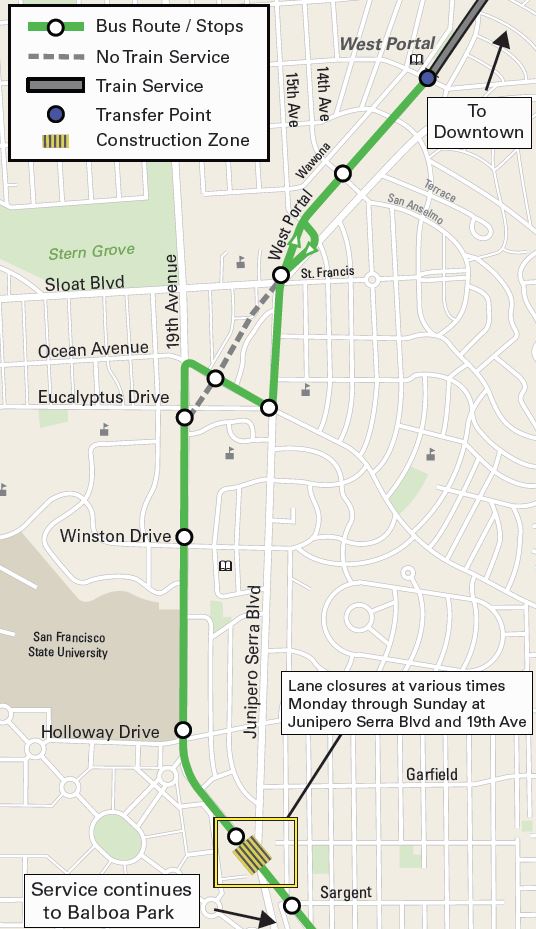 On four weekends starting Oct. 28, M Line train service will be substituted by buses between West Portal and Balboa Park stations. Bus substitutions will take place from start of service Saturday mornings until the start of regular train service Monday morning.
Weekends with M bus substitutions
October 28 - 30
November 4 - 6
November 11 - 13
November 18 – 20
If you use the M Ocean View on these weekends, we recommend planning for extra travel time. M bus arrival predictions will be available on digital signs at Muni stops and on NextMuni.com.
Construction on 19th Avenue
Construction will take place at the intersection of 19th Ave. and Junipero Serra Blvd.
Construction began at the 19th and Junipero Serra intersection last week and may require traffic lane closures in both directions on Junipero Serra and 19th Avenue at times to allow crews to work safely. The lane closures may also cause increased traffic near the construction areas. Those who need to drive through the area are encouraged to allow extra travel time or to consider alternative routes.
All construction is expected to be completed before Thanksgiving (Nov. 23), weather permitting.​
Visit the M Ocean View Improvements Project page to learn more and sign up for email updates.