Updating Parking Meter Pricing and Reprioritizing Enforcement
As the Bay Area enters the next phases of reopening, demand for on-street parking is continuing to increase, especially while transit service is limited under the Core Muni Service Plan and with physical distancing transit vehicle capacity restrictions in place. Parking meters are a key tool for making sure San Franciscans have access to our commercial corridors by making finding parking easier. For that reason, after temporarily suspending time limits and lowering meter prices at meters in response to the shelter-in-place order, starting on Monday, July 6 we will be restoring meter prices close to normal levels and reprioritizing enforcement.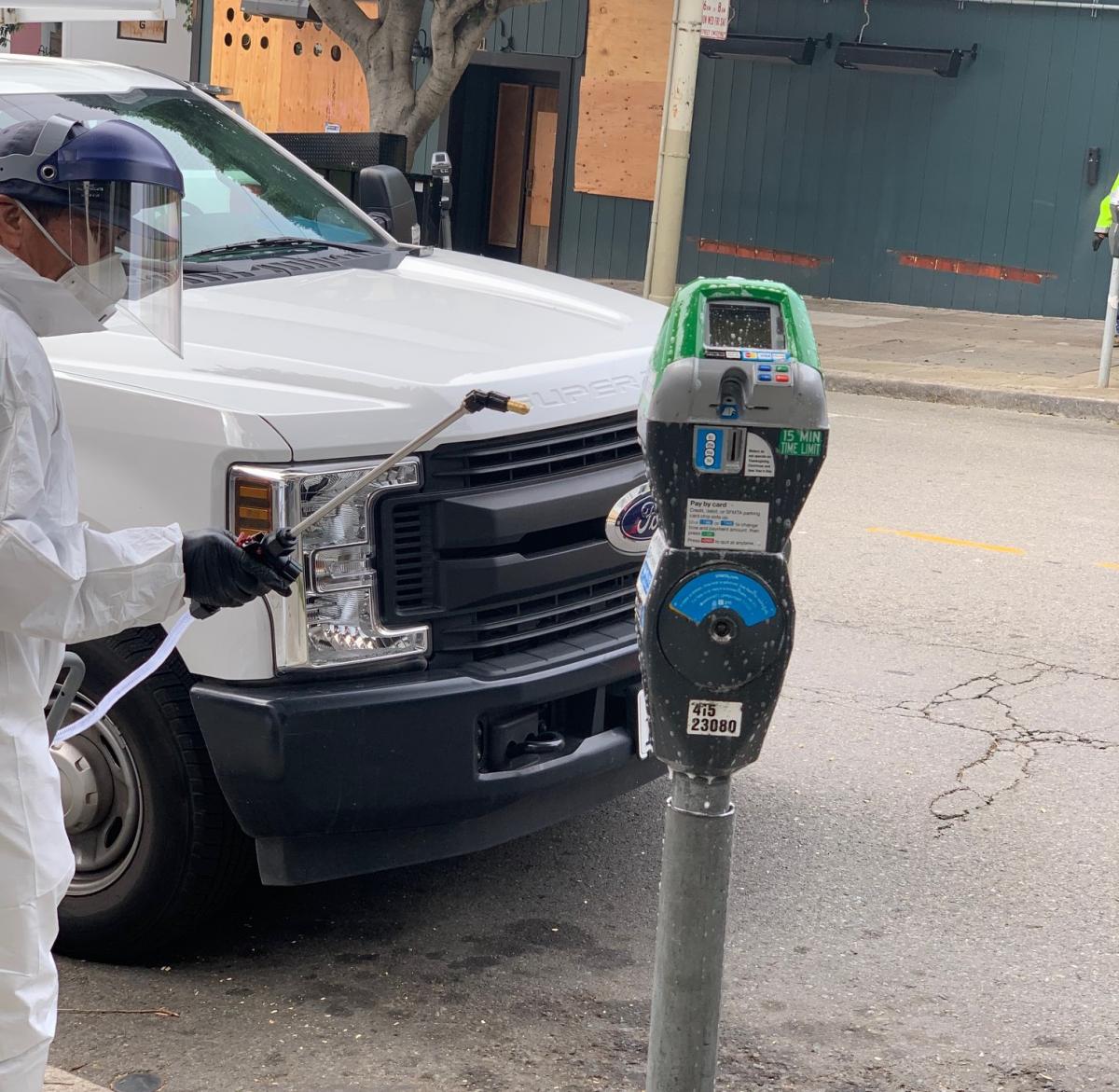 Deep Cleaning Parking Meters – Our parking meter crews now deep cleans each meter when they are out for collection or routine maintenance. 
Our data shows that in San Francisco, most people get to our commercial corridors by walking, biking, taking Muni, or getting dropped off. For those that chose to drive, it is important that parking is available, and that people stay only as long as they need to -- opening spots up for the next customer. Without priced parking and enforcement, folks who live or work in a neighborhood will park and leave their car all day, taking up space that could have been used by a customer of neighborhood businesses. This is what is happening now with the extremely low meter rates and limited enforcement. With many local businesses struggling due to the pandemic, we need to do all we can to support them. 
In response to the decrease of most economic activity and travel demand, on April 1, the SFMTA set all meter rates at $0.50/hour, down from an average of about $2.50/hour, and removed all meter time limits. In addition, many of our Parking Control Officers were reassigned to COVID-19-related emergency work like directing traffic near hospitals and COVID-19 testing sites. Now, we need to restore our meter programs and prioritize enforcement to keep San Francisco moving. 
Meter Policy Starting Monday, July 6 
Restore Meter Rates with a $0.50 discount. Meter rates vary throughout San Francisco, based on the demand for parking on the block and the time of day. We plan to restore meter prices back to pre-COVID-19 levels with a $0.50/hour decrease. The lowest any meter will be set is at $0.50 per hour. Motorcycle meters will be fully restored. 

Restore pre-COVID parking meter time limits. This ensures that people don't leave their vehicles in one space all day, preventing others from accessing commercial corridors.  
Accelerate the demand-responsive pricing process. We typically adjust meter prices (up, down or stay flat) based on demand data every 3 months. These increases or decreases are in $0.25 increments to make sure our policy is reflective of how many people are using an area. With so many unknowns during the health crisis, we will look to adjust rates every 6 weeks so we can better reflect San Francisco's changing needs. 

Reprioritize meter enforcement. SFMTA Parking Control Officers will begin regular meter enforcement on Monday, July 13th. 
As a reminder, we recently started enforcing street cleaning to help Public Works street sweepers get better access to the curb and keep our city clean. Residential Parking Permits and neighborhood time limits will not be enforced at this time to reduce the frequency with which residents need to move their cars. We will communicate any additional parking changes on our website via the comprehensive COVID-19 Responses page . Please refer to our holiday enforcement plans for information on the 4th of July weekend and other holidays.