US DOT Checks In as SF's 'Smart City' Plan Hones In on Equity
The SFMTA continues to lead San Francisco's plan to harness emerging technological innovations, like self-driving cars and connected vehicles, to make transportation smarter and more equitable. As we announced in March, our city is one of seven national finalists for the U.S. Department of Transportation's Smart City Challenge grant.
Last week, we were honored to host U.S. Transportation Secretary Anthony Foxx and his team at San Francisco City Hall. We shared some of our ideas on meeting this challenge by partnering with the US DOT, private industry, our communities and some of the brightest minds in academia (see this UC Berkeley video from the meeting). As we wrote earlier this month, those efforts also include participation in SF's new Superpublic lab, an intergovernmental and public-private partnership.
Our proposal, which is laid out on our Smart City SF website, includes a series of pilot programs to figure out what works – and what doesn't – to move us toward a future where shared options link everyone easily, safely and affordably to where they need to go. And under our city's unique community-driven approach, neighborhoods would volunteer to host these pilot programs through our Community Mobility Challenge program.
In the process, we hope to create a playbook that any city can follow.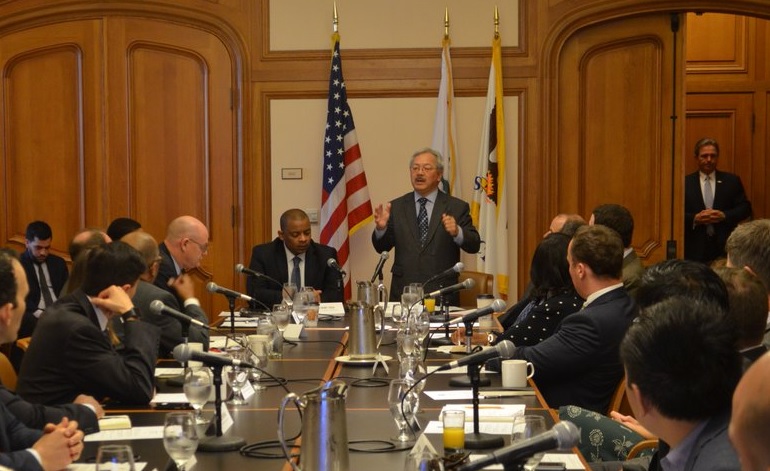 Mayor Ed Lee speaks alongside US Transportation Secretary Anthony Foxx last week. Photo: SF Mayor's Office/Twitter
As the Smart City SF website explains:
We can either shape these changes to benefit everyday people, or we will be resigned to a system that only works for a few. San Francisco is the right place to build the runway that will launch the country's transportation future so that it everyone shares in its gains.
 

Building a smarter, shared and connected transportation system will benefit people from all walks of life. Currently, your wealth determines whether you can own a car and how nice it is. In the future, a shared fleet will be accessible to everyone. The advanced sensors on these connected vehicles will eliminate traffic fatalities and reduce the amount of space needed for our transportation system. Because they are shared, these vehicles will be in near-constant use. Millions of square feet of space currently used for parking can converted into pedestrian promenades, small parks and affordable housing.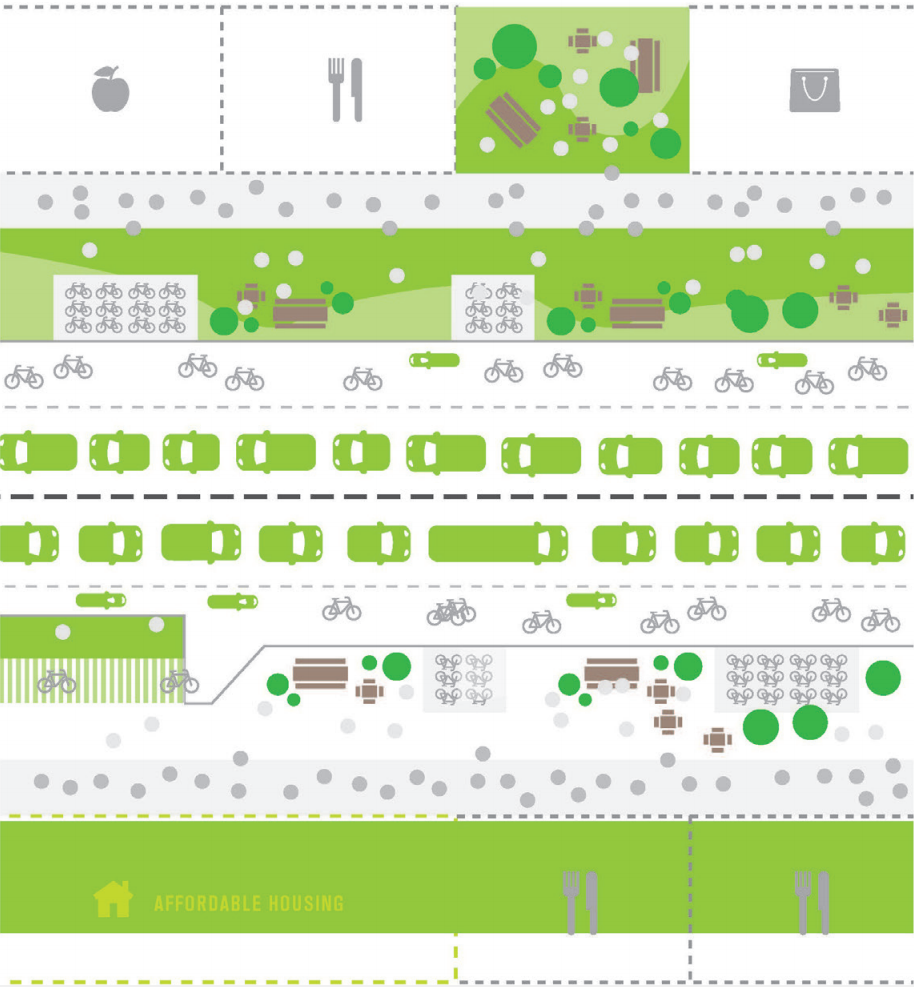 Shared, autonomous, connected, electric, transportation will streamline and synchronize traffic, eliminate the need for parking creating room for inviting public spaces and affordable housing.
Our proposed pilot programs will incubate the changes needed so that San Francisco can unlock the safety, livability and affordability benefits of seamlessly linking people to their destinations via transit and shared mobility options. Imagine transit, bike-sharing and shared, electric, connected, self-driving vehicles all linked together in one easy-to-use smartphone app.
Our pilots include a focus on increasing digital equity to enable low-income residents to access new transportation services.
Under one pilot, we would build a mesh network with Wi-Fi transponders on transit, taxi and other vehicles to help people that can't afford a smartphone data plan to access the new transportation options. According to the Pew Research Center, 92 percent of all adults in the U.S. have a cell phone, and 68 percent have a smartphone.
Another pilot is aimed at helping service workers who get off late at night after many transit options have shut down. Creating a shared shuttle option with priority access to high-occupancy vehicle lanes could provide workers a safe and affordable means to get home.
Other pilots are focused on making our streets safer by facilitating electronically-linked vehicles with collision-avoidance technology to prevent crashes.
Turning these ideas into reality will take serious investment, but the outlook is strong. In addition to the $50 million Smart City grant which SF is in the running for, private companies have pledged to contribute a total of $99 million in technological resources and expertise to move our efforts forward.
See more details on our Smart City plans at SmartCitySF.com and be sure to weigh in with our survey.