Van Ness Project to Break Ground This Spring
Construction on the Van Ness Improvement Project, including Van Ness Bus Rapid Transit (BRT), is set to break ground this spring. It will bring a much-needed and globally-proven solution to improve transit service and address traffic congestion on Van Ness Avenue, a major north-south street and the continuation of Highway 101. It will also bring upgrades to the sidewalks and wider street area for everyone who lives and works along this dynamic street to enjoy. Van Ness will undergo major upgrades to revitalize one of San Francisco's most prominent corridors and its aging infrastructure for the next generation.
That means safety improvements for all — especially pedestrians — and upgrades for the water and sewer systems, brighter and more efficient street lights, new landscaping and rain gardens, road repaving and new overhead wires for our Muni buses.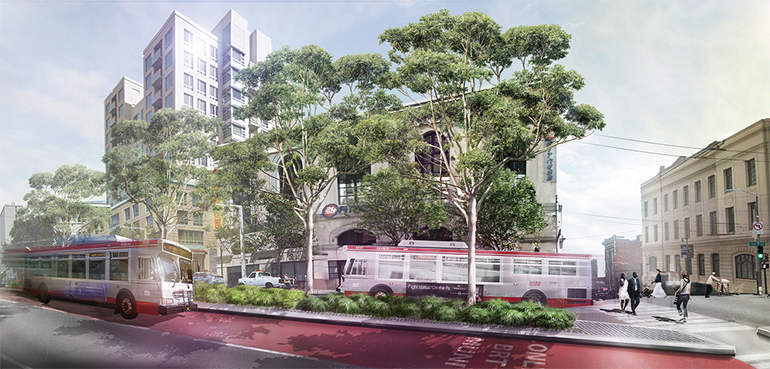 So, what is BRT? Essentially, it's a set of street design and technology upgrades to make transit faster and more reliable. Features like center-running transit-only lanes and traffic signals that give priority for buses are all combined to make the bus transit experience feel more like rail -- with much less capital investment required.
For more details and updates, check out our Van Ness Corridor Transit Improvement Project webpage. And learn more about how our city and state departments are working together on Van Ness' massive makeover in this video from the SFGovTV series, "What's Next SF?":