VIDEO: Color Curbs Feature New SFMTA Logo
You may have already seen the new color curbs around town — freshly painted with our new SFMTA logo. The first of these curbs featuring the new logo was painted right in front of our offices at One South Van Ness Avenue.
We will be rolling out the new design for color curb paintings as curbs need to be repainted. In the meantime, below we're sharing the definitions of each color curb as a reminder. For more information or to fill out an application requesting a color curb, visit our webpage.
White Zones:
White zones are intended for establishments with active passenger loading and unloadings, such as hospitals, senior centers, hotels, theaters, places of worship or assembly, schools, and government buildings. Certain medical offices, restaurants, and residential buildings may also qualify. Time limits are typically 5 minutes, and the driver must remain with the vehicle at all times (limited exceptions apply at preschools and hospitals).
Red Zones:
Red zones may be installed near intersection corners, at bus stops, at fire hydrants, at curb ramps or at the edges of driveways. Driveway red zones typically take up two feet on each side of the driveway. They provide additional clearance for vehicles entering and exiting driveways.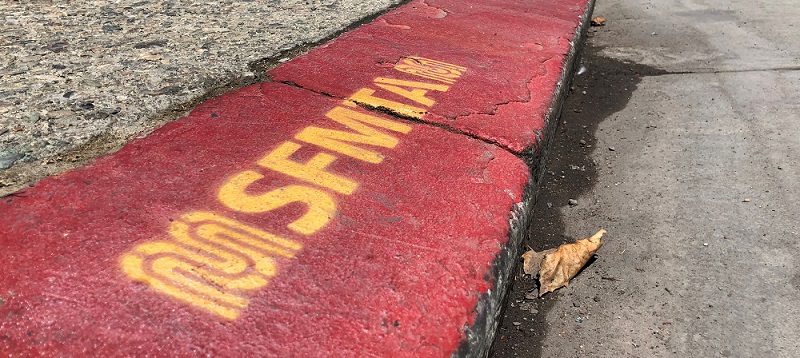 Green Zones:
Green zones are intended for establishments where transactions tend to take less than 10 minutes, such as dry cleaners, florists, small neighborhood grocery/deli convenience stores.

Yellow Zones:
Yellow zones are typically used for large businesses or properties that receive or deliver a lot of shipments. They are for active loading and unloading by commercial vehicles only (those with a commercial license plate).

Blue Zones:
A blue zone designates parking spaces for persons with a valid disabled parking permit. Blue zones are normally located in areas with high public use, such as in dense commercial areas and near public parks and playgrounds, where the blue zones can serve a large number of individuals.