Vision Zero: March Highlights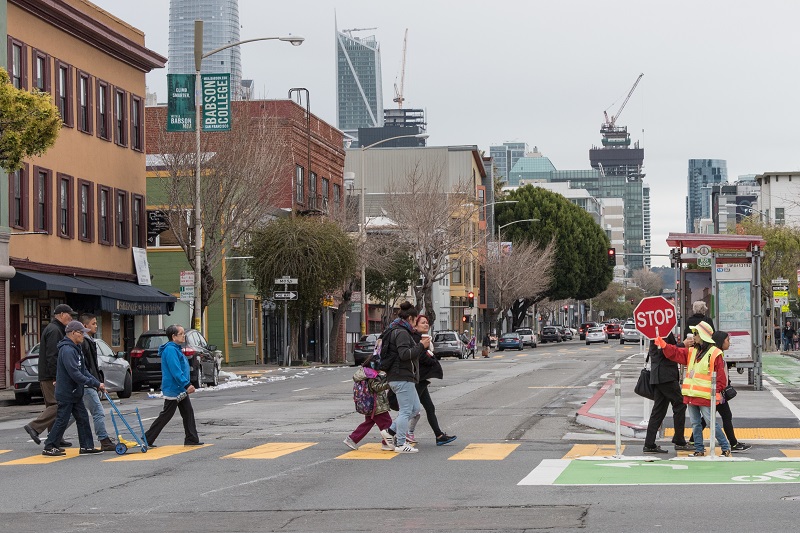 This month, we welcome the second edition of our Vision Zero Monthly highlights.
Vision Zero SF is the City's road safety policy that will build safety and livability into our streets, protecting the 1 million people who move about the City every day. Every year people lose their lives while traveling on city streets. These deaths and injuries are unacceptable and preventable, and San Francisco is committed to stopping further loss of life. From protected bike lanes and new traffic signals to more visible crosswalks and pedestrian countdown signals that tell you how much crossing time remains, we build safety into our streets.
The 2017/18 Vision Zero SF Two-Year Action Strategy outlines the projects and policy changes the City plans to pursue in the next two years to build safety and livability into city streets. The Action Strategy encompasses a range of solutions to address street safety comprehensively and citywide that will bring us closer to achieving the Vision Zero goal of zero deaths on San Francisco's streets. Our new strategy outlines the initiatives city departments must lead to reach that goal, the challenges we face and the drive behind our commitment to making it a reality. It is also a look at our progress since San Francisco adopted Vision Zero in 2014, including the number of lives lost in 2016 and the impact of our efforts to bring it to zero.
The strategy is focused on three main outcomes San Francisco needs to achieve to eliminate traffic fatalities: Safe streets, safe people and safe vehicles.
We're excited to keep you all apprised of what we're doing to make your streets safer. Every month, we'll record a video round-up of the projects we've completed and continue to work on to reach our goal of zero traffic deaths in San Francisco.
Here are some of March's highlights:
Our Vision Zero Hero/Outreach team participated in the Super Run in the Marina

We partnered with YMCA's Y-Bike program to provide in-school bike education to middle and high school students

Wiggle safety upgrades are complete

We focused on social media, outreach teams, and high visibility enforcement in our latest Distracted Driving campaign

Safety features such as speed humps have been installed on Shelley Drive in McLaren Park
You can also follow our projects updates on Twitter @VisionZeroSF