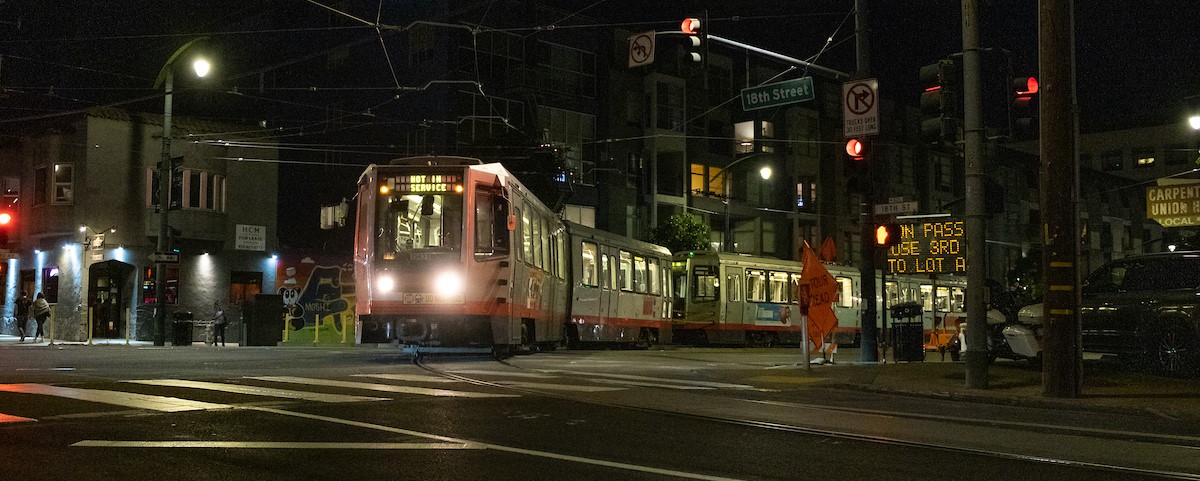 The Mission Bay Loop, which provides turn-around capabilities for the T Third, is complete! What does this mean for Muni? 
Located within the central waterfront area on the blocks of 18th, Illinois and 19th streets, the Loop increases the reliability of the system and provides additional rail service by allowing trains to turn around for special events at Chase Center and Oracle Park during peak use periods.
In addition to supporting current transit service, the Loop is integral to operations of the Central Subway Project due to population growth in the southeast section of the city and the need to provide transit service to destinations such as Caltrain, BART the Financial District and the Chinatown area.
The Mission Bay Loop was designed in 1998 as part of the Third Street Light Rail Project, which was completed in 2003. To complete the Loop, the existing trackway on 18th and 19th streets between Third and Illinois streets were extended, in addition to upgrading underground utilities. Crosswalks and traffic signals were also  installed at the intersections of 18th and Illinois streets and 19th and Illinois streets. 
The Loop is a new tool that will help to move people in and out of the southeast section of the City more efficiently. We thank the community for their patience during the construction of this project, as well as Mayor London Breed's office, Supervisor Shamann Walton's office, San Francisco Department of Public Works, and the San Francisco Port. 
We are always looking for ways to improve your commute, let us know what you think in the comment section below.