Fiscal Year 2017-2018 Annual Report
Thursday, January 31, 2019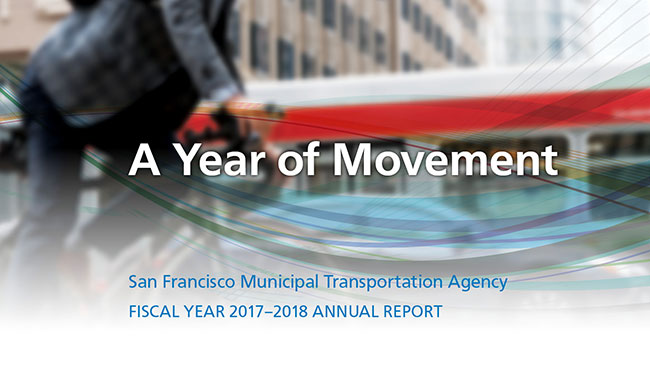 How has San Francisco's transportation landscape changed in the past year?
Find out in our newly released fiscal year 2017-2018 annual report. Entitled A Year of Movement, it shares recent advancements we've made to ensure that the city's transportation system is safe, reliable and equitable.
At the heart of work is our vision to deliver excellent transportation choices for San Francisco. Through A Year of Movement, we highlight the comprehensive efforts of our transportation agency to deliver on that promise, and we track our performance against the goals and objectives laid out in our Strategic Plan.
Some of the work highlighted in the annual report includes:
Our historic investments in Muni light rail vehicles and new buses that have helped make it the greenest public transit system in North America.

Our work to enhance 70 miles of safer streets as part of our ongoing commitment to our Vision Zero goal to end traffic fatalities.

Our work to make sustainable modes of transportation the most attractive and preferred means of travel—from building out the bike network and designing streets that enhance the safety and comfort of people walking, to implementing Transit-First actions that make Muni more reliable and efficient. In this way, we helped the city surpass its goal to reduce solo car trips and have more than 50 percent of San Francisco trips carried out by sustainable modes.

The

adoption of the

Transportation Sector Climate Action Strategy, which sets an aggressive goal of 80 percent travel done by sustainable modes by 2030.
An annual report is also a time to reflect, and in this document, we also share some of the unique challenges we faced this fiscal year, along with steps we've taken to deliver the transportation system San Francisco deserves.
We know we have a unique role in managing, operating and regulating San Francisco's transportation system and the 6,000 dedicated public servants that make up the SFMTA have worked hard this year to make positive contributions to the city we serve. We invite you to learn more about our work to ensure the safe movement of people and goods in San Francisco. A Year of Movement can be found on our webpage.